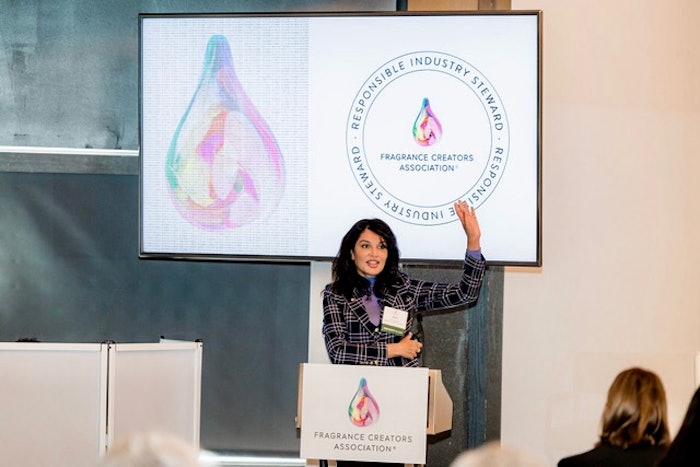 courtesy of Fragrance Creators
Fragrance Creators Association (Fragrance Creators) held its 2023 Annual Meeting, held today, November 14, at The Chart House in Weehawken, New Jersey, to discuss key achievements in 2023 as well as hosted a handful of discussions on the future of legislature, technology and consumer insights.   
"We focus on helping our members future-proof their businesses," said Farah K. Ahmed, president & CEO, Fragrance Creators. "I am proud that the association is at the forefront of using and developing new tools that optimize data and technology; our first-of-its-kind Data Insights Program will continue to deliver unique insights that empower our future-focused agenda for people, perfume, and the planet." 
Fragrance Creators' 2023 top 2023 achievements include: 
prioritizing sound science, including through the publication of a white paper on the importance of comprehensive assessments in evaluating fragrance ingredients; 
advocating for risk-based regulatory systems, including through the submission of dozens of comments to state and federal regulatory bodies;   
providing access to key leaders at the Environmental Protection Agency (EPA), the Food and Drug Administration (FDA), and Congress through exclusive meetings with individuals in the EPA Office of New Chemicals and Safer Choice, the FDA Office of Cosmetics and Colors and Office of the Chief Scientist, and in dozens of meetings with Members of Congress during our 2023 annual fly in; and 
advancing whole-of-industry stewardship by launching the Responsible Industry Stewardship pledge and advancing policies that support bringing sustainable innovation to market.      
During the annual meeting, attendees heard from former Senator Doug Jones and former Representative Phil English of ArentFox Schiff LLP as they offered insights into the 2023 legislative landscape, including developments on key Fragrance Creators' priorities such as research and development expensing and trade policy.  They also shared perspectives on the 2024 election cycle and explained how engaging with Fragrance Creators can benefit the industry.   
In addition, attendees heard from EPA's Acting Director of the New Chemicals Division, Shari Barash, as she shared EPA's perspectives and insights on the New Chemicals Program and potential ways it can be improved.  This is built upon ongoing advocacy work by Fragrance Creators to encourage the approval of newer, greener fragrance ingredients at EPA.   
The meeting wrapped up with a consumer focus.  During the last session, media and consumer insights experts Maria Burquest and Jennifer James shared consumer data, and discussed ever-evolving consumer trends, and the impact that technology is having now and in the future.  They emphasized that being finely attuned to societal shifts and emerging trends is vital to succeeding in today's marketplace and how sustainable sourcing, ingredient knowledge, online shopping, and AI experiences are changing the way consumers shop.    
During the meeting, Fragrance Creators members voted to confirm the 2024 Board of Directors Slate which includes Cynthia Reichard, Executive Vice President of Arylessence and Robert Weinstein, PhD, CEO of Robertet USA continuing to co-chair the organization.   
"Together, art and science have always pushed society towards brighter futures," said Weinstein.  "With a deeper understanding of the intersection of regulatory and consumer trends, Fragrance Creators remains optimally positioned to advocate for policies and regulatory pathways that enhance the fragrance industry's ability to bring newer, greener innovation to market." 
"Fragrance Creators' strong sense of purpose—to serve as responsible stewards—is what brings us together, and helps drive inclusivity, respect, and consensus building throughout our diverse membership," said Reichard.  "The association's use of data and technology has allowed us to operationalize our purpose more efficiently and deliver results more effectively."