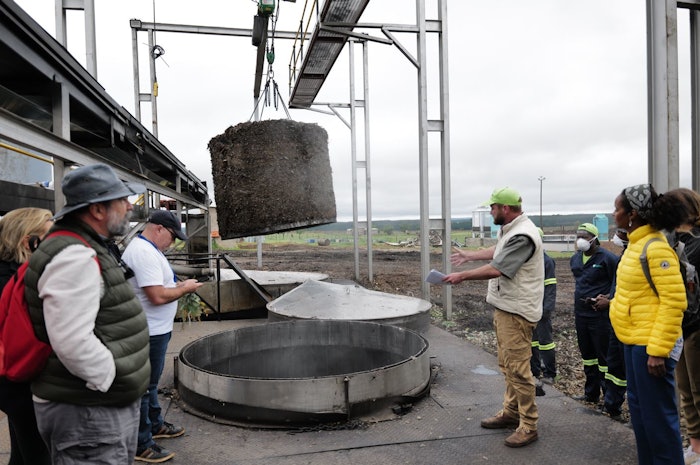 courtesy
Since 2005, IFEAT Study Tours have provided some unique educational and cultural experiences in the world of natural essential oils. Traveling with industry colleagues from many countries, all eager to learn and exchange detailed knowledge about the fascinating world of fragrance, flavor, aromatherapy, and related ingredients have provided lasting memories for hundreds of IFEAT Members that have participated on previous tours. As the world reopened following the pandemic, which had seen the cancellation of several planned tours, IFEAT was able to hold its 12th Study Tour to South Africa (SAST) from November 4-12, 2022. Several years of planning by the Local Organizing Committee, the IFEAT Secretariat and Africa Awaits, the local tour agent, had gone into the SAST.
Related: IFEAT Holds 2023 Conference in Berlin
IFEAT's first Sub-Saharan African event was the successful Cape Town Conference in November 2006. Sixteen years later, on November 4, 2022, some 35 IFEAT Members from 18 countries met up in Cape Town for the start of IFEAT's first Sub-Saharan African Study Tour. South Africa is an increasingly important global supplier of essential oils, and the region is a significant producer of lesser-known indigenous essential oils and botanicals, increasingly used in new cosmetic and cosmeceutical formulations. The Welcome Reception and briefing were held at the Table Bay Hotel with beautiful views over the harbor and the imposing Table Mountain beyond. Some delegates had climbed the 1,086-meter mountain earlier in the day and enjoyed stunning views over Cape Town and the Cape Peninsula, flanked by two of the world's largest oceans—the Atlantic and the Indian.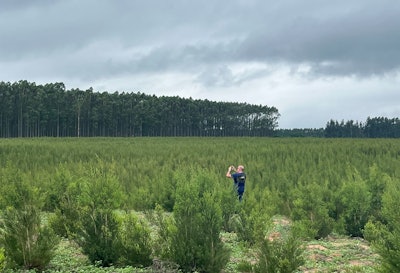 The tour began in the beautiful Cape floral region, a UNESCO World Heritage Site with the largest floral kingdom in the world, including the distinctive fynbos flora such as buchu, Cape chamomile, Blue Mountain sage, and Cape snowbush. Alongside fynbos oils, delegates saw organic rosemary, lavender, as well as the Cape Winelands. Then on to Durban and the east coast for a Scent Creation Workshop and to see the production and processing of tea tree, lemongrass, and eucalyptus. The final day was spent on safari, incorporating stunning game drives and first-hand experience of fragrant and medicinal plants.
Following an initial briefing, the SAST began as it was to continue—convivial and knowledgeable people, excellent food and hotels, good weather and with many insights into South Africa's essential oil sector, the economy, the diverse cultures, the magnificent scenery and wildlife, and the history and politics. For many, it was their first visit to Sub-Saharan Africa. Each IFEAT study tour is both memorable and different. By the end of the SAST the delegates had taken two internal flights, stayed in six different hotels, and traveled 4,750 km through magnificent scenery starting in the Western Cape, South Africa's most southern province, to Durban, KwaZulu-Natal, Mpumalanga, and Johannesburg. While traveling around this beautiful country, delegates not only saw diverse environments and magnificent scenery but also sampled the rich heritage of traditional music, dance, crafts, costumes and cuisines.
The eight days were filled with visits to diverse companies and organizations—all IFEAT members—involved in a range of F&F activities. Three sizable family-owned production and processing operations producing a range of essential oils were visited in the Cape area.  Each farm, covering hundreds of hectares, some of which were protected and devoted to conservation, was set in a beautiful location and the owners were passionate about biodiversity conservation and actively promoting sustainable best practices and benefit-sharing. Skimmelberg Fynbos Oils farm is organically certified and produces buchu, Cape chamomile, Cape May, Cape snowbush, and rooibos tea. Mouton's Valley Pty Ltd. has been producing buchu for over a hundred years, as well as a wide range of fruits. Today the buchu and other plants are cultivated rather than wild harvested as previously. Herbs-Aplenty produces a range of oils and herbs: rosemary, lavandin, lavender, Blue Mountain sage, African wormwood, and Cape chamomile – and gin!  Each is evaluating possible new oils to produce. Whilst in the Cape delegates had evening meals at the Gold restaurant, serving a range of African cuisines alongside African dancing, and the Morgenster Estate prior to which was a wine tasting session.
During the visit to the east coast, four essential oil operations were visited. Ayanda African Oils, is a farming cooperative founded by a group of farmers to sell their products jointly and share their knowledge on the production, processing, and marketing of essential oils. Ayanda produces several essential oils and is currently investigating several other oils. The following day saw first a visit to Lion Rock Essential Oils, a joint venture combining decades of farming experience to become a world leader in producing organic Eucalyptus radiata oil. Following on was a visit to Oribi Oils, a producer group collaboration between large-scale commercial growers and disadvantaged emerging farmers producing several oils. The final company visit of the tour was to Eucaforest Pty Ltd to see the harvesting and processing of E. dives including its isolated constituents. In addition, the delegates were entertained by the Eucaforest choir and dancers to a moving rendition of Jersusalema, the global hit written recently in Zululand. The final day of the tour was a memorable visit to Thanda Private Game Reserve, where delegates not only saw some of the icons of African wildlife and learned about the aromatic, medicinal, and traditional usage of indigenous plants, but also had the closing "Bush Dinner" under the stars accompanied by African dancers and drummers.
During each company visit, delegates saw and discussed at length the production and processing of several essential oils. Each company gave a warm welcome, along with excellent food and drinks, and explained in detail the growing, harvesting, distillation and further processing of various South African ingredients. It was interesting to see how each company was using different processing techniques to produce their oils. Moreover, it was exciting to see the important strides and efforts that the companies were taking to increase the volume and scope of natural flavor, fragrance, and aromatherapy ingredients. Finally, each company highlighted a range of projects in which it was giving back to the local community.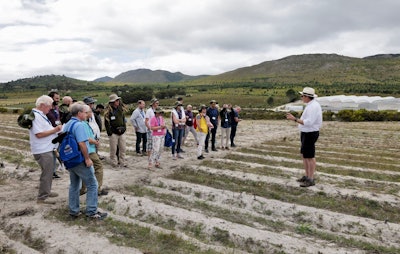 On every IFEAT Study Tour, a great deal of time is spent on smelling oils, but a SAST innovation was an afternoon Scent Creation Workshop held at the beautiful Oyster Box Hotel at Umhlanga, overlooking the Indian Ocean. The Workshop led by Magnifiscent began with an overview of perfume history, fragrance structures, ingredients, and applications. The local companies had provided their essential oils, and these were used in practical work by each delegate to create and evaluate their own scent creations, It was an exciting experience for all – for many it was the first time to create their own fragrance.
A key feature of study tours is the interaction between participants from many countries and various sectors of the industry. During the long hours traveling together, they share their knowledge and experience through individual discussions - it is an intense learning experience in an enjoyable environment. Nevertheless, considerable stamina is needed - early rises, often daily checkouts, much traveling and being on the go all day, late nights, and dinners. What was clear by the end of the Tour was that everyone had thoroughly enjoyed themselves, and each returned to work refreshed and revitalized. The post-tour comments include:
"The study tour was nothing short of amazing! From the committee/attendees to all of the farms we visited - it was a trip of a lifetime!"
"So educational - it was great to witness the complete process - from the preliminary stages of planting to the distillation/drumming of the material. It was quite the experience to see how each supplier has their own techniques. Most importantly, it was so touching to see how each and every supplier gave back to the community!"
"The SAST was well planned, and well executed. The experience allowed us to engage with folks from different companies and from a variety of functions (business owners, c-suite, marketing, sales, purchasing, QC, and R&D), which enabled a wide breadth of topics to be discussed throughout the trip in both social and work-related settings. Additionally, seeing the plantations and the various organizations and their unique circumstances in South Africa was a big educational lesson on the workings of an essential oils and naturals company. This type of exposure and learning is not easily accessible in the modern remote working environment or at our daily jobs because of most people's singular focus on their own responsibilities and company."
"The Scent Creation Workshop was a wonderful way to bring the experiences of visiting the plantations to a full circle since we used some South African oils in the process. In the end, the company, experiences, and learning were priceless to me, and I look forward to participating in future study tours and recommending others from my company to do so as well."
"Everything was so well organized, so informative and so much fun!!! I can't fault it, Thanks for an amazing trip."
For more information on IFEAT Study Tours see www.ifeat.org. From February 26-March 1, IFEAT is organizing a Focus Study Tour to see the Spanish lemon industry.