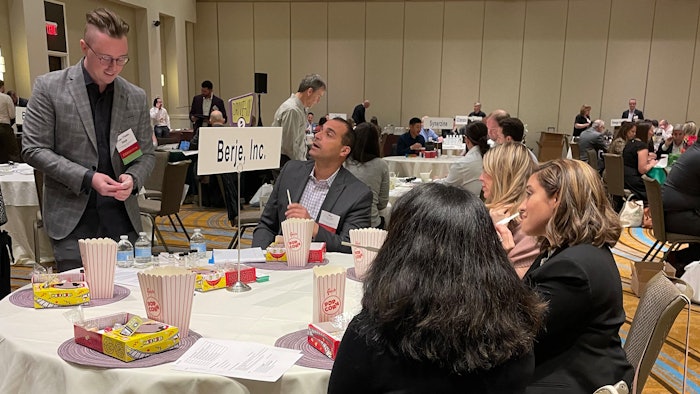 The Chemical Sources Association (CSA) hosted its latest roundtable event in New Jersey on Thursday, May 5, hosting over 175 attendees. 
Related: Flavorcon is Coming Soon! Are You Pre-registered?
Since my inaugural roundtable event in late 2021, it has been so exciting seeing attendance continuously grow as we distance ourselves from the COVID-19 pandemic. Matching faces to email signatures, popping on our OOO away messages and reconnecting with colleagues while sampling the latest portfolio ingredients in flavor made for a great day.
I joined P&F+'s Paige Crist in an effort to explore the 20+ exhibitors filling the conference room. We also connected with the Berje team to discuss the upcoming World Perfumery Congress, discussing the specifics on Michelle Bruckmann's session on formulating with woody ingredients.
Now into some of the event highlights:
Givaudan Flavour Ingredients (GFI)'s Sri Nagarajan took over the cocktail shaker for the company's table serving up a three-course menu. The course themes included mindful drinking with a mocktail, chef-inspired featuring organic certified chef's grill oil and thoughtful indulgence with a shortbread cookie oven-baked with GFI Natural Vanilla Extract.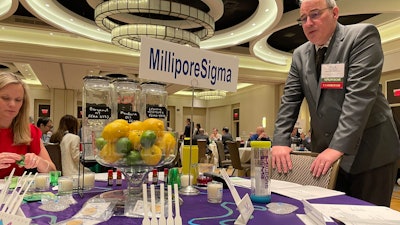 Purely Natural recently celebrated its third anniversary. During the roundtable, the company showcased eight materials ranging from a fresh, light coconut (gamma octalactone chiral natural) to a fatty, heavier coconut (gamma nonalactone chiral natural) to fruity, clean whiff of beta-ionone natural. 
Crist and I sat in on a three-material review with Bedoukian before popping over to the company's offices and research center the following day (podcast coming soon). 
4,5-Epoxy-(E)-2-Decenal (BRI 737)
2-Octen-4-One (Bri 614)
Nuezate (Bri 728)
Bell Flavor & Fragrances showcased six demos, two of which included a chicken stock powder and a beef stock powder. Attendees were led through their presentation with a personal smart device while sniffing and sipping.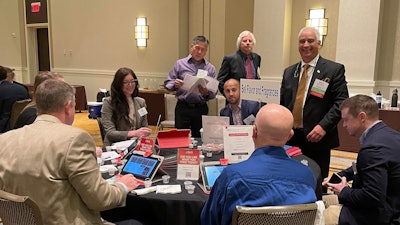 While popping over to the Omega Ingredients table to congratulate Steve Pearce on the acquisition of the company by Robertet, we were able to sample five coffee kiiNotes highlighting Ethiopian, Indonesian, Costa Rican and Tanzanian beans.
Meanwhile, on the opposite end of the conference room, Robertet showcased five materials: cocoa extract, gingerbread spice blend, matcha tea extract, yerba mate absolute and natural green color.
Bontoux's chocolatiers worked their magic incorporating coffee absolute, cinnamon bark absolute, peppermint fresh absolute and vanilla absolute. 
IFF Ingredients explored materials to be added to RTD, coffee, tea and carbonated drinks. One of which was Happy Mind tea beverage made with brewed iced tea (99.5%), passions flower SE (.10%), rose hip SE (.10%) and valerian FE (.05%).
Mane's colorful presentation included individualized mini materials (blotters and finished beverages) for sampling. Materials highlighted included: 
Vinyl guaiacol natural

(R) Natural gamma dodecalactone natural

(S) Gamma dodecalactone natural

Gamma Hexalactone natural

Phenylethyl alcohol natural

Gold root extract Jungle Essence*
All 2022 CSA Roundtable exhibitors included: ACS International, Advanced Biotech, Almendra, Bedoukian Research, Bell Flavors & Fragrances, Berje, Bontoux, Citrus & Allied Essences, Ltd., Doehler USA Inc., Excellentia, GFI, Global Essense, Horner International, IFF Ingredients, Mane, Millipore Sigma, Natural Advantage, Omega Ingredients, Purely Natural, Robertet, Synerzine, Treatt and Ventos. 
Check out our Instagram reel of the event.
*Jungle Essence is a trademark of Mane.
Want to know everything going on in flavor & fragrance? Sign up for P&F+'s newsletter. You can also follow along on Instagram and LinkedIn.