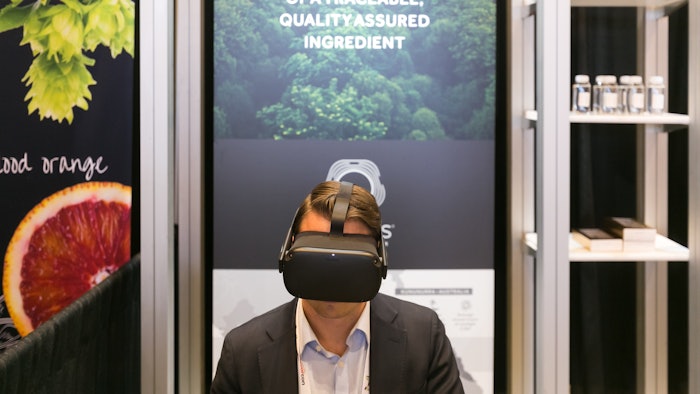 PETER WYNN THOMPSON
Flavorcon 2022 is growing closer! Still need an extra push to make your way to Cincinnati for the two-day event? Here's a sneak peek at the expo hall. In the weeks to come, we will be highlighting exhibitor booths and what each company plans on showcasing on the expo hall floor! You don't want to miss your chance at experiencing the latest tech, ingredients and products the flavor industry has to offer.
American Custom Drying:
The company is set to showcase its flavors, fragrances, pharmaceuticals, nutraceuticals, vitamins, food ingredients, cosmetics, and soft chemicals spray drying services.
Citromax: 
The Citromax booth will be showing the company's new citrus oil products including colorless lemon oil and lemon oil fractions.
FMI:
Hydrocarbon Free Essential Oils
IFF Ingredients - Flavor & Specialty:
Bitterness modulation concepts:
- Coffee extract with bitter extracts combination VS control
- Quassia with Oak FE VS control 
Javo Beverage Company:
Peruvian Espresso Extract
M&U International LLC.:
The company's booth is set to offer natural and synthetic C3 Hexenol (Leaf Alcohol). 
Silky Smooth MicroCreamery LLC:
The Silky Smooth MicroCreamery is set to offer all natural and sugar free sweetener blends:
1) SilkySweet Intense 1:1 (vs sugar), can be reduced up to 30% to desired sweetness 
2) SilkySweet 8x to help limit Allulose to 20g per serving
3) SilkySweet Bulk-Free 125-200x to replace Stevia & Monk Fruit Only
Attendees can sample in unsweetened coffee, tea, or lemon juice. 
Spoonshot:
The company will be showcasing its 2023 trends for the food and beverage industry.
SiyoMicro:
The booth will host the company's natural vanillin via ferulic acid is a natural-based ingredient produced by an established precision fermentation process with natural label claim and full flavor matching. Designed to offer a stable supply, regulatory compliance and cost-effective choice that ideally suited to customer's natural needs. It is the latest addition to SiyoMicro F&F portfolio.
Stay tuned for more Flavorcon exhibitor highlights to come as we grow closer to the event! Interested in participating? There's still time! Contact Paige Crist, pcrist@allured.com, ASAP to find out how.