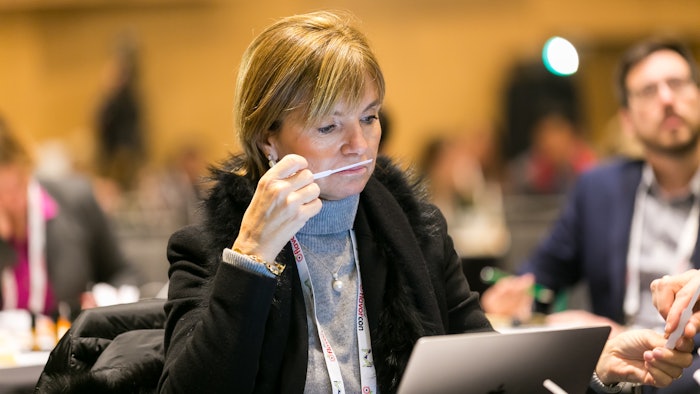 Are you ready for this action-packed event? After a three-year hiatus, we've put together an exciting two-day conference designed for the flavor community to reconnect, educate and inspire. Don't have your ticket yet? No sweat, registration is still open, visit www.flavorcon.com to secure your spot at the event set for November 9-10 in Cincinnati at the Duke Energy Convention Center.
>>>There's still time to register.<<<
Time to put your screens down and let your other senses do the work. Sip, savor and awaken your taste buds on the bustling expo hall floor filled with industry tastemakers showcasing the latest technology, ingredients and innovation. 
Just in case you've missed our announcements regarding the session line-up, here's a quick recap of what's on the menu at this year's event for day one. Many of this year's speakers plan to present with samples, get your palate prepared. Be sure to visit www.flavorcon.com to view all speaker bios and session details. All sessions are on eastern standard time.
Wednesday, November 9
"The Mystique Behind Neglected & Noble Naturals" with the president of Creation, Design & Development and chief global flavorist, Marie Wright (ADM) alongside independent flavorist and Perfumer & Flavorist+ columnist, John Wright.

MilliporeSigma Sponsored Session with the global head of flavors and fragrance ingredients, Jamie Gleason (MilliporeSigma).

"Recent Breakthroughs in Taste and Smell Research" with director and president, Nancy E. Rawson (Monell Chemical Senses Center).

"Food Pairing and Beyond: Matching Flavor Profiles Using Big Data Analysis" with principal flavorist, Cyndie Lipka (Bell Flavors and Fragrances) co-owner and content director, William van Dongen, Ph.D. (VCF-online).

Givaudan Session with the director of global ingredients marketing, Sri Nagarajan Director of Global Ingredients Marketing and master flavorist, Hans van Leersum (Givaudan Flavour Ingredients).

"Using Digital Olfaction for Rapid Formula Screening in Beverage Flavor Reformulation" EVP of global business development and president, Terri Jordan (Aryballe).

"Flavor Trends in Functional Foods & Beverages" with Kishan Vasani co-founder and CEO, and head of research and strategy, Suraksha Rajagopal (Spoonshot).

"Taste Optimization in Plant-Based Food and Beverages" with VP of RD&A, taste division, Rajesh Potineni (Kerry Taste & Nutrition).

"Pros & Cons of Utilizing Flavor in Beer" with brewmaster, certified cicerone and prud'homme beer sommelier, Stephen Rich. 
How to Register for Flavorcon 2022
Early bird rates are now available for the two-day conference vary, be sure to visit www.flavorcon.com for applicable pricing. Attendees can also get last-minute tickets the day of the event at the door. Don't miss your chance to network with colleagues from around the world and experience the latest innovations the flavor industry has to offer.