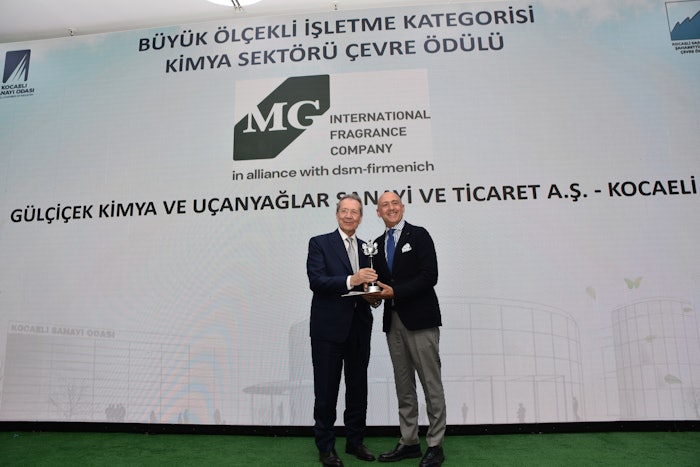 C/O MG International Fragrance Company
During the 29th edition of the Şahabettin Bilgisu Environmental Awards, organized by the Kocaeli Chamber of Industry in Turkiye, MG International Fragrance Company was awarded the Chemical Industry Environmental Award in the Large-Scale Enterprise Category for the second time.
The Chemistry Sector Environment Award recognizes the company's unwavering dedication to safeguarding natural habitats, preserving the ozone layer, promoting resource efficiency, implementing effective waste management practices, and taking proactive measures against harmful emissions.
MG International CEO Aslan Gülçiçek shared, "Throughout the last seven years, we have dedicated over $5 million towards environmental infrastructure and projects aimed at safeguarding and promoting nature through environmentally friendly production. It is with delight that we accept this precious award for the second time, acknowledging our continuous endeavors. In our pursuit of a more sustainable world for future generations, we will persist in our sustainability initiatives within the fragrance industry."
According to the company, MG International Fragrance Company's environmentally conscious practices include energy conservation, waste reduction, rainwater collection, recycling, odor control, carbon emission monitoring, socially responsible initiatives and biodiversity studies.