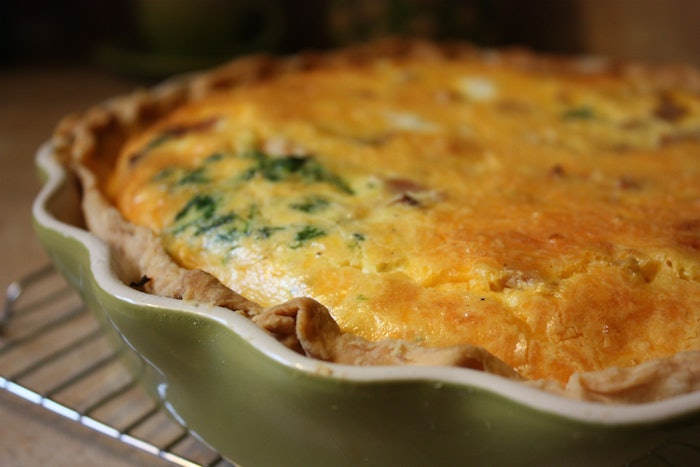 pixabay
To celebrate the Coronation of King Charles III, JC Buck Ltd. has teamed up with Ph.D. student and British Society of Flavourists council member Aidan Kirkwood to recreate a deconstructed slice of the King's Coronation Quiche with flavor compounds. JC Buck shares the behind-the-scenes of making the King's Coronation Quiche below.

The King, Queen and their royal chef Mark Flanagan collaborated to create a special dish, the Coronation quiche, for the King's Coronation. This quiche would be served at the Coronation Big Lunch in May 2023. Quiche is a savory pastry pie filled with custard that originated in France. You would presume something screaming of Britishness to be served on the finest royal silverware, but it appears that the Royal family has a tradition of incorporating dishes from other countries into their coronation celebrations.
The dish is like no other–the Coronation quiche is filled with spinach, broad beans, cheddar cheese and a rather intriguing ingredient, tarragon. And although it isn't your typical British dish, its simplicity, both in terms of ingredients and cookability means that this is a dish that many can share and enjoy at street parties up and down the British Isles. Let's look and understand more about the ingredients that might make it a new flavor sensation.
Fatty acids such as butyric acid are known for their resemblance to the smell of sweaty cheese, and therefore they are often found in cheese flavors, along with buttery notes from 2,3-butanedione and fruity ester notes from ethyl butyrate.
For those that are not familiar with making Béarnaise sauce, tarragon is the herb that brings its anise/licorice flavor. Tarragon is a complex mixture of flavor compounds including sabinene (29%), estragole (25%), and D-limonene (8%).1 Sabinene and limonene are monoterpenes commonly used in flavors and fragrances. Sabinene has a pine, citrus and woody odor, whereas D-limonene is a much more sweet orange. Odor-active compounds estragole and anisaldehyde may be leading to the anise-type odor of tarragon. But that's not all–in addition to those mentioned above, research shows that eugenol and 7-methoxy coumarin are key odor-active compounds in tarragon, which may add notes of clove and tonka bean. Even a tiny dose of 2-isopropyl-3-methoxypyrazine (IPMP), 13 parts per billion, is found to be odor-active in tarragon.2 Typically, the strong green and lettuce notes of IPMP find their way into garden peas and cabernet sauvignon.3  
Spinach is enjoyed in salads, some prefer it cooked in a risotto, while the monarchs crave it in a quiche. The green notes in spinach are from lipid autoxidation products such as (Z)-2-penten-1-ol and (Z)-3-hexen-1-ol.4 The flavor of spinach changes during the cooking process–some people describe the odor of boiled spinach as fishy, which may be due in part to a combination of dimethyl sulfide, methional and 2-acetyl-1-pyrroline formation.5 These compounds can also give cooked prawn notes when used in combination. 
Fatty acids such as butyric acid are known for their resemblance to the smell of sweaty cheese, and therefore they are often found in cheese flavors, along with buttery notes from 2,3-butanedione and fruity ester notes from ethyl butyrate.6 There are also sulfur compounds in the cheese flavor but they are not the eggy (hydrogen sulfide) kind. They are much more diverse and include special thiols such as 4-mercapto-3-methyl-2-pentanone (blackcurrant, catty), methional (cooked potato), and dimethyl trisulfide (garlic).7 More recently, it has been shown that lactones concentrations (i.e. gamma-octalactone) increase during the maturity process. These compounds would be important to add, as well as the others flavorists use to add 'mature' notes.8
While other ingredients in this quiche have received more academic research, the humble broad bean has been relatively understudied. Broad beans are a controversial choice, with some arguing that asparagus would have been a better fit. However, by opting for broad beans, the dish gains a unique and distinctive quality that sets it apart. Its earthy, creamy, nutty and mildly bitter flavors, combined with its starchy texture, arguably make the broad bean the defining ingredient of the quiche. It is a refreshing change to see this often-overlooked legume take center stage on such a landmark occasion.
References
1. Sharopov, F. S., Salimov, A., Numonov, S., Bakri, M., Sangov, Z., Habasi, M., ... & Setzer, W. N. (2020). Phytochemical study on the essential oils of Tarragon (Аrtemisia dracunculus L.) growing in Tajikistan and its comparison with the essential oil of the species in the rest of the world. Natural Product Communications, 15(12), 1934578X20977394.
2. Zeller, A., & Rychlik, M. (2007). Impact of estragole and other odorants on the flavour of anise and tarragon. Flavour and fragrance journal, 22(2), 105-113. 
3. Lei, Y., Xie, S., Guan, X., Song, C., Zhang, Z., & Meng, J. (2018). Methoxypyrazines biosynthesis and metabolism in grape: A review. Food chemistry, 245, 1141-1147.
4. Díaz-Mula, H. M., Marín, A., Jordán, M. J., & Gil, M. I. (2017). Off-odor compounds responsible for quality loss of minimally processed baby spinach stored under MA of low O2 and high CO2 using GC–MS and olfactometry techniques. Postharvest Biology and Technology, 129, 129-135.
5. Masanetz, C., Guth, H., & Grosch, W. (1998). Fishy and hay-like off-flavours of dry spinach. Zeitschrift für Lebensmitteluntersuchung und-Forschung A, 206, 108-113.
6. Frank, D., O'Riordan, P., Zabaras, D., & Varelis, P. (2006). Cheddar cheese volatile profiling using dynamic headspace and gas chromatography-mass spectrometry olfactometry. Australian Journal of Dairy Technology, 61(2), 105-107. 
7. Kleinhenz, J. K., Kuo, C. J., & Harper, W. J. (2007). Evaluation of polyfunctional thiol compounds in aged Cheddar cheese: estimated concentrations. Milchwissenschaft, 62(2), 181-183.
8. Chen, C., Liu, Z., Yu, H., Xu, Z., & Tian, H. (2022). Flavoromic determination of lactones in cheddar cheese by GC-MS-olfactometry, aroma extract dilution analysis, aroma recombination and omission analysis. Food chemistry, 368, 130736. https://doi.org/10.1016/j.foodchem.2021.130736