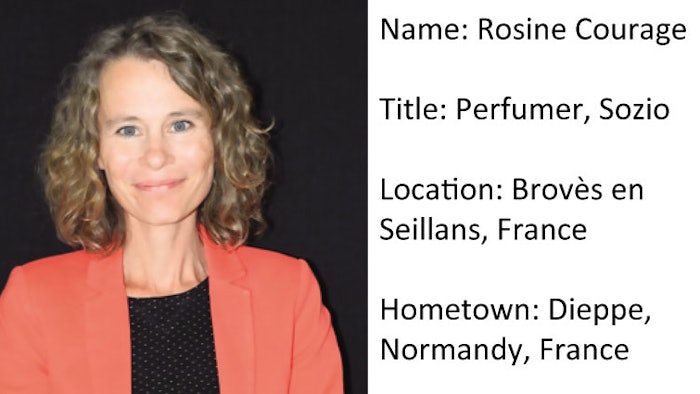 P&F+: What led you to the fragrance industry?
Rosine Courage [RC]: I have always been interested by perfume, so I decided to become a perfumer.
I studied chemistry and joined the perfumery school, ISIPCA. For three years, I learned about raw materials, formulation and the fragrance industry, and then I became a perfumer for Biolandes, where I developed my expertise on natural raw materials and natural fragrances.
P&F+: What applications do you primarily formulate for? Do you have a favorite?
RC: I have formulated for many different types of applications, but my personal favorite is fine fragrance. I also really like working on natural compositions.
P&F+: Where do you find inspiration?
RC: My inspirations come from my daily life, my souvenirs and the tasting experiences. Nature is an endless source of inspiration; in July, in the South of France, gardens smell of the addictive scent of oleander mixing with honey and floral notes. There are a lot of examples, especially during summertime. The hot weather makes delicious smells rise from nature, like pine, cistus, eucalyptus. It is a delight.
P&F+: Do you have any favorite ingredients to work with? Why?
RC: All-natural essential oils and absolutes are my favorites, especially jasmine absolute, rose absolute and lavender essential oil.
They have a strong impact on fragrance and give it unique nuances. Jasmine is sensual, rose is radiant and lavender is so comforting.
Ambroxan is my favorite synthetic raw material; it is carnal and reminds me of the odor of a man's skin.
P&F+: What are some challenges in your day-to-day as a perfumer?
RC: COVID-19 has not affected my day-to-day work because I have been working at the laboratory every day. During the quarantine, I had more personal care projects with regulatory constraints. I had to find new ways to create the olfactive notes I wanted. Challenging and interesting.