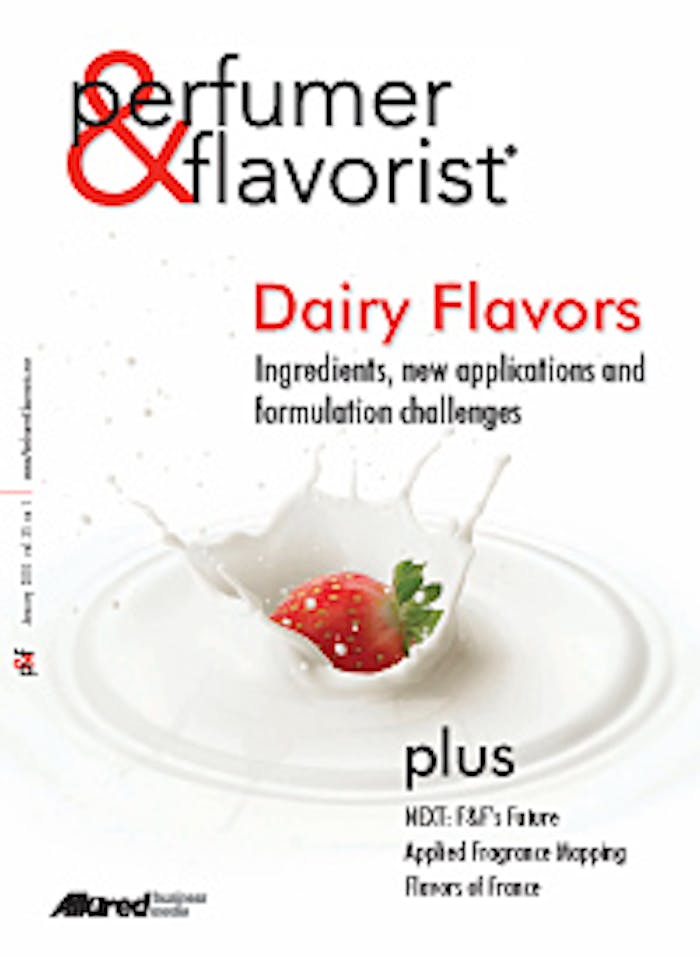 Learn more about subscribing. Learn more about advertising. Have an idea for an article or news item?
This month Perfumer & Flavorist Magazine focuses on the future of F&F and the formulation of dairy flavors. (Click here to access articles.) Highlights include:
Dairy Flavor Formulation
By: Pam Gribou, Givaudan Flavors
Pam Gribou is the director of cheese and dairy flavors development for Givaudan Flavors. Innovation in the category is boosting product development and adding to the technical challenges faced by flavorists at the bench. Dairy products increasingly contain probiotics and other functional ingredients—materials that contribute off notes and thus require creative flavor problem solving. Gribou notes that these hurdles are only going to grow over time as products incorporate a greater variety of beneficial ingredients for gut health, bone density improvement, healthy skin, joint health, physical performance, weight and cholesterol control, immunity and mental activity. Here she shares her insights into the most common issues facing flavorists in the dairy category.
Dairy Flavors: New Formulations for New Challenges
Consumer demand for natural, low-fat and functional products presents ever-growing challenges to flavorists at the bench—notably in dairy applications that increasingly feature "low in," functional and probiotic facets. For example, says Cindy Cosmos, senior flavor chemist with Bell Flavors & Fragrances, "Low fat is always a problem because there's not the mouthfeel effect from a fat agent for the flavor to bond to. So you get spiking and off notes that develop."
Delightful δ-Lactones
By: Judith Michalski, Judith Michalski LLC
The first time I ever encountered a lactone was eons ago and was, I believe, so-called aldehyde C-18, the misnomer for γ-nonalactone. I was captivated by its coconuttiness and knew at that moment that I was in for a long relationship with anything that ended with "lactone" or "olide." In fact, I've never met a lactone that I haven't liked, at least not yet. There are many reasons why I like working with lactones as much as I do.
NEXT: First-person Takes on F&F's Past, Present and Future
In 1999, the global F&F market was valued at roughly $13 billion. Today, it totals about $20.3 billion (estimates vary). In light of the recent economic downturn and attendant customer, retailer and consumer destocking, coupled with slowdowns in mature market growth and ever-increasing regulatory pressures, the industry is focused on strategies for future growth. As we turn the page on the first decade of the millennium, P&F magazine presents first-person expert insights into the forces that have shaped the industry over the last 10 years and those that will characterize it for the next 10 and beyond.
NEXT: The New Normal
Organizations find out what they're really made of in the toughest of times. No one knows that more than Ferdinand Storp, general manager of drom fragrances. Earlier this year the fragrance house concentrated its US operations at its Towaco, New Jersey, site and found success in growing opportunities such as private label customers. "The positive thing is that … things are getting back to normal," says Storp. "Projects are coming in, our numbers now are even better than the year before. It was a healthy [experience] because we rethought everything, every process and detail, which you don't do if things go well. On paper, everything looks very easy."
NEXT: Fine Fragrance's New Reality
"This isn't a quick fix situation," says Karyn Khoury, senior vice president at Estée Lauder, discussing the fine fragrance industry's declining sales. "It took us many years to get to the situation we're in. It's not going to be a matter of months before we fix it, but I believe that we can and will fix it." In 2009, the industry launched fewer scents than it did in 2008, breaking a long streak of exponential growth. To Khoury's thinking, this is a positive result of the financial crisis of the last 18 months. "The consumer has been overwhelmed with the number of launches, the amount of choice, and in some cases the lack of differentiation," she says. This excess of new scents has coincided with a decline in the number of consumers buying fragrance.
NEXT: Sensory Frontiers
"The exciting thing about science is that you don't know the answer," says Monell Center director Gary Beauchamp, discussing the organization's chemosensory research. "There's a wonderful collaborative aspect here where [our corporate sponsors] are interested in fundamental questions for reasons that are not yet apparent … We don't do product research. We don't study anybody's products. We don't develop products. Part of my job is to find the overlap between corporate interests in a practical [sense] and the scientific interests on [Monell's] side. Their product is product; our product is publications in scientific journals." Monell's leading-edge research focuses on everything from the mechanisms of taste and smell to the role of chemical senses in human communication, health and nutrition.
Flavor Bites: Bon Appétit!
By John Wright 
Food is an important aspect of French culture, where the popular "you are what you eat" maxim is taken very seriously. This enthusiasm for quality of food naturally extends to flavors; clearly the profile quality of flavors is generally very high in the French market.