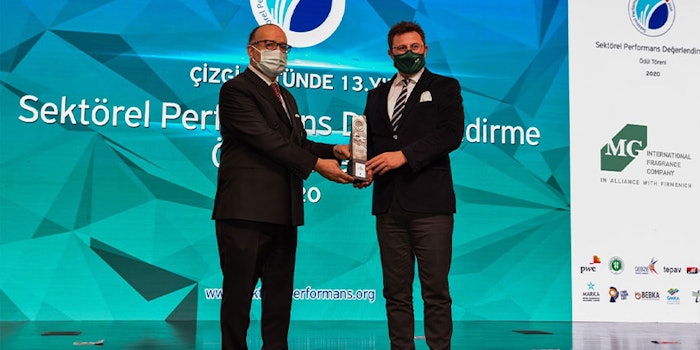 MG International Fragrance Company was awarded "The Top Line Sector Performance Award" in the "Large-Scale Organization" category by the Kocaeli Chamber of Industry (KCI) for the second time in the past four years.
The 13th annual "Top Line Sector Performance Award" jury evaluated the participants on seven different criteria, including productivity, innovation, branding, finances, international trade, contribution to society, employment and employee development.
Previously: MG International x Firmenich Celebrate Alliance in Istanbul
The ceremony was organized at Kocaeli International Convention Center and hosted by Ekotürk TV economy presenter Ali Çağatay. KCI president Ayhan Zeytinoğlu made an opening statement followed by the president of TOBB and vice president of Eurochambres, Rıfat Hisarcıklıoğlu; Governor of Kocaeli, Seddar Yavuz; and Deputy Mayor of Kocaeli, Yaşar Çakmak.
CFO Enver Kurt received the Chemical Industry Sector award on behalf of MG International Fragrance Company.
Kurt stated, "It is an honor to receive this prestigious award on behalf of my teammates and on behalf of our clients who work tremendously for the health and hygiene of our society during these unusual times of global pandemic. We, as MG International family, sincerely thank to the Kocaeli Chamber of Industry and to the members of the jury for deeming us worthy of this award."