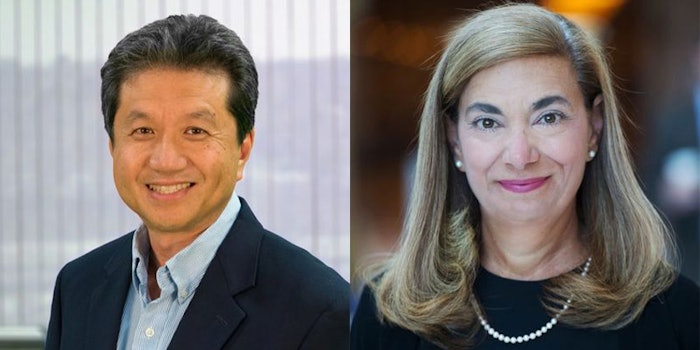 Fragrance Creators Association has announced that Homer Swei, Ph.D., global director of product stewardship, Johnson & Johnson consumer products, and Lisa Pankiewicz, vice president of global stewardship for The Clorox Company, have joined its board of directors.
Previously: FCA's Fragrance Conservatory Website Earns European Design Award.
In his current role, Swei provides oversight of the company's worldwide portfolio of ingredients and materials, including its baby, beauty, oral care, wound care, feminine hygiene, wipes and device business.
Swei brings a wealth of expertise in policy development and governance, stakeholder engagement and education, and extended ingredient transparency to the Board.
Previously: Fragrance Creators' Member Portal Connects Professionals Online.
Swei has served in various roles at Johnson & Johnson since joining the company in 2003, including technical assurance manager and innovation sourcing manager.
Prior to that, he oversaw materials science efforts at Dow Chemical Group and product technology at Union Carbide Corporation. He also served in key roles at RayChem Corporation and Exxon Chemical Corporation.
He earned a Bachelor of Science in chemical engineering from the University of California at Berkeley and earned his Ph.D. in chemical engineering from Northwestern University.
"Fragrance Creators is the organization leading on fragrance-related issues in North America—issues that carry real-world impacts for business and the public," said Swei. "In representing Johnson & Johnson on the Board, I am excited to use my expertise to augment the association's reach and impact."
"Homer is a leader in advancing responsible product stewardship, and I'm confident he will be an asset to the Board of Directors," said Farah K. Ahmed, president & CEO, Fragrance Creators. "He brings a passion for driving positive impacts for people, business, and the planet, and an understanding of the value of sound science-based policies and communications that build trust among diverse audiences."
Pankiewicz holds more than 30 years of experience across various regulatory sectors. She currently oversees the company's global regulatory affairs, product safety, chemical management and global trade compliance, including all regulatory, technical and scientific activities.
Prior to joining Clorox in 2015, Pankiewicz served as vice president of regulatory affairs for Shiseido Americas Corporation, preceded by nearly 20 years at Chanel, where she served most prominently as executive director research & development, regulatory affairs.
After earning a Bachelor of Science in chemistry from Georgian Court University, she secured a Master of Science in marketing & business management from the Fashion Institute of Technology in New York City.
A strong industry advocate, Pankiewicz also serves as Treasurer of the Household and Commercial Products Association (HCPA) board of directors.
"I'm thrilled to represent Clorox on the Board of this results-producing association," said Pankiewicz. "Fragrance Creators continues to demonstrate an ability to deliver value for the entire fragrance value chain at the speed of business."
"At this pivotal time for our industry, Lisa's voice and perspective will be invaluable to the Board as we encompass the fragrance value chain and broaden our influence," said Ahmed. "As a values-based organization, Board members like Lisa—who are committed to doing the right thing, always—are critical to our ability to deliver on-going value for people, perfume and the planet."