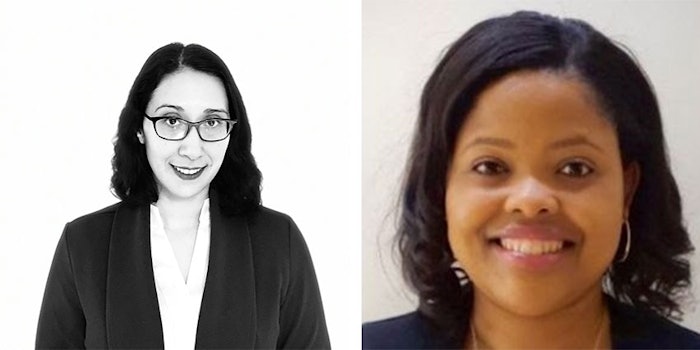 Fragrance Creators Association has announced two new additions to its staff team: Darci Ferrer, director of regulatory science, and Malory Todd, manager of meetings and membership.
With nearly a decade of experience in the consumer product industry, Ferrer joins the Fragrance Creators Association from the science and engineering firm, Exponent, where she was a regulatory scientist.
Previously: Fragrance Creators Appoints IFF Account Director to Board.
She previously held several positions within the American Cleaning Institute. Her responsibilities included research and outreach on the safety of cleaning products and their ingredients.
After earning a bachelor's of science in biology from Winona State University, Ferrer worked as a research technologist for the Institute of Genetic Medicine at Johns Hopkins University before deciding to pursue a graduate degree.
She earned a master's of science from Johns Hopkins University in environmental science and policy. Ferrer has been an active member of the Society of Environmental Toxicology and Chemistry (SETAC) since 2011 and served on the executive committee of the Chesapeake-Potomac Regional Chapter of SETAC from 2016-2018.
Previously: Fragrance Creators Appoints Givaudan's Greg Adamson to Board. 
In her role as director of regulatory science she will oversee the regulatory science executive committee.
Before joining Fragrance Creators, she managed member services at The Monitoring Association for six years; ran events at Family, Career & Community Leaders of America for two years; and prior to that worked for the U.S. Census Bureau. She is passionate about writing and creative work, personally and professionally.
Todd attended The University of North Carolina at Chapel Hill, where she earned bachelor's degrees in African/Afro-American Studies and modern European history.
Her efforts will be guided by director of communications Lia Dangelico.
"We are relentless when it comes to understanding the facts and regulations, uncompromising when it comes to the science and committed to communicating effectively for all audiences," said Farah Ahmed, President and CEO. "[Ferrer's] tenacity, experience, and personality—along with her passion for the industry—make her the right person to lead that effort."
Ahmed continued, "[Todd] brings a passion for service that will help to further elevate our member services and outreach efforts. Her fierce organizational skills and attention to detail will ensure we are as precise and data-driven in delivering member value as possible."