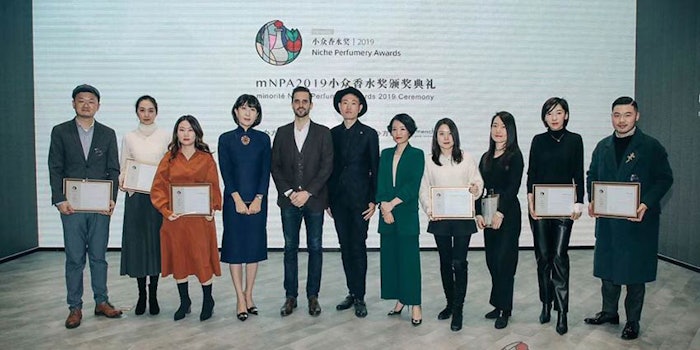 Niche Chinese fine fragrance company Minorité and Firmenich announced the winners of the minorité 2019 Niche Perfumery Awards (mNPA), China's first niche perfumery awards. Winners were announced at a ceremony in Shanghai.
The new annual event is organized by Minorité and sponsored by Firmenich. The awards aim to increase awareness of niche perfumes in China and introduce Chinese niche brands to the world.
Winners were selected for the creation of innovative fragrances with an artistic touch and based on a unique approach.
The nomination jury included leading perfumers, senior fragrance critics and key opinion leaders who were responsible for nominating the candidates and shortlisting the finalists for each award category. Winning perfumes were then chosen by public vote.
2019 winners:
Best Independent Niche Perfumes 2019: Fig-Tea by Nicolaï; Hermann A Mes Cotes Me Paraissait Une Ombre by Etat Libre d`Orange; The Orchid Man by Frapin.
Best Niche Perfumes Affiliated with a Group 2019: Oolang Infini by Atelier Cologne; L`Ombre Dans L`Eau (EDT) by diptyque; Florabellio by diptyque.
Best Chinese Niche Perfume 2019: Insects Awaken by KONG BAI; Wind by UTTORI; Rosmanthus by O D'HORA.
"Following the opening of our first Fine Fragrance Atelier in China in September last year, Firmenich's participation in mNPA demonstrates our commitment to developing the fine fragrance industry in China," said Paul Andersson, Firmenich China President. "Firmenich is honored to support worldwide exposure for the outstanding fine fragrance players in China by leveraging our global network and our understanding of the local Chinese consumers and market."
"The mNPA awards offer a great platform for fine fragrance players, especially the startup companies in China," Olivier Viejo, Firmenich Shanghai Fine Fragrance Atelier director, said. "We support global niche brands in China and encourage local Fine Fragrance creators to invest in fragrances for China and the world."
"This is the first time we have held the awards for niche perfumes in China," Minorité founder Song Yuan said. "We chose Firmenich as a partner because of its great reputation and strong passion for both fine fragrance and the local Chinese market. Firmenich is the No.1 fragrance house in fine fragrance worldwide. We hope these awards will help Chinese consumers learn more about our local niche brands and inspire domestic perfumes."