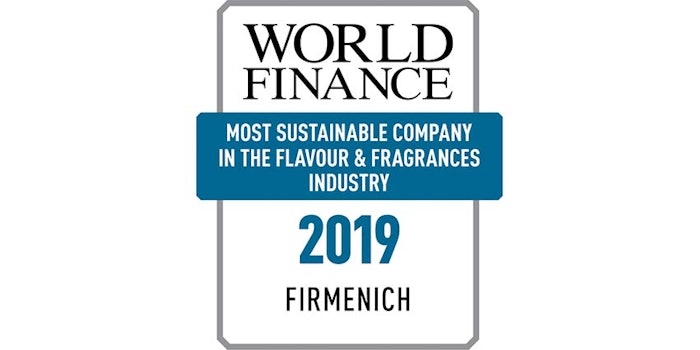 World Finance magazine recognized Firmenich as the Most Sustainable Company in the Flavor and Fragrances Industry, applauding the company's sustained efforts to tackle climate change with science-based targets and its commitment to operating the most traceable/ sustainable value chain.
Related: Firmenich Signs UN Global Compact Action Platform
Firmenich is acknowledged as a global leader in sustainability, alongside companies like Audi, Havas and Logitech, and was praised for its comprehensive approach to sustainability, underpinned by its work to advance the United Nations Sustainable Development Goals.
Most recently, Firmenich was awarded the first IMD-Pictet Sustainability in Family Business award, as well as the Ethical Corporation Responsible Business Award 2019 for the group's leadership in diversity and inclusion. The company was also showcased on Bloomberg.com as one of 50 climate leaders making a real difference in the areas of climate action, reducing inequalities, good health and wellbeing.
Today, Firmenich is one of only two companies worldwide, out of more than 7000, to have achieved "triple As" with CDP, in Climate, Water and Forestry. Committed to a net zero carbon future by 2050, Firmenich currently operates with 100% renewable electricity in North America, Latin America, Europe, Africa and the Middle East, China and India, and is on its way to achieving 100% worldwide in 2020.
"This award pays tribute to our unique legacy of responsible business deeply entrenched in our values ever since our creation in 1895," said Gilbert Ghostine, CEO Firmenich. "It is also great recognition of the passion and hard work of our 8,000 colleagues working as a force for good to do what's right for our planet, communities and our business every day."