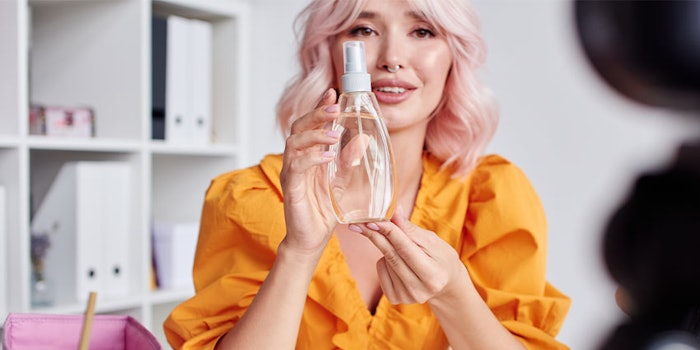 According to Iberchem's marketing experts, the categories of sustainability, wellness and the demands of Generation Z, are all expected to significantly influence what consumers are looking for in the fine fragrance market of 2021.
Related: Iberchem to Further Reduce Annual CO₂ Emissions
Sustainability
Although new product developments remain somewhat limited, natural and sustainable claims are now present in the narrative of most brands in aspects such as sourcing, production process, packaging, etc.
According to Mintel, the focus on clean beauty and transparency in formulations due to COVID-19 will result in new natural and synthetic formulas.
One of the main challenges in the fragrance industry is to highlight how synthetic and even biotechnological ingredients can be sustainable by avoiding the depletion of natural resources while also being safe for consumer.
As for packaging, the main focus will be on combining convenience and sustainability through innovative formats targeting minimum waste and adopting a cradle-to-cradle or circular design approach. In this sense, flexible formats and refillable containers are gaining in popularity among consumers, mostly younger generations.
Self-care & wellness
The anxiety generated by the pandemic has inspired fragrance brands to promote holistic self-care features. 
New product launches in the coming months will likely continue advocating for positivity and happiness, as well as for properties meant to relieve stress and even fix sleep-related problems. 
The ingredients
As a result, ingredients with calming and relaxing properties for both the mind and body are expected to be used more and more.
Ginger, CBD and adaptogens (holy basil/tulsi, goji berries, turmeric, ginseng, etc.) are all ingredients that are expected to gain in popularity in upcoming perfume launches, to meet the growing demand of consumers seeking to enhance their well-being.
Related: Sibelius Adds Natural Oils Line with Chamomile, Sage and Peppermint
Generation Z
As the first digital-native generation, Gen Z consumers will show greater interest in brands that are able to engage with them through virtual consultations and online events on platforms such as YouTube or Instagram Live.
This shift also represents an opportunity for brands to face the challenges of the current retail environment, by helping people imagine and purchase a scent without smelling it first.
What is more, these younger consumers will connect more deeply with brands that use emotive and sensorial language that reflects their specific values and needs of independence, inclusion and self-expression.
Self-expression
Following the topic of Gen Z and their specific aspirations (with little intention to compromise), the fragrance industry is already witnessing launches targeting this young cohort with empowering messages.
Launches have included a new approach, one that is based on personalization and focuses on individuals instead of groups as self-expression, inclusion and gender fluidity are of importance to Gen Z.
For 2021, launches should include not only a higher proportion of unisex fragrances on the market, but also ambitious marketing campaigns highlighting the multifaceted personalities of modern fragrance users. 
Brands should aim to convey precise and explicit values as well as a clear vision of how to create long-term social and cultural change, in order to catch the attention of an audience that no longer believes in brand loyalty.