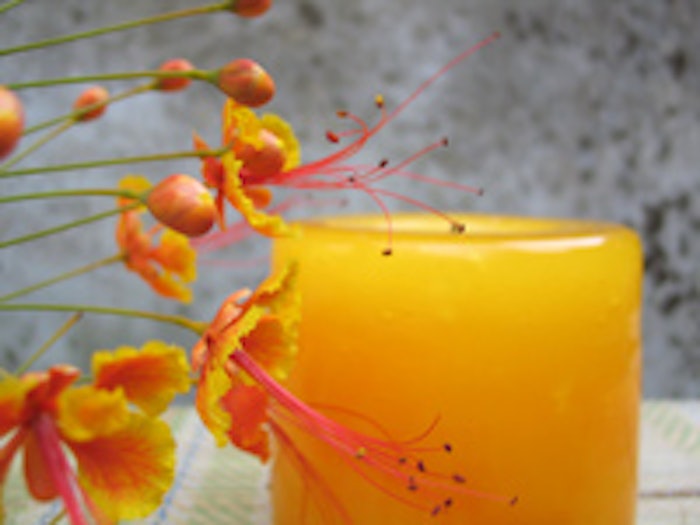 An expanded version of this article was presented during Sustainable Fragrances 2011, held June 9–10 in Washington, DC. Contact the author.
Discuss this and other topics on LinkedIn (group name: Perfumer & Flavorist (P&F) Magazine).
Today, sustainability has become a ubiquitous presence in the news cycle. The momentum is undeniable. And so it comes as no surprise that independent analyst firm Verdantix is declaring 2013 the tipping point for sustainability.
"[G]rowth rates of investment in sustainable business programmes will be between 50% and 100% higher in 2013 than in 2011," the firm announced recently. "Total spend on sustainable business programmes by $1bn revenue firms in Australia, Canada, the UK and the US markets alone will hit $60 billion in 2013."
The attitude of Kraft Foods' VP of sustainability, Steve Yucknut, is illustrative of this change: "If you use less energy, you save money. If you make less waste, you save money."
According to the US EPA, "Sustainable development reflects not the trade-off between business and the environment but the synergy between them." And so it is no surprise that in a recent survey of the fragrance industry conducted by Cornell, the results of which are to be published in Perfumer & Flavorist magazine, the academic researchers' key takeaway for the industry was to "focus on niche and sustainable products to maintain differentiation" and to "invest R&D in this area."
Emissions
The Carbon Disclosure Project's 2010 Supply Chain Report notes that among its members' suppliers, only 38% had set carbon reduction targets, compared to 82% of members. Of the suppliers that have set targets, programs project out an average of five years, compared to the 40 years recommended by the Intergovernmental Panel on Climate Change. In fact, the report notes, 81% of suppliers that have targets have not set them beyond 2012.
The Carbon Disclosure Project breaks down its total CO2 emission measure by three scopes seen here:
Scope 1: Emissions that occur directly from a reporting organization's facilities.
Scope 2: Indirect emissions related to the reporting organization's power needs—electricity, heat, cooling, etc.
Scope 3: Emissions from business travel and supply chain.
I recently examined some reporting sheets from Fragrance Manufacturing Company X [name withheld for privacy]. Based on its numbers, Company X's fragrance-only Scope 1 emissions accounted for 46% of the total, Scope 2 for 29% and Scope 3 for 25%. Within Scope 3, transportation and distribution of sold products accounted for 14% of total emissions, while business travel accounted for 11%.
Naturals
Natural materials are a significant contributor to these numbers. If I said, "Natural always equals sustainable," how many industry readers would agree? If consumers were reading this story, how many would concur?
Perfumers love naturals for their heritage, their "naturalness" and full-bodied beauty, the result of a complex mixture of chemical components. Yet, the reality is that synthetic ingredients drive today's perfumery. Of the perhaps 2,000 fragrance materials sourced by some houses, perhaps 200 will be natural. Those materials will hail from all across the globe—patchouli and clove from Indonesia, ylang ylang from the Comoros Islands, vanilla from Madagascar or Uganda, vetiver from Haiti, and so on.
And so it comes as no surprise that shipping is a major drag on the sustainability of natural ingredients. How bad is the shipping issue? According to numbers collected by oil giant BP and the Institute for Physics and Atmosphere in Wessling, Germany, shipping (on ships) alone, accounts for 5% of global CO2 emissions, or 600–800 million tones. That's double the total emissions of the United Kingdom, to give you a sense of scale. This same study showed that emissions could rise as much as 75% in the next 15 to 20 years.
Of course there are alternatives that promise new hope, including white biotechnology/fermentation, which sources natural ingredients not from a field, but in a lab. A number of ingredient companies are pursuing biotech methods from renewable resources for the production of aroma molecules with a natural claim. Fermentation employs bacteria or fungi, which can transform materials into new chemicals. To date, companies have used white biotech to produce key materials such as vanillin or musk aroma chemicals.
In 1998, authors PT Anastas and JC Warner published the 12 principles of green chemistry. In addition to improving existing processes and optimizing new molecules, green chemistry and technology principles can be applied to agriculturally sourced materials to dramatically increase the rate of extraction to save land use, in effect getting more essential oil or extract from the same amount of plant matter.
Synthetics
Meanwhile, synthetics remain crucial for a sustainable industry. These fragrance ingredients have unique benefits, including relatively stable pricing and availability, generally lower prices, consistency in quality, stability, substantivity and (for some) unique olfactive effects not found in nature. By revisiting and revamping processes, beginning with the highest volume materials, companies can improve efficiencies and biodegradability percentages in synthetics. Moving forward, the molecules of tomorrow will be held to a standard far higher than previous eras.
The Future
I sometimes wonder if one day sustainability will go the way of "green," usurped by a further evolution of eco-, people- and business-friendly practices. Recently, Hannah Jones, the VP of sustainability for Nike was quoted in the Guardian as saying, "[T]he time is fast approaching when we will jettison the language of sustainability, and simply talk about value creation; NPV [net present value], ROIC [return on invested capital], market share, innovation portfolios and shareholder returns."
In the meantime, industry is focusing on sustainability. And so, to close, I thought I'd highlight the visions of two key fragrance customers.
First, from Unilever's latest sustainability report:
By 2020, we will halve the environmental footprint of our products, help more than one billion people take action to improve their health and well-being, and source 100% of our agricultural raw materials sustainably.
And finally, Robert A. McDonald, chairman of the board, president and CEO of Procter & Gamble:
To ensure we make steady progress toward this vision, we also recently announced goals that we are committed to reach by 2020. They include powering our operations with 30% renewable energy, and replacing 25% of our petroleum-derived raw materials with renewable materials that are sourced sustainably.