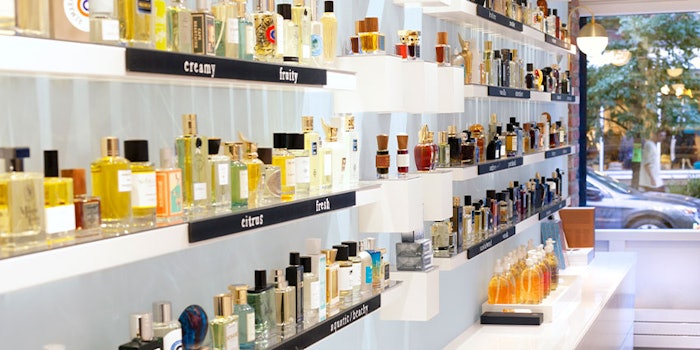 No matter how competitive the landscape is, fine fragrance launches refuse to slow down. According to Euromonitor, globally, the fragrance category reached nearly $60 billion in sales for 2019, up from $48 billion in 2017 and total sales in the U.S. were $8.3 billion in 2018, up from $8.2 billion in 2017a. According to Future Market Insights (FMI), the global perfume market is expected to reach $70 billion by the end of 2026 with a CAGR of 5.9% between 2016-2026b.
Personalized retail experiences, rejuvenated department stores, celebrity scents, designer releases, limited-edition spoof scents and sustainable fragrances are driving fine fragrance innovation. Shared fragrance collections, day and nighttime scents, and interactive technology are trending themes.
Scent Encounter
Independent retailers, pop-ups and department stores in the United States and Europe are creating personalized retail experiences to attract new consumers and maintain current ones.
During Fashion Week from February 7 to February 13, 2020, ScenTronix Inc, a U.S. and Netherlands-based technology company, debuted Algorithmic Perfumery at the Ace Hotel in New York City. Visitors completed a brief survey, and "using a cutting-edge system supported by artificial intelligence," they watched a sensory machine create variations of their personalized scent. Then visitors evaluated the perfume trials and, if interested, produced a final version.
IFF and IFF-LMR supplied an exclusive palette of raw materials, including molecules and naturals. The concept is to offer customers a hyper-personalized custom fragrance with immediate production and accessible prices. This experience was followed by a three month pop up. In addition, a public beta test of the system is offered in a storefront in Breda, Netherlands.