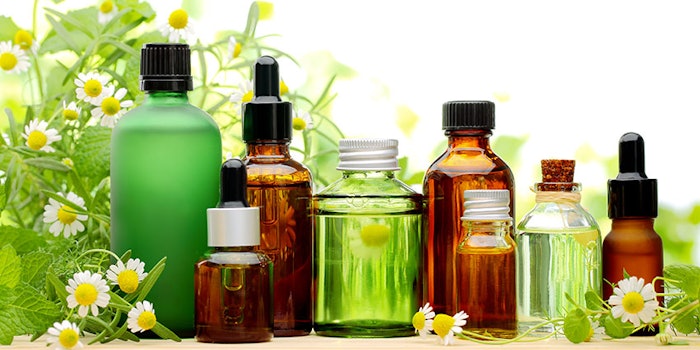 According to a report published by Allied Market Research, the world essential oil market is expected to reach $11.5 billion by 2022, with a compound annual growth rate (CAGR) of 10.1 percent from 2016 to 2022.
Key driving factors include consumers' rising preference for natural products, the growing popularity of relaxation therapies, increasing disposable income resulting in better standards of living, and growing awareness of side effects of chemical substances.
According to the report, the spa and relaxation sector is anticipated to grow at the highest CAGR of over 10 percent during the forecast period, followed by the food and beverage, and medical sectors. The increase is due to the growing popularity of spa and relaxation therapies coupled with increasing disposable income of the consumers in this area. Additionally, the superior antibacterial and antiseptic properties, and aromatic flavor of these essential oils have boosted their overall popularity.
The essential oil market is highly dependent on the raw material prices, which are expected to be steady in the near future. Market growth has been fueled by the increasing use of essential oils in the spa, aromatherapy, flavoring and fragrance industries.
In 2015, orange essential oil contributed the highest revenue in the global market making up around 22 percent of the overall market revenue, according to the report. Orange essential oil is expected to remain the highest contributor by 2022, with a projected CAGR of about 11 percent from 2016 to 2022.
From a growth perspective, the market for corn mint essential oil is expected to register the highest compound annual growth due to its increasing global demand thanks to its antibacterial properties and strong menthol aroma.
Based on geography, Europe dominates the essential oil market, accounting for around 40 percent of the overall revenue in 2015. The region is expected to maintain its dominant position throughout the analysis period on account of the growing demand for natural cosmetic products, rising awareness and increasing adoption of innovative essential oil solutions in varied application sectors.
Europe is the dominant market and is expected to be the leading contributor to the global revenue throughout the reported period. The Asia-Pacific region is expected to record the highest CAGR during the forecast period, owing to increasing demand for organic and natural beauty products in countries such as China and Japan, favorable government regulations and technological developments in production and extraction processes of essential oils, according to the report.