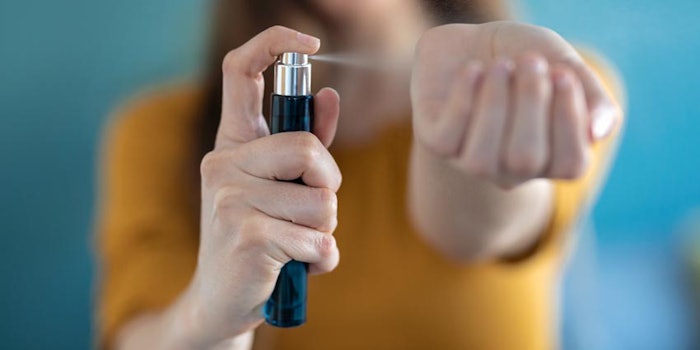 Fragrance Creators Association's Amanda Nguyen, vice president, Government Affairs & Legal, breaks down five things you may not know about the new CARB Consumer Product Amendments.
With a diverse group of member companies spanning the fragrance value chain, Fragrance Creators Associationa (Fragrance Creators) focuses on advancing responsible industry stewardship. One way we do this is by engaging with regulators and other stakeholders to find science-based solutions that are good for people, perfume, and the planet. When it comes to air quality, our recent activity has centered around collaborating with regulators in California. Air quality—and the impact of volatile organic compounds (VOCs) emissions from consumer products— is regulated by the California Air Resources Board (CARB). Reducing VOC emissions from consumer products is an integral part of CARB's effort to reduce smog in the state. After two years of engagement with the consumer products industry, on March 25, 2021, CARB adopted regulatory amendmentsb for seven consumer product categories, which will take effect in 2023, 2027, and 2031 (depending on the category). CARB also approved the sunsetting of the Two Percent Fragrance Exemption—with some exceptions—in 2031. 
Fragrance Creators worked closely with CARB—with both parties listening, learning, and finding common ground—and successfully narrowed the scope of this regulation and its impact, extended compliance deadlines, and corrected previous assumptions about fragrance that were not grounded in the latest science. However, what is being described as a "once in a generation" rulemakingc will still require significant review of existing product formulations, as well as wide-scale reformulation. Given the scope of this shift, a number of misconceptions abound regarding what this rulemaking means for sales and innovation and how companies can best prepare. The following are five key takeaways you may not know about the new guidance:
 1. CARB has broad statutory authority to reduce VOCs: In response to concerns about air quality, California mandatedd that CARB implements regulations to achieve the maximum feasible reduction in VOC emissions from consumer products. This means CARB is required by law to reduce VOC emissions and is only limited by commercial and technical feasibility. Unlike traditional negotiations, CARB has existing, broad statutory authority to regulate VOCs in consumer products.
According to CARB, consumer products are the second-largest source of VOC emissions, behind the collective VOC emissions from all off-road mobile sources. Since the Consumer Products Program began in 1988, CARB has limited the allowable VOC content of over 100 categories. CARB is legally mandated to reduce VOC levels to comply with the State Implementation Plan, in accordance with the Clean Air Act, and its targets must be met by reducing VOC contributions in one product category or another. 
Given the nature of VOC regulation, historically, other jurisdictions (e.g. Canada) and state coalitions (e.g. the 17-state Ozone Transport Commission)e consider California consumer products regulations when crafting their policies.
2. New VOC standards will be applied to 7 consumer product categories: Fragrance Creators prioritized the VOC limits for personal fragrance products (body mists, body sprays, aftershaves, and eau de toilettes/parfums/colognes) and the Two Percent Fragrance Exemption. (More about the Two Percent Exemption below.) CARB's table below summarizes all amendments for seven product categories. In a nutshell, in 2023 and again in 2031, there will be new VOC standards for these seven consumer product categories.
3. Though the Two Percent Fragrance Exemption will sunset in 2031, other exemptions were protected: Since the last significant regulatory overhaul in the 1990s, three exemptions have been available for fragrance.
§94510(j): The VOC limits specified in §94509(a) shall not apply to any VOC which is a 

fragrance in a personal fragrance product

.
§94510(c): The VOC limits specified in §94509(a) shall not apply to 

fragrances up to a combined level of 2% by wt

 contained in any consumer product.
§94510(f): The VOC limits specified in §94509(a) shall not apply to 

air fresheners that are comprised entirely of fragrance, less compounds not defined as VOCs 

under Section 94508 or exempted under Section 94510(d).)
The new amendments only affect the Two Percent Fragrance Exemption (§94510(c)). Fragrance Creators encourages companies to have robust conversations across the supply chain to understand how the sunsetting of the Two Percent Fragrance Exemption—and the limited retention of the exemption—affect fragrance in consumer products.
4. Despite challenges, Fragrance Creators has secured important advancements: Though it's true that these amendments will require significant review of existing product formulations as well as widescale reformulation, throughout the rulemaking process the fragrance value chain was able to secure key advancements toward promoting innovation and elevating sound science-based policy. Since April 2019, Fragrance Creators has successfully negotiated with CARB and gained significant improvements for the fragrance industry. Specifically, CARB changed its default assumption that fragrance is 100% VOC and its assumption that all fragrances are highly reactive. This shift was instrumental as it reduced CARB's focus on fragrance. CARB surveys nearly 500 product categories to determine where VOC reductions can be made. At the beginning of this rulemaking process, CARB was contemplating changes to 47 product categories. Through our efforts, however, the scope of this rulemaking was narrowed to seven product categories, preventing challenges for candles, laundry detergent, and several other key product categories. Within those seven categories, Fragrance Creators has successfully persuaded CARB to make it's 2023 (Tier 1) goals move attainable and has positioned itself as a leader for the 2027 technical assessment.
Fragrance Creators also preserved other CARB exemptions for fragrance and secured extended timelines as well as some retention of the Two Percent Fragrance Exemption. CARB has been receptive to data from Fragrance Creators, and we have had positive, productive conversations with agency staff and Board Members about fragrance, its important role in consumer products, and how fragrance improves consumers' lives.
5. Building trust and collaboration are essential to securing future wins for people, perfume, and the planet: As the world's fifth-largest economy, California sets a high bar for regulatory activity. We remain grateful for the open, transparent communication CARB has provided to our membership. Throughout this rulemaking process, Fragrance Creators has routinely met with CARB and we have engaged in "no surprise" negotiations, further fostering a cooperative working relationship.  And, the association has revived the fragrance industry's relationship and trust with CARB. We have produced high-quality data, robust information, and offered targeted expertise (including the importance and benefits of fragrance). CARB has noted that it views Fragrance Creators as a valuable stakeholder—well-positioned to lead on fragrance in 2021 and beyond.
In the coming months, CARB will continue to engage with Fragrance Creators for minor technical and clarifying amendments, with finalization expected by year's end. Because these amendments fundamentally alter the regulatory framework that has existed for over 30 years, compliance will require frequent, consistent communication throughout the supply chain. Fragrance Creators is serving as a resource to its members and as an established advocate before CARB as we prepare for implementation in 2023 and 2031. Additionally, because much work remains to make the personal fragrance product category feasible, Fragrance Creators will maintain regular touchpoints with CARB and will continue to lead industry coordination. As responsible industry stewards, our members know that businesses have an obligation to come together and work collectively with all stakeholders to tackle the challenges of today and tomorrow.
On Wednesday, June 30, Fragrance Creators partnered with the American Cleaning Institute (ACI) to present a webinar for members on what companies need to know about CARB's consumer products rulemaking and the potential impact of its fragrance-related provisions on cleaning products. This members-only webinar provided the opportunity to hear directly from CARB staff and other experts. Read the joint FCA-ACI post-webinar statement at https://bit.ly/3yfjOUE. Email carb@fragrancecreators.org for CARB-related inquiries.
awww.fragrancecreators.org/
bwww.perfumerflavorist.com/networking/news/company/CARB-Approves-Consumer-Product-Amendments-574074981.html
cww2.arb.ca.gov/our-work/programs/consumer-products-program/consumer-products-informal-regulatory-activity-public
dleginfo.legislature.ca.gov/faces/codes_displaySection.xhtml?lawCode=HSC&sectionNum=41712
eotcair.org/
fww2.arb.ca.gov/sites/default/files/classic/regact/2021/consumerproducts2021/isor.pdf
gww2.arb.ca.gov/our-work/programs/consumer-products-program/consumer-products-informal-regulatory-activity-public