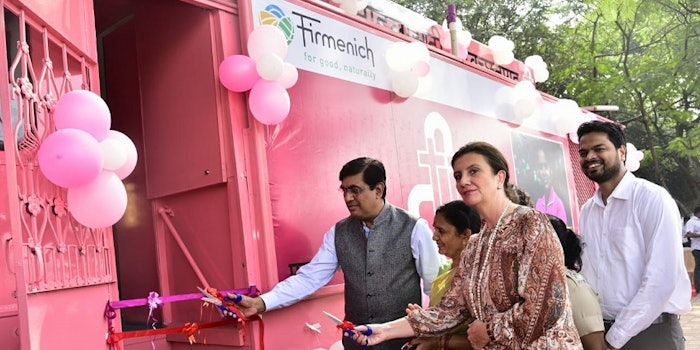 Firmenich has opened the doors on its first "Mobile Toilet for Her," project during an inauguration ceremony on World Toilet Day (Nov. 19) in Pune, India.  
"Evidence shows that even when toilets exist, they are often not used due to their unpleasant smell," commented Satish Rao, chairman and managing director, Firmenich India. "Together with Saraplast, inventors of the 'Mobile Toilet for Her,' we are providing a safe and sustainable sanitation solution that will ensure local women keep coming back, helping to reduce disease in the long term."
Located in a high traffic area of Pune, the mobile toilet is projected to provide sanitation access to more than 150 local women per day. The bus features Western and Indian-style toilets, shower cubicles, water-saving sensor taps, solar-powered lights, a panic button, Wi-Fi, a digital feedback system and trained female attendants. Additionally, the bus is equipped to help new mothers with diaper changing and nursing stations.  
The project comes after a four-year research partnership supported by the Bill & Melinda Gates Foundation to Reinvent the Toilet experience. Since the partnership, the company has actively worked with a number of customers to embed its technologies into affordable and sustainable hygiene products and launched a range of malodor control technologies. These products will be integrated into toilet cleaning products for low-income consumers in South Africa and Bangladesh. Firmenich has also been awarded a second grant from the Bill & Melinda Gates Foundation to explore the role and impact of odor in sanitation-related decisions. This study will target low-income urban settlements in India, Kenya, South Africa and China. 
"I believe safe, hygienic and pleasant-smelling sanitation facilities are critical to accelerating the Swachh Bharat initiative to 'Clean India,' which is why we jumped at the opportunity to help Pune become the first 'Smart Sanitation' city," said Gilbert Ghostine, CEO, Firmenich. "This refurbished bus is a real game-changer for the women of Pune. Beyond the immediate need for safe and clean toilets, it is also helping to drive cultural change for a stronger, more inclusive India."
Related: Odor Elimination Testing Never Smelled Better
Commenting on Firmenich's commitment to accessible sanitation, Rajeev Kher, Toilet Board Coalition Steering Committee Member and CEO of Saraplast Pvt Ltd and Founder of 3S (Sanitation Solutions Simplified), said, "A trailer blazer in the toilet economy, Firmenich was the first to create affordable and sustainable malodor control technologies for low-income consumers. Having a long-lasting and pleasant smell in the bus is essential because no matter how efficient and innovative new toilets are if bad smell prevents their usage, they will lack impact."