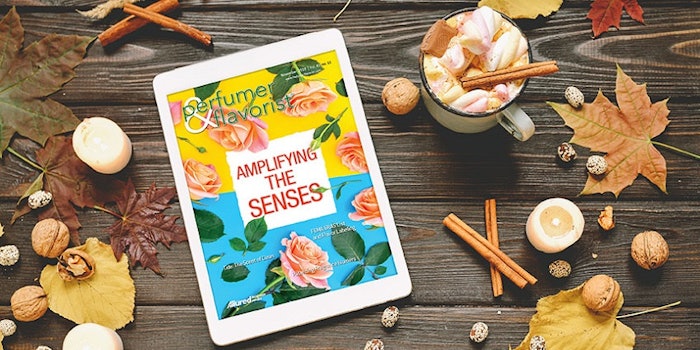 Creating for the senses is the job of every perfumer and flavorist. In the November issue of Perfumer & Flavorist, we look at how flavor and fragrance professionals amplify the senses through their creations.
Available in a convenient, easy-to-read digital format, Perfumer & Flavorist's digital edition provides industry and technical insight to the flavor and fragrance industries. Some of the article that you might have missed in the November 2018 issue of Perfumer & Flavorist include: 
Tide: The History of the Smell of Clean in North America. Throughout the years, Tide has become synonymous with the scent of clean, while evolving to meet the demands of conscious consumers.

FEMA GRAS and U.S. Regulatory Authority: U.S. Flavor and Food Labeling Implications. As consumers increasingly examine the ingredients in their products, flavor and food labeling between the two programs continue to be an evolving balancing act between transparency and disclosure, with safety as the foundational message on the label.

Perfumery's Limits: Where is Niche Headed? Most assume that the niche trajectory can keep moving at its current pace but what if niche in its current form is the apex of the movement?
Delivered monthly, the digital edition of Perfumer & Flavorist is the quickest and easiest way to stay on top of all the flavor and fragrance industry news.