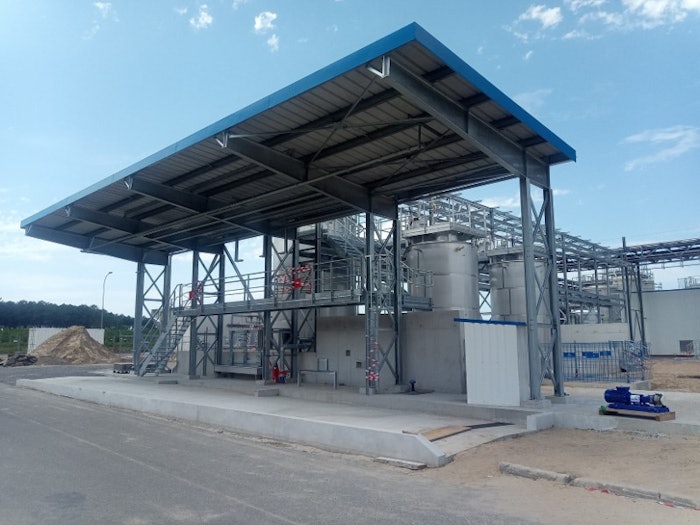 courtesy of dsm-firmenich
dsm-firmenich announced the upcoming commissioning of a Habanolide facility at its production site in southwest France, said to be operational in January 2024. The state-of-the-art facility is said to significantly increase the production capacity of the perfume ingredient and help meet the rapidly growing demand for sustainable products. 
Related: dsm-firmenich Reveals Dunes – The Valley of Fragrances Collection
Habanolide is described as an elegant macrocyclic musk with a warm and slightly woody note. This capacity increase is designed to benefit the Habanolide derivatives: Exaltolide Total and Exaltolide.
According to dsm-firmenich the expansion project received €1million in support from the national recovery plan implemented by the French government and the regional authorities of Nouvelle Aquitaine to accelerate industrial investments in France.
"This is our first Habanolide production unit in Europe," says Emmanuel Butstraen, president Perfumery & Beauty at dsm-firmenich. "It will further strengthen our strategic position and enable us to offer additional capabilities for perfumery production in the region. In addition to helping us capture the growth opportunities that lie ahead, it will also contribute to lowering the carbon footprint of our logistics operations. We'll be able to provide an enhanced service close to our customers in Europe and help them deliver on their own sustainability goals by reducing their scope 3 emissions."
"We are very proud of this new production unit, designed to increase the supply of this biodegradable and powerful musk which is one of our best-selling ingredients," adds Amaury Roquette, head of Ingredients, Perfumery & Beauty at dsm-firmenich. "This facility will allow us to produce Habanolide in Europe, in addition to the production line in New Jersey, US. With this additional project, we are strengthening our global leadership in musk ingredients."