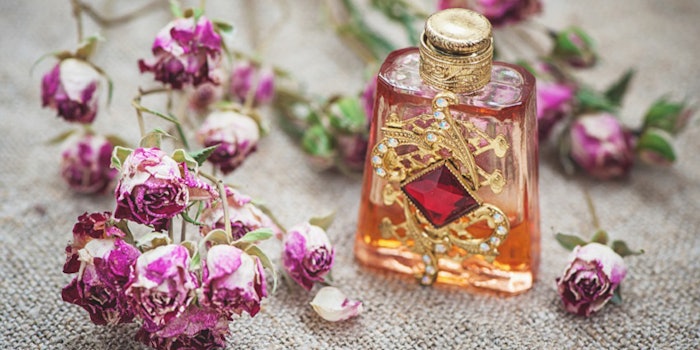 Firmenich has announced the launch of its Sharing Innovation Collection 2018, a fragrance ingredient series. 
Among the ingredients in the collection, the company has created a bio-based, sustainable and cost-effective version of its iconic Z11 molecule, using the company's white biotechnology and proprietary green chemistry technology. In total, the collection contains five ingredients; one bio-based, two synthetics; and two naturals, and includes:  
Z11 via white biotechnology. Building off of its Clearwooda and Ambrox Superb, this ingredient is Firmenich's third bio-based ingredient. It is produced using a fermentation process coupled with proprietary green chemistry technology.
Hivernalc neo. A crisp and clean green synthetic that joins similar bestseller like Mayold, Florole, Lilyfloref and the company's "Beyond Mugeut" collection.
Norlimbanolg dextro. This ingredient pairs creamy warmth of amber with the traditional iconic dry woody character of the Norlimbanol family.
Oud Assafih. Extracted from aquilaria malaccensis, this is the first registered extract of its kind for use in perfumery and contains animalic, woody and spicy notes. The ingredient was created in conjunction with Firmenich's #NATURALSTOGETHER partner in Bangladesh.
Rose centifolia pays absolute. Utilizing its Naturals Center of Excellence in Grasse, Firmenich has been working on reviving the cultivation and extraction of Rose de Mai.
"Our aim is to inspire our customers' creativity by providing them access to our game-changing ingredients," said Julien Firmenich, VP sales and ingredients, Firmenich. "I am especially proud of this year's Sharing Innovation Collection as the introduction of Z11 confirms our leading expertise in white biotechnology, while also featuring a selection of cutting-edge molecules and precious naturals."
a-hClearwood, Ambrox, Mayol, Florol, Lilyflore, Hivernal, Norlimbanol and Assafi are registered trademarks.