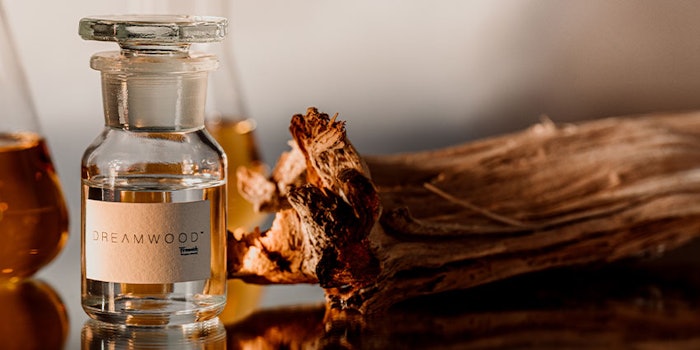 Firmenich has launched its newest captive ingredient Dreamwood. Inspired by Mysore sandalwood, Dreamwood offers a creamy olfactive warmth and potential cosmetic benefits.
Previously: Firmenich Completes Placement of Bonds Benchmarks.
Dreamwood is Firmenich's latest white biotech innovation and is 100% natural, biodegradabel and uses 100% renewable carbon sources.
Dreamwood is the first of its ingredients which Firmenich claims features cosmetic benefits. Similar to those traditionally associated with sandalwood oil, Dreamwood possesses an antimicrobial effect and soothing properties on skin cells and may work as an added benefit in skin care products for special needs, according to the company.
Previously: Firmenich Invests in Renewable Ingredients with DRT Acquisition. 
Julien Firmenich, vice president sales, ingredients, perfumery at Firmenich said: "Dreamwood is the cornerstone of sustainable innovation and represents the future of our ingredients business, integrating positive consumer benefits at the core level of product composition. This innovative captive opens new creative territories for sandalwood fragrances, with the full benefit of responsible business, in one ingredient."
"Consumers are looking for renewable, sustainable solutions. Individuals and companies alike are examining how they can do their part to minimize their impact on the earth. Ingredients produced via biotech are one way of doing this," said Sarah Reisinger, vice president, research & development, biotechnology, Firmenich.
François-Raphaël Balestra, principal perfumer, director of new ingredients discovery, Firmenich, summarizes: "By being sustainable and affordable, Dreamwood is reviving natural sandalwood notes for modern perfumery creations. Dreamwood reveals its full naturalness and deep creaminess especially in heart and base notes."text