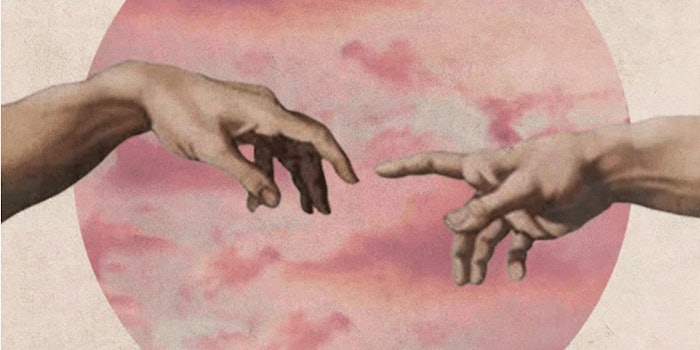 Givaudan has launched a first-of-its-kind olfactive experience in Shanghai, China, called Touch Again.
Related: Givaudan Introduces Bloomful Fragrance Platform
The trade and media showcase offers the chance to re-examine the impact of the pandemic through insights from the Givaudan COVID-19 Trends Tracker, a survey that tracked the emotions and sentiments of about 3,000 individuals from China, Japan, Korea, Thailand, Indonesia, Philippines, Vietnam and Malaysia over the past 12 months.
Touch Again will host industry partners and collaborators from May 10-23, 2021 in Shanghai. The two-week event aims to highlight the use of scent in uplifting the human spirit through four themes: Strong Softness, Human Touch, Cuddly Solitude and Hugging Nature, addressing the uncertainty, loneliness and lack of human touch that has resulted from the pandemic.
The multi-sensorial space full of textures and hues invites visitors to contemplate future possibilities with optimism through over 20 unique scents, including creations by Givaudan perfumers in Asia and across their Fine Fragrance Creative Centers globally.
Are you an expert in the F&F industry? We want you to speak at Flavorcon 2021! Review the speaker guidelines and fill out the proposal form by May 28, 2021.
The scents will be delivered through Givaudan's patented VivaScentz, MoodScentz, Phytogaia and ScentTrek technologies.
Hervé Fretay, fine fragrance business development director APAC, said, "In these emotionally challenging times, it is important that people find new ways to connect with themselves, nature and their communities and rekindle positive, uplifting emotions as they build a positive outlook for the future. Seventy five percent of emotions are triggered by smell, so we hope that through this event, we are able to inspire our partners and the wider industry to create invigorating products with "feel good benefits," especially at a time when it's needed most. With this initiative, Givaudan China contributes to reinforcing our global leadership position in fine fragrances and pays tribute to Givaudan's purpose to help consumers live happier, healthier lives."
Want to know everything going on in flavor & fragrance? Sign up for P&F+'s newsletter. You can also follow along on Instagram and LinkedIn.