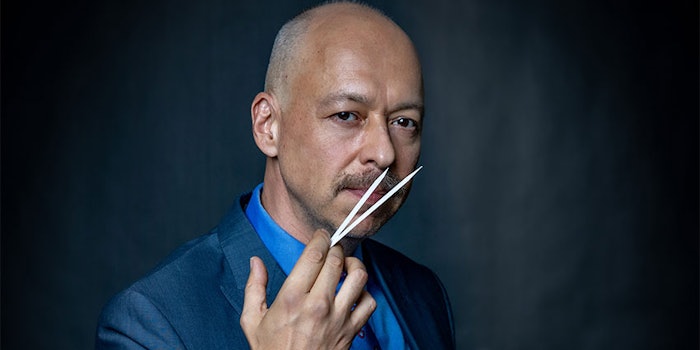 Name: Jorge Lee
Location: Istanbul, Turkey
Hometown: Bogota, Columbia
Perfumer & Flavorist [P&F]: What led you to the fragrance industry?
Jorge Lee [JL]:* I studied economics; my dad was the chemical engineer. I graduated from university and was already starting in a new role for a Dutch bank in Colombia when I was contacted by a headhunter hired by Unilever, who were recruiting for their new office in Bogota for a marketing role with Quest International. When I was told it was a fragrance company, I knew then and there that the right job had come to find me. It was once inside the company that I was offered to train as evaluator, and then came the offer to train for perfumery.
P&F: What applications do you primarily formulate for? Do you have a favorite?
JL: I formulate for alcoholic, fabrics and personal care applications specifically, but I think I have dabbled in all categories by now. My favorites in personal care are deodorants and bar soap, which has been especially challenging and rewarding to me.
P&F: Are there any recent projects/wins you're particularly proud of?
JL: An important local customer showed us a sample of an alcoholic fragrance they wanted interpreted for a bar soap. It was a grapefruit/citrus note with the added challenge of being for a glycerin format. I am very proud that this very important leader in the bar soap market has finally been captivated by my work.
It was also satisfying how, after this particular fragrance win, an additional set of bar soap fragrances I worked on were also adopted. I am very proud, especially because this customer had been an elusive target in the past few years for our company. I am also very proud of having added some new perfumery notes to the MG palette that are new to the market. These are based on the Colombian fruit I grew up with and include: Granadilla passion fruit, yuca root, papayuela, guava, feijoa and dragon fruit, to name a few.
P&F: Where do you find inspiration?
JL: From a very young age, I developed an appreciation for my grandmother's cooking, especially desserts and cakes and the herbs and spices from different cuisines she would venture in.
After my grandmother passed, my mother continued this cooking tradition, and my contact with her kitchen has been a great source of my inspiration. I grew up in Colombia, land of exotic and tropical fruit, and in my youth, every Christmas break, we would meet with my cousins and relatives for a week's holiday where everyone was wearing new perfumes they would get as Christmas presents. I could smell the different perfumes my relatives would wear, and I could associate brands to people this way.
Colombia is a scent-seeker market where counterfeit alcoholic fragrances do not sell, so most people only have access to authentic branded products. This allowed me to have had a rich imprint of what was fashionable in the '80s and '90s in Europe and the United States to support my understanding of genealogies and the parallel universe that is perfumery.
P&F: Are there any local ingredients that inspire you?
JL: Rose from Isparta is world famous and very widely used in fine fragrances. Experiencing Turkish cuisine has also increased my understanding of spices and blends. Finally, I am definitely inspired by mastic, the gum that is used for desserts and for chewing locally, but that we have in the perfumer's palette known as lentisque.
P&F: Describe yourself in 3 ingredients.
JL: Sandalwood: mystical. Kephalis: elegance. Canthoxal: versatility.
P&F: Do you have any favorite ingredients to work with? Why?
JL: I love woods, like most people, but it took me a while to understand how they can annihilate your perfume if they are not used correctly. They can completely quench any freshness and make an otherwise trailing fragrance become a flat skin scent. Most people think the more, the better, in order to get those rich woody effects. I have done the homework. I know better by now!
P&F: How has COVID-19 affected your day to day as a perfumer or flavorist?
JL: Personally, I had three large and articulate concurrent projects at the time, and, since we did not do any closure of our factory, it was therapeutic to be working so intensely on these developments that have gotten very encouraging feedback both internally and from customers' first impressions. It was an escape from the reality of the lockdown and the fear that has been so widespread in 2020.
 *Responses have been edited for clarity.