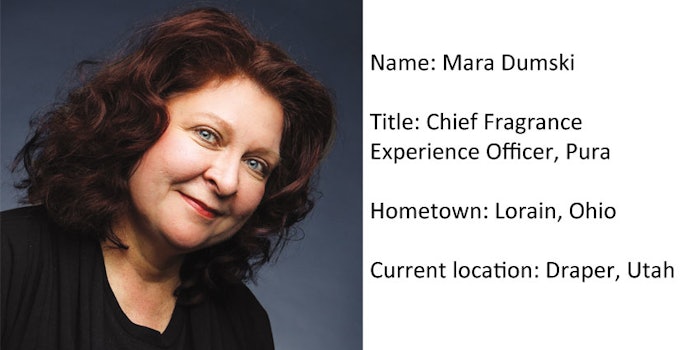 P&F+: Do you have any advice for people coming into the fragrance field?
Mara Dumski [MD]: Find your voice. Be open to learning everything and don't let anything get in your way. Be your own person, be yourself, be kind.
P&F+: Are the types of projects you're working on changing over time? How are the creative demands of the job evolving?
MD: Yes! They change every single day. Everything that Pura develops involves fragrance in new ways, so it becomes more and more creative all the time. There is a completely new narrative in this industry that Pura is discovering, so now, we are able to evolve fragrance with technology, which is so new and exciting. With all the new products that Pura is developing, fragrance gets to develop with them. New avenues of creativity are here for me, which is constantly bringing new opportunities.
P&F+: What is the best part of your job?
MD: The people are the best part. The entrepreneurship within the company that starts with the co-founders and trickles throughout the whole company is so unique and incredible to be a part of. The culture that is being set by the co-founders is truly something unique and incredible. The people provide inspiration on a daily basis as they are humble, grounded and energetic.
P&F+: Are there any recent projects/wins you're particularly proud of?
MD: All of them! Disney, James Harden, all of the brand projects we've been working on. I couldn't narrow it down to any one specifically! I am so happy to be working with all of these amazing brands and individuals.
P&F+: Where do you find inspiration?
MD: Everywhere I look. The mountains, the sky, the air, the natural beauty all around me. This state is so conducive to inspiration, and the people reflect all of their energy and creativity. We can push boundaries together, which is amazing and so inspirational. Nature and humanity inspire me the most.
P&F+: Are there any local ingredients that inspire you?
MD: The wildflowers of the west, the desert, the mountains and snow caps, lush greenery. I see things with new eyes here. It's so invigorating to change your environment and work with fresh people who are as energizing as my surroundings. With the mountains in our sight, we are taking fragrance to new heights! Pura is pushing boundaries with technology, ingredients and fragrance. We feel so grateful to be a part of this industry that is taking air care to completely new and exciting places!
For the full article, please check out the Perfumer & Flavorist+ November 2021 issue.