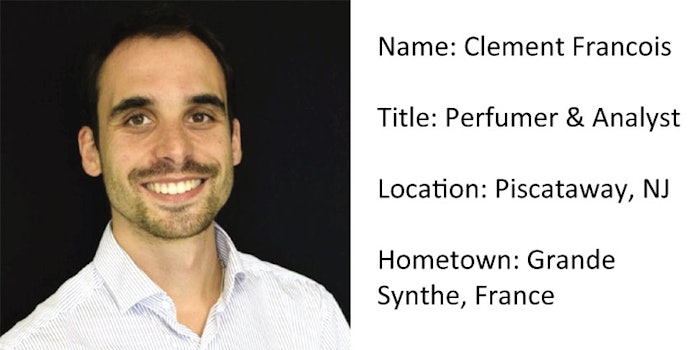 P&F+: What led you to the fragrance industry?
Clement Francois [CF]: I discovered the fragrance industry by chance. In my childhood, I was very interested by the sciences. I liked cooking with my mother. I got a bachelor's degree in chemistry and physics, and I wanted to continue my studies in chemistry, but I didn't know what. I was looking at a master's degree in chemistry and I found flavors and fragrances. I was happy to be able to combine tasting and chemistry. I discovered the fragrance world during that time and fell in love with the world of scents.
P&F+: What applications do you primarily formulate for? Do you have a favorite?
CF: Candles and cosmetic applications, but my favorite is fine fragrance. There is less regulatory constraint than cosmetic applications and a bigger budget in regards to the creation process.
P&F+: Where do you find inspiration?
CF: Everywhere, but mostly when I travel, visiting different countries and learning different cultures. It's always a rewarding experience.
P&F+: Do you have any favorite ingredients to work with? Why?
CF: The citruses are my favorite because of their olfactive qualities: fresh, sparkling and clean. They boost a fragrance and give an energizing feeling. I am always amazed by the citrus perfumes; my last discovery was Eau de Citron Noir by Hermès.
I also like pink pepper, very spicy but delicate, in the meantime. It works nicely as a floral fragrance for women, as well as a modern woody fragrance for men.