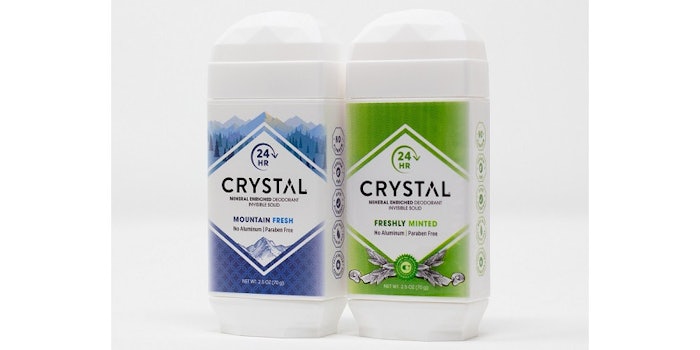 Crystal Body Deodorants has expanded its line of solid deodorant products with two gender-neutral scents, Freshly Minted and Mountain Fresh.
Formulated with no aluminum, parabens or artificial fragrances, the line of deodorants provide odor protection through a blend of minerals and essential oils. The Freshly Minted scent features notes of cotton, linen and fresh mint, while Mountain Fresh has notes of jasmine, oakmoss, lemon and cedarwood. Both deodorants will be available starting in February 2019.
Related: Forward Thinking: The Natural Evolution
"The two new scents have been wildly successful. We are excited to expand our existing line of Invisible Solid Sticks while offering more gender-neutral options," said Martin Floreani, president and CEO at French Transit. "They hold considerable appeal for consumers who gravitate towards fresh, clean, natural, unisex scents at a value price."