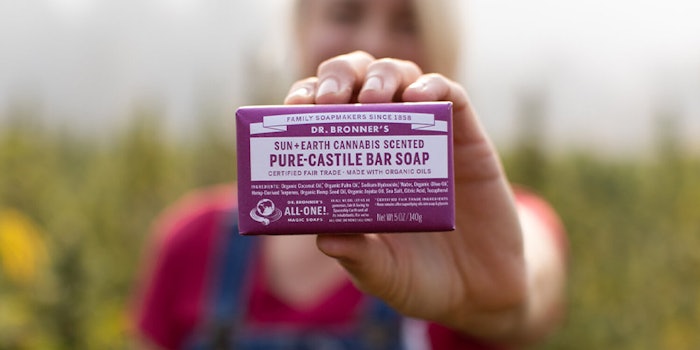 Dr. Bronner's has released a Sun+Earth Cannabis-Scented Bar Soap, available as part of the 2020 Sun+Earth crowdfunding campaign.
Related: Firmenich Launches AI-Augmented Laundry Care Fragrances
The soap features moisturizing hemp oil, and contains Sun+Earth certified terpenes from regenerative organic hemp grown at East Fork Cultivars in Takilma, Oregon. 
It contains a an earthy, piney cannabis scent, but does not actually contain THC or CBD.
The soap is not for sale, but is a gift, along with Dr. Bronner's Lavender Organic Hand Sanitizer, for a donation of $25 or more to Sun+Earth Certified from November 20, 2020 to December 20, 2020.
Sun+Earth Certified is a certification for cannabis products that are grown outdoors in a regenerative organic agriculture model. It is a guarantee that cannabis is grown in soil in the sun by fairly paid farmers and workers and without chemicals.