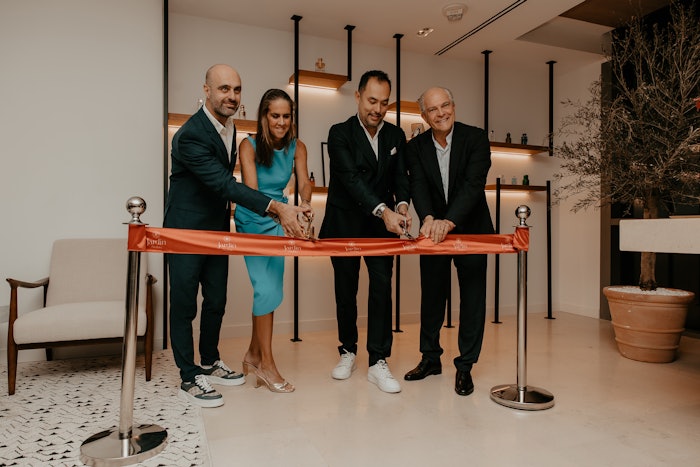 courtesy of Symrise
On October 30, 2023, Symrise debuted Jardin Arabia, its new creative center dedicated to fine fragrance in Dubai. The name "Jardin Arabia" is said to pay homage to the region, "embodying its central location at the crossroads between Europe and Asia, while also highlighting the natural beauty of the building's structure."
The grand opening hosted Symrise's Fine Fragrance perfumers Théo Belmas, Margherita Carini, senior perfumer Philippine Courtière, master perfumer Loc Dong, president Global Fine Fragrance Julianne Pruett, deputy president Global Fragrance Ricardo Omori, president Global Fragrance Eder Ramos, and other essential team members, clients, content creators and media. 
"Jardin Arabia demonstrates our strong commitment to continue to drive our business and support our partners in the region. As Symrise expends its capacity with this new full-service facility, we are showcasing our innovative and challenger mindset." Ricardo Omori, deputy president Global Fragrance
The hub is designed to offer dedicated areas for creative arts, olfactory culture, and exclusive events, ranging from fragrance masterclasses, perfumer interactions, and trend discussions that together will facilitate learning, networking and knowledge-sharing.
"Our new collaborative space, Jardin Arabia, is strategically located in the heart of Dubai, between The Marina and The Palm, two iconic bustling neighborhoods. It is a luxurious oasis where our partners and team members can think outside the box to co-create the next olfactive jewels of the region," Julianne Pruett, president Global Fine Fragrance.
Oud Onyx
Oud Onyx was created by Alienor Massenet and Margherita Carini, as an interpretation of Oud pays tribute to the enduring affection for the legendary wood in the GCC region. 
''de Laire is very special to me, it embodies Symrise's patrimony and our luxury roots. Alienor and I followed the vision to infuse the legacy of the Middle East in these iconic bases. We have built Oud Onyx DL around a new unique Oud signature and the vibrance of Ambrostar® and Flowerpool®. An unexpected duo for the emblematic de Laire collection." perfumer Margherita Carini shared.
Patchouli Minéral
Symrise fine fragrance perfumers Théo Belmas and Loc Dong developed a new de Laire base with Patchouli Minéral which is said to be inspired by the exploration of an iconic ingredient of perfumery: the exquisite, high-quality, patchouli from Madagascar, which is textured and velvety by essence.
"Patchouli Minéral DL was born out of a challenge: to modernize a very well-known perfumery ingredient, patchouli. This creation adds a fresh woody base to the legendary de Laire bases collection, using our remarkable quality of Patchouli Madagascar. A co-creation that explores new olfactive territories, carving Patchouli with Ambrostar and Sympep. Blurring the edges between wood and ambergris to craft a salty, mineral and intense new de Laire base," shared perfumer Théo Belmas.