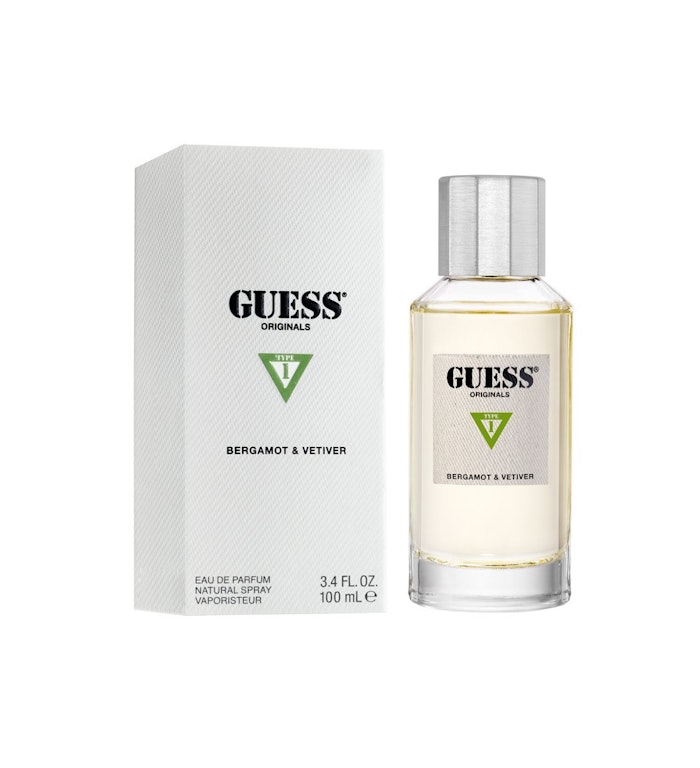 courtesy of GUESS
Guess released three fragrances for its GUESS Originals collection. Takasago senior perfumers Catherine Selig (who created Type 1 & 3) and Linda Chinery (who created Type 2) joined Perfumer & Flavorist+ to discuss the details behind creating the fragrances, current trends that are exciting them as well as consumer demands shaping the industry.
GUESS Originals Type 1: Top Notes of Bergamot, Basil, Mandarin; Middle Notes of Cardamom, Wild Lily, Orris; Bottom Notes of Vetiver, Patchouli, Skin Musk.
GUESS Originals Type 2: Top Notes of Bergamot, Jasmine, Red Currant; Middle Notes of Orange Blossom, Cedarwood, Vetiver; Bottom Notes of Fir Balsam, Oakmoss, Amber, Musk
GUESS Originals Type 3: Top Notes of Bergamot, Tobacco leaf, Mandarin; Middle Notes of Tobacco Blossom, Tonka Bean, Saffron Rose; Bottom Notes of Vanilla, Musk, Amberwood.
Can you share the inspiration behind these fragrances? 
Catherine Selig [CS]: BERGAMOT & VETIVER—Colorful and alive, this fragrance is inspired by the quest of finding everyday pleasure in life, "the dolce farniente" 
TOBACCO & AMBERWOOD–The thought of "Opposites attract" inspired this fragrance where crafted ingredients vibrate in the air and on skin to create an irresistible harmony 
Linda Chinery [LC]: RED CURRANT & BALSAM– I wanted to create a signature scent to celebrate one's individuality while honoring the Guess heritage.  When creating Red Currant and Balsam, I wanted to create a scent that would make the wearer feel good and feel like their authentic self. I was inspired by duality—duality of materials, duality of feelings and duality of notes. By using simple ingredients, I was able to blend warm and clean, rich and fresh, soft and robust.   
What were some of the key notes you wanted to include in the fragrance? Why? 
CS: BERGAMOT & VETIVER–This fragrance is crafted with key notes of Italian Bergamot, Wild Lily and Haitian Vetiver. The idea was to bring ingredients that can work together harmoniously to create a multifaceted aliveness olfactively but also evoke balance and signature. The citrusy freshness of Italian Bergamot, the contrasting wild floralcy of Wild Lily, and the earthy depth of Haitian Vetiver produce a fragrance that is both invigorating and modern. 
TOBACCO & AMBERWOOD –This fragrance is crafted with key notes of Vanilla from Madagascar, Italian Mandarin and Amberwood. These key notes lend undeniable character and together to create the ultimate contrast of opposites by blending freshness, warmth, sophistication, and sensuality all in one experience. 
LC: RED CURRANT & BALSAM –
Red currant: Invigorating and sparkling fruity top note for energy and self-expression at first sniff. 
Orange blossom: A beautiful, vibrant white floral note that is delicate and sweet. It is warm and sensual and connotes a feeling of harmony.  
Amber: Can be rich and diverse because you use a blend of ingredients to create a warm, cozy, skin-like feels. Since this lingers the longest on the skin, it is a true part of your identity.  
What are some of the current trends in fragrance you're most excited about? 
CS: I am most excited by the current trend of creating simple yet luxurious fragrances where the quality of the ingredients make the signature of the scent with a long-lasting effect throughout the day and night.
LC: The fragrances that I am creating today are a more creative approach to self-expression.  I gravitate to using traditional ingredients but make it more modern by taking a simplistic approach so that the message is clear and unique. For example, in Red Currant and Balsam, I used the traditional orange blossom, which is typically a big white floral, but here it is warm and clean and envelopes the fragrance.  I combined the floralcy with some sensual amber, fir balsam and musk so that there is a certain richness and sexiness that stays with you.  These warm amber and musky notes are trendy not just because they smell beautiful, but because they appeal to almost anyone and can be worn all year long. 
What are some consumer demands and/or trends you're seeing shaping fragrance innovation/formulation? 
CS: Consumers demand linear scents that can last and get noticed after a few hours of wear.  These scents are the best companion from appetizers through dessert and throughout the night 
LC; More clean, healthy lifestyle approach using more sustainable and biodegradable materials, it is a big influence on how fragrances are created and the message we are bringing to the customer.  Also, self-expression is very important.  We are creating a fragrance that makes you, the consumer, feel good.  Feel good about wearing and feel good on how you present yourself, not how others feel about you.