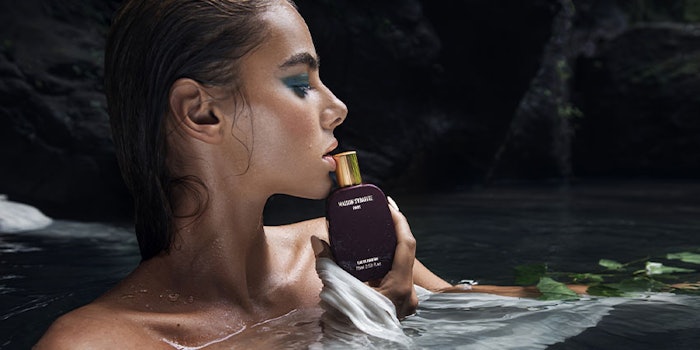 Originally launched in Europe in 2019, Maison Sybarite, a French perfume brand inspired by clean beauty, has launched in the United States with its first water-based fine fragrance line.
The collection, entitled "eau de parfum,'' features five scents: 
720: described as woody, racy, carnal, powerful and intoxicating, this scent features notes of birch tar, lavender, cardamom, cinnamon, nutmeg, Ambrox, tonka bean, patchouli and cedarwood.
Opulent Wood: described as woody, leathery, warm, spicy, bewitching and exotic, this scent features notes of nutmeg, black pepper, saffron, orange blossom, ylang-ylang, prune, cedarwood, sandalwood and leather.
Bed of Roses: described as intriguing, woody, powdery, sensual and addictive, this scent features notes of saffron, cardamom, mandarin, bergamot, rose, orris, cedarwood, patchouli and tolu.
Spicy Calabria: described as citrus, spicy, woody, leathery, velvet and warm, this scent features notes of bergamot, ginger, limette, wormwood, orris, oud, black pepper, patchouli, cedarwood and labdanum.
Amber Gaze:  described as creamy floral, ambery, spicy, voluptuous and hypnotic, this scent features notes of jasmine, tuberose, violet, cardamom, chili pepper, pink pepper, cinnamon, nutmeg, labdanum, sandalwood, vanilla, patchouli and tolu.
Maison Sybarite's water-based fragrances are long-lasting and full-bodied. Each of the five scents is suitable for everyday use and available for purchase exclusively on the Maison Sybarite website and at La Parfumerie, both online and instore, located in Raleigh, North Carolina. The 75ml bottles retail for $185 each. Fragrances are currently available in the United States, United Kingdom, France, Germany, Sweden, Romania, South Korea, Australia, Belgium, Indonesia and UAE.
The Technical Side
Maison Sybarite's formulas use water plant emulsion (oil in water-O/W) to avoid a commonly used solvent across the industry: denatured alcohol (also called ethanol). Some key features of the brand's water-based fragrance formulations include:
 Ultradrops: microdroplets of 150 nanometers, increasing the persistence of the perfume.
Water plant emulsion: liquid, kinetically stable colloidal dispersions, consisting of an aqueous phase, an oil phase and a surfactant. This allows us to create safe products for a wider group of consumers, including people with sensitive skin. The high concentration level of the aromatic compounds ensures the intensity of the fragrance on the skin (16% concentration).
Unique manufacturing process: blending oily active ingredients with water by leveraging saponin, a natural organic solvent, directly extracted from plants.
Pleasant feel: non-oily texture, easy to spray and spread
Free of chemical solvents: ethyl alcohol
Cruelty-free
Packaging: mindfully conceived with a minimalistic approach, recyclable and printed on paper from sustainable forests.
Maison Sybarite is committed to being transparent about its safe, sustainable and cruelty-free practices across the board. As a clean fragrance brand, it uses both synthetic aromatic compounds and plant-based essential oils that are considered to be safe components for long term use.
The Creator
Maison Sybarite tapped French master perfumer, Antoine Lie, for the collection's four distinguished scents (720, Opulent Wood, Bed of Roses and Amber Gaze). Holding a diploma in chemistry and reputed for his avant-garde approach, Lie is a true artist of his craft, who is behind some of the most coveted scents in the industry, including Armani Code/Black Code, Versace Crystal Noir and Tom Ford Café Rose.
Perfumer & Flavorist was able to meet with Antoine Lie to discuss the technical details of this new line of water-based fragrances:  
Antoine Lie [AL]: A water-based fragrance is a perfume in the form of oil-in-ultrapure water emulsion, using patented Ultradrops technology microdroplets to increase the persistence of the perfume. Our innovative technology is the cleanest solution in the perfume industry. Water forms up to 80% of the total content of our formula and serves as a vehicle for soluble aromatic compounds such as some active ingredients (vitamin E). We took advantage of WPE (Water-Plant Emulsion) to avoid the most commonly used solvent—denatured alcohol.
P&F: How does the fragrance formulation account for and avoid settling and separation?
AL: Stability is key when considering an emulsion synthesis technique. Without it, the two phases will separate, and the product will have a lower function. The water plant emulsion requires a natural emulsifier directly extracted from plants to assist with stability, in association with a specific manufacturing process, giving life to microdroplets. Ultradrops remain in suspension and give a stable and homogeneous mixture.
P&F: How is the emulsion treated to sustain the scent for long-lasting wear?
AL: The water-based perfume manufacturing process is patented. The aromatic compounds in high concentration 16% are carried by the microdroplets, ensuring the persistence of the scent on the skin.
P&F: What are the main benefits and draws of a water-based fragrance?
AL: Water-based fragrances are safe for the skin because of using clean ingredients that are free from petrochemicals, solvents, dyes, alcohol and pesticides. It preserves the olfactory sensitivity, it doesn't dry out the skin and it's suitable for people with allergic reactions. Our water-based fragrances don't contain harmful chemicals such as silica, parabens, BHA, sodium lauryl sulfate, coal tars, petroleum by-products, propylene glycol, triclosan, polyethylene/pegs, and formaldehyde.
P&F: How does the lack of ethyl alcohol contribute to a more natural/sustainable product?
AL: The amount of water consumed in ethanol production depends on what crop is used as a biomass, where it is produced, and which technology is used in its processing. Usually, it takes three liters of water to produce one liter of ethanol. Climate change will likely bring more intense precipitation and droughts, which will mean added stress on our water resources. Since growing energy needs and a 16.5% increase in agricultural water use for ethanol production will exacerbate water shortages and conflicts, an understanding of ethanol's water impacts is key to implementing policies that are environmentally sustainable.