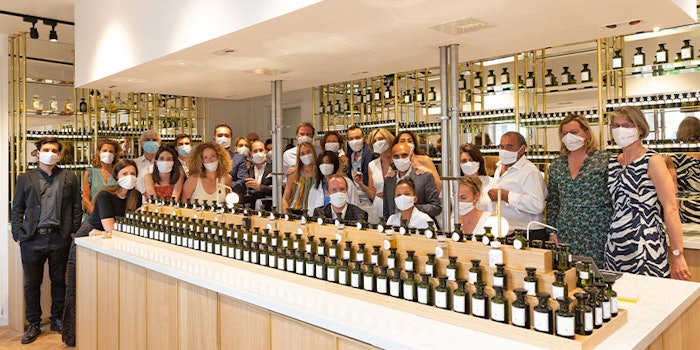 Symrise has created L'Appartement Etoile to re-conceptualize fragrance development as an agile and collaborative creation process.
This new hub will also be a home dedicated to the creative arts and olfactory culture, bridging the disciplines through exclusive cultural programs.
Previously: Symrise Promotes Sustainable Cultivation of White Grapefruit.
Located at 12 Rue de Presbourg, in Paris, l'Appartement Etoile offers an intimate, inviting ambiance and breathtaking view of the Arc de Triomphe, giving guests a unique and inspiring backdrop to spark ideas, create opportunities and provide modern solutions in real time at the on location lab.
Previously: Symrise, CRIEPPAM Partnership Supports Biodiversity in Lavender Farming.
Franco-Israeli interior designer Deborah Prasquier created the contemporary space.
At L'Appartement Etoile, audiences including clients, perfume lovers, influencers and the media will experience a collaborative space that encourages exchanges and feel nourished by a real creative energy.
Planned events include thematic exhibitions, master classes, conversations with iconic speakers and artists to learn, connect and cross-pollinate knowledge. 
"It is in the Symrise DNA to challenge boundaries—we constantly push ourselves to create differently, with more agility and ingenuity," said Ricardo Omori, senior vice president global fine fragrance, Symrise AG. "We also believe fragrance inspiration is cultivated through collaboration with other artistic disciplines. L'Appartement Etoile Symrise brings together these ideals of imagination and collaboration in an avant-garde space to spark ideas, create opportunities and bring thoroughly modern fragrance solutions for our clients."
"L'Appartment Etoile, through its conception, design and overall ethos, embodies the Symrise values of excellence, creativity and added value," said Heinz-Jürgen Bertram, CEO Symrise AG. "Symrise Fine Fragrance consistently challenges existing ways of thinking and I am confident that this new hub will continue the Symrise expansion and reinvention of the fine fragrance category."