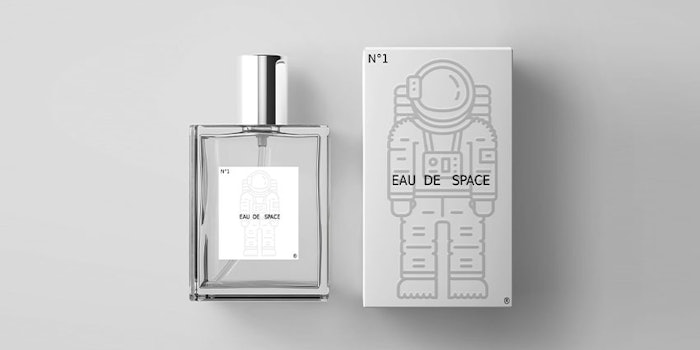 A Kickstarter campaign is seeking to bring the smell of space to STEM students around the world. Eau de Space was originally developed for NASA as a training tool to acclimatize astronauts to the smell of outer space.  
According to the Eau de Space Kickstarter page: "Ever since the first spacewalk, astronauts were shocked by the lingering odor when returning back into the spacecraft. Some describe it as gun powder, rum, fruit, seared steak, or a BBQ [sic]."  
The Eau de Space team is comprised of leaders in fashion, design, technology and logistics as well as some of the world's top perfumers.
One of the major driving motivations behind the release of Eau de Space is a desire to increase interest in science, technology, engineering and mathematics (STEM) fields through experiential education.
Using the One for One model, for every bottle of Eau de Space sold, one is in turn donated to a STEM program in need at the K-12 level. 
The Kickstarter page mentions: "Eau de Space is our first product launch under this important initiative, and we hope there will be many more."  
The page continues: "Imagine if a child that smells Eau de Space today is inspired to become an astronaut, scientist, or engineer. One day, that same child may even become the first human to walk on Mars. That's the kind of impact experiential education has on early teaching programs in the formative years of child development. And it's a really neat mission to be a part of." 
With just over a month left on the Kickstarter campaign, contributions have already surpassed the original goal of $1,969 over 230 times for a $450,000+ total and counting.
Development of a follow up scent, Eau de Moon, is already in motion.
Perfumer & Flavorist [P&F]: What has the process been like of developing such a unique scent like Eau de Space? 
Steve Pearce [SP]: I first developed this for NASA back in 2008 … It was interesting and fun, the descriptions I received from astronauts were very consistent, so that was helpful.
P&F: What makes the smell of space so difficult to define and recreate? 
SP: Not many people have experienced and those that have were not trained to describe it. Then, combining the materials we have available and [that] are safe to use becomes the trick.
P&F: The fragrance has been designed with the hope of sparking interest in STEM for those who experience it. Who do you hope to reach most so that they are able to experience Eau de Space and gain that intended inspiration? 
SP: It is intended to stimulate interest in STEM subjects in young students—it would also be interesting to see the generation of interest in astronomy and the sense of smell too—hopefully leading to further interest in flavor and fragrance chemistry.
P&F: How would you describe the experience of Eau de Space?
SP: It is metallic, meaty, with hints of hot metal and burnt steak
P&F: What can you tell us about Eau de Luna? 
SP: As a STEM Ambassador here in the United Kingdom, I was fortunate enough to meet the astronaut Charlie Duke at a STEM event, in which I was involved at the [National] Space Centre. Charlie had walked on the moon and during the course of our conversation, described the residual odor of moon dust as being like "spent gunpowder"—that is the description I worked with and created the "Smell of the Moon" for the artists Hagen Betzwieser and Sue Corke to use in their program "We Colonized the Moon."