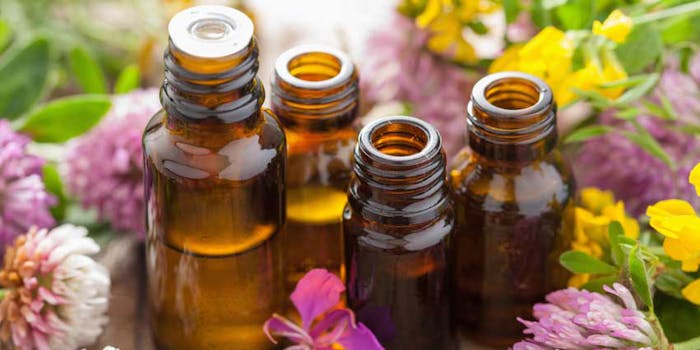 We've reached a point where the traditional secrecy of the perfume industry is being challenged from multiple directions.
NGOs demand fragrance ingredient transparency. Marketing-led businesses promote all-natural as a panacea. Mistrust in corporations is a constant presence. Fragrance regulations are debated among laypeople and professionals alike – whether they understand them or not. Yet traditional advertising and marketing of fragrances continues – alongside the new wave of indie marketing whose approach is to emphasize the artisanal nature of their products, the quality of the ingredients or to make the perfumer a celebrity figurehead. Very few brands have achieved real transparency; many established and new alike are using tried and tested (but perhaps no longer so fashionable) methods of creating prestige and mystery around their brand and products.
Christopher Gordon was looking for a way into the world of perfumery. His background in fine arts naturally led him to wonder about smell as a medium.
When an individual or a business decides to explore perfumery in our current environment, they are as likely to discover misinformation as they are to find out something useful. Many businesses want to find ways to communicate better with the perfumers that they are working with – not to become perfume manufacturers themselves. Some individuals are looking for a way to enter the industry. Some, try to find a way to express themselves creatively in a new medium. Chris was just such a person – and when he decided to find a suitable course, something extraordinary happened.
The Art World
Chris worked in commercial contemporary art galleries in New York, and at the Guggenheim Museum. He moved to London to work for Faggionato Fine Arts, which then represented the Estate of Francis Bacon.
"Then I moved on to Russia. I worked for the Hermitage museum, and became the editor of the St. Petersburg Times. I was there 12 for years, so I picked up the language," explains Chris.
"I grew up in a beautiful area in the foothills of the Appalachian Mountains. Surrounded by idyllic countryside we were, nonetheless, just over an hour from Manhattan. My father was a great supporter of the arts and from when I was a young child until I left home we took trips into the city to visit theaters and museum exhibitions, and have meals at great restaurants. Year upon year, this built into an education that I still draw on for inspiration today," says Chris of his formative years.
"One of the funniest things to happen on those trips with my father was connected to scent. I must have been about 14. By that time I was already highly attuned to perfume, having graduated from sneaking dabs of my grandmother's Shalimar and Windsong, and my father's YSL, to buying my own bottles of Halston. We were having a meal after a show when I smelled something that was so distracting that I had to find out what it was. Much to my father's chagrin, I got up from the table and began following my nose. I was led to the table of a very famous actress who was a bit surprised by my attention but also very gracious. She told me she was wearing Diorella, which she had to repeat because the word made no sense to me at the time. Being shameless, I took the chance to also ask her for a signed photo. Why not, I figured. I still have the photo she sent me to this day."
Chris started collecting perfumes. "It sort of snowballed, and eventually I thought, I need to start making fragrance. There were scents I wanted to have – scents that I wanted to exist in the world – that I wasn't finding."
Filling in the Gaps
Chris searched for some kind of course he could undertake in order to achieve his aim. He didn't have any concrete plans at the time but knew he was committed to learning the secrets of perfumery. The search was frustrating at first because there wasn't much to differentiate between the types of training offered. Eventually, he settled on the course available at PerfumersWorld.
PerfumersWorld was founded by Stephen V. Dowthwaite in Thailand in the 90s and grew out of his shrewd observation about a gap in the market there. He first acted as an agent for other companies and later set up a perfume manufacturing facility. Spotting a need for a crash course in perfumery, he developed his own intensive training method to try to get the complex concepts of fragrance raw materials, descriptors, families – and the realities of compounding and regulations – across as fast as possible to people new to the industry, or already working in it but needing to brush up on their skills. This approach suited Chris who wanted to hit the ground running.
"I went to Thailand and took the course. I had planned to take the course for the three weeks and stay in Thailand for two months to travel around South East Asia. But on the last day of the course Stephen asked me if I could come into the factory on the following Monday. When I went in, he offered me a job. That was in the summer of 2014," says Chris.
"So I started working as a creative perfumer immediately, answering briefs; doing compounding, doing all of it," he explains and grins.
This wasn't what Chris had been expecting, but he had wanted get up to speed the fastest way possible, and in meeting Stephen, he'd met a like mind.
"And that's what Steve does, generally; even with the students. Get in there, get your hands dirty; everything will come to you. People who take the course are mixing on the first day. They may not create the most fantastic perfumes – though we have had people come and just blow us away," says Chris.
The Music Academy vs. Punk Rock
"There is absolutely a benefit in knowing history and principles before you try anything practical – but let's take music – in the mid to late 70s, punk rock happened. That's all about the DIY aesthetic. And there is a lot of benefit in that because for me, perfumery is about finding surprising new things; surprising new accords. And if you've gone through the academy, you learn in a certain way and then have to spend years unlearning it so that you can discover something new," says Chris.
Ultimately, what is good perfumery? In a commercial setting, it might be simply 'what the client wants; the winning submission.'
"You start from a place that is pure creativity, and then after that you start worrying about 'is it compliant?' all of those things. Because if you start by worrying about all of the things that you shouldn't do; you can't do anything good; you're frozen," says Chris.
"I think most of the people who come to perfumery come from a passion, and so they've done some reading to a greater or lesser degree; they know something already. So the people who we tend to get are very focused on learning what they need and understanding their deficits because they've tried things in the past and they do understand what they need to learn," he explains of the students on the PerfumersWorld courses.
While students are encouraged to start blending straight away, Chris points out that there is a structure behind the method: "People are learning about accords; they are learning to blend specific florals; they learn about families. They have to produce a chypre; a gourmand and so on. So they are actually learning the classic building blocks of perfumery."
Maison Anonyme
Chris has launched his own niche lineup of three fragrances under the name Maison Anonyme. The packaging is heavily influenced by his art background, and the scents are his wish of conjuring up accords that he couldn't find on the market.
"The first collection focuses on woods, resins and flowers, and aims to be a balm or form of consolation in the most literal sense of those words. The first fragrances were chosen to describe a specific range of emotional registers: L'Immortel is a natural-seeming, transparent woody floral; Vespero speaks of sensual intimacy and is more about coded communication, Pale Fire is the boldest and most outgoing while still retaining an air of mystery," explains Chris.
The concept for the brand came from his observations about the impact of modern life on our privacy and intimacy.
"In thinking about ideas of luxury in the 21st century, I decided that privacy is, or will very soon be, the most desired and rarest of all commodities. While I cannot provide that per se, the brand takes as its starting point an intimate, luxurious, private ritual that is focused around a conversation between myself and the individual wearing the perfume. For this reason, I deliberately restrict sales to a website designed and run by us, or personal appearances which happen once or twice a year. Secrecy — or hidden meaning — informs the visual language that is used to identify the house and refers to things like 19th century Romanticism and esoteric systems. The tension between opposites – light and dark, absence and presence, nature and artifice – is also very important and informs the formulations as well as the branding."
Chris' work on Maison Anonyme brought him to the attention of Bedoukian Research who have invited him to create bases for their portfolio.
First Thailand, now L.A.
"Taking the course was definitely an investment: flying into Thailand, staying somewhere, paying for the course; all of that, and I was a bit nervous," says Chris. He couldn't have guessed what it would lead to – and it's fair to say that while many students probably feel the course ends up being a good investment, Chris' story isn't typical of anyone.
He has now gone from student to director. In his time with Stephen, the pair realized that Los Angeles would be a good spot to start a new satellite office for PerfumersWorld and Chris was appointed to set up The Perfumer's Studio.
The one-week Art and Technology of Perfumery foundation course is taught in Los Angeles, Dubai, London, Wellington and Bangkok. The complete three-week professional course is offered only in Los Angeles and Bangkok. This is the first time the three week course has been made available outside of Bangkok.
"It's hard work – we start at ten in the morning and end at six in the evening. It's draining but also very satisfying. Having done it from both sides, it's the same – the students put in as much energy as we do."
"There are books that come with the course, but they are not given a kit per se. We do make over 800 raw materials available to the students. They may have heard about these materials, but have never had a chance to smell and experience them. In the morning there is usually a theoretical bit, a break for lunch, and then in the afternoon it's all hands-on. They are set different tasks. So one task might be to copy a perfume. They bring in different commercial perfumes that they are interested in, and then have got to re-create them. This comes later in the week, and is based on all the things they have been taught earlier. For another task, they're given a flower and they've got to reproduce that."
"Students get a copy of the Perfumer's Workbook, which is a piece of software, and they also get safety, quality control and regulatory information. There's also a book on compounding, which goes through all the different product types and breaks down what's in them and the percentage of fragrance used."
"We've had people from other perfumery schools come to take our courses. Not so long ago, we had someone come from ISIPCA. During their summer break, they took the first week and then came back and took the other two weeks."
The course often generates customers for the raw material supply and perfume compounding business side of PerfumersWorld. With the rise of the customization and personalization trends in recent years, there has been a parallel and related rise in amateur and artisanal perfumery – people accessing fragrance on multiple levels; either as a hobby, a cottage industry or a fully fledged business. Some have gone on to grow their activities substantially; others have been content to keep fragrance blending as a private past time.
Whatever the situation, the rise in supply to these potential customers hasn't been entirely in line with demand – for multiple reasons. It's not in every business' interest to supply beyond typical B2B context, for reasons of profitability alone. The PerfumersWorld model is set up to supply all quantities so would-be perfume creators can buy their raw materials and have their compounds from the same source. In an industry where perfume formulas are closely guarded secrets, sending them off to another business does represent a risk, but in a marketplace where supply does not meet demand, a calculated risk may still be better than no supply at all.
"We're offering all the services from here: courses, supply and evaluation of people's fragrances," explains Chris.
The evaluation side of the business could be an interesting addition to the artisanal scene – many people working in this way have never worked with an evaluator or an external client.
There are many workshops and courses out there which may intentionally or unintentionally mislead people into thinking it is possible to learn perfumery in a day or two. Despite the 'crash course' approach, PerfumersWorld appear to be on the side of reality – and insist that hard work and dedication is a must.
"What Steve says on the course is that being a perfumer is a marathon, not a sprint."
Of course for some, the marathon started with a sprint.