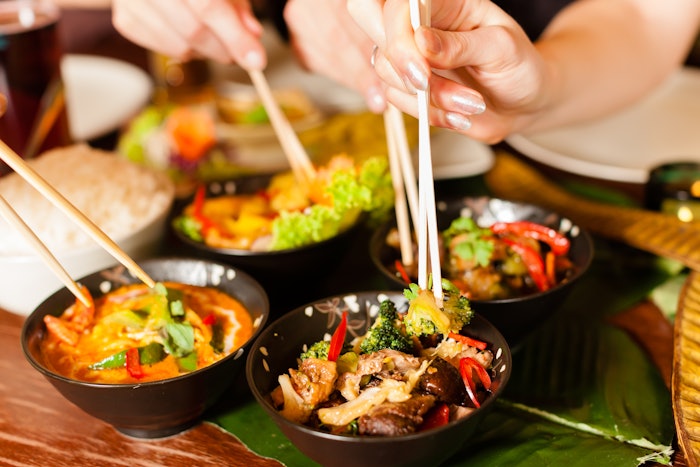 Kerry's latest taste report* predicts the top new flavors for the coming year, fueled by a demand for proactive health and sustainable nutrition priorities, as well as a desire for traditional tastes.
Related: Kerry Expands Middle East Production
In the wake of the pandemic, foods centered around wellness and overall health, as well as novel flavors, like ghost pepper and jalapeño, are still driving consumer preference. Restrictions in travel have also led to popularity in global flavors like Mexican, Thai and Korean.
Alcohol and dessert-inspired flavors are emerging across sweet and beverage charts, driven by seasonal releases and the absence of restaurants.
Better-for-you food and beverages remain top of mind for consumers after the height of the pandemic, but taste is still a priority. The emergence of botanical, citrus and fermented flavors supports this trend.
Sustainability is another important driver and consumers are now seeking ingredients that are responsibly sourced and backed by provenance. Recent research by Kerry found that globally 49% of consumers are now considering sustainability when buying food and drink.
Commenting on taste trends, Soumya Nair, Global Consumer Research and Insights director at Kerry, said, "The COVID-19 pandemic has affected consumers on a deeply emotional level, changing consumers priorities and perceptions about health and wellness. This has certainly impacted their overall food and beverage preferences, challenging innovators to create new tastes that will drive their new product development and renovation successes."
Nair continued, "Emerging flavors and ingredients paint a picture of the proactive consumer, looking for functionally forward food and beverages that aid in their overall health and wellness goals. Additionally, in the current travel-deprived marketplace, traveling through the tastebuds has significantly grown, with Asian and Latin American flavors set to make a bold comeback in emerging foods and drinks. We see consumers seeking an element of surprise from traditional formats, as well as comfort. Brands can appeal to this desire for novelty by pairing emerging and up-and-coming flavors with old classics."
Nair concluded, "Consumers are also actively seeking out sustainable food and beverage products that have a significantly positive impact on the planet as well as on their personal health and wellbeing, looking for products with consumer-friendly ingredients, clean label claims and locally sourced ingredients. In the charts, we see this demand through ingredients demonstrating greater provenance, as well as flavors that pack a big taste punch while maintaining a healthy halo. We have also started to see some ingredients associated with plant-based foods having a dual role in taste. This is all contributing to the flavor trends we are seeing today, which are pointing towards authentic taste experiences."
*Kerry highlights top flavors for innovation in 2022 Global Taste Charts
Want to know everything going on in flavor & fragrance? Sign up for P&F+'s newsletter. You can also follow along on Instagram and LinkedIn.