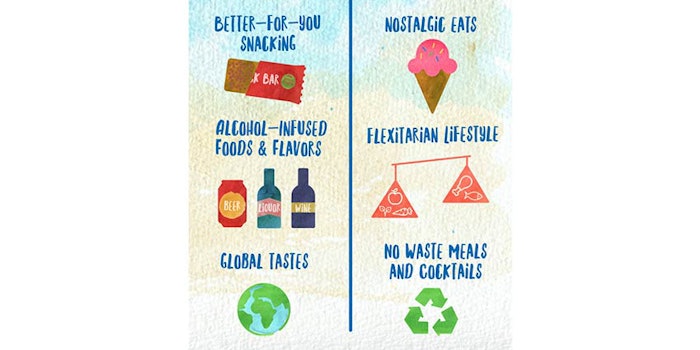 What do a classic malt shop favorite treat, a traditional African sauce and sparkling coconut water have in common? Each are going to be on the tip of consumers' tongues—and in the depth of their bellies during the summer of 2018, according to Kroger.
The grocery store chain has announced its top summer food trend predictions, chosen by its Our Brand product developers, chefs and innovators.
The top six summer trends are:
Better-for-you snacking: Such as healthy snack bars, flavored seltzers and sparkling coconut water.
Alcohol-infused foods and flavors. Inspired by the rise in craft brewing, these include wine-infused steak sauce, bourbon-infused cola and booze-infused food.
Global tastes. Flavors and products from producers around the world, such as Korean-inspired spices and African Peri Peri sauces.
Go on and get nostalgic. Childhood favorites re-invented for adult palates, such as mac & cheese sauces, twists on pimento cheese, retro ice cream flavors and old school soda pop flavors to drink alone or pair with ice cream for a classic float.
No waste meals and cocktails. As more Americans become conscious of food insecurity (1 in 8 Americans struggle with hunger, and every year 40% of the food produced in this country goes to waste), consumers seek ways to reduce food waste. This includes creative use of leftovers, meal planning, proper storage and repurposing ingredients.
Flexitarianism. Dairy- and meat-free options for those who lead a mostly vegetarian lifestyle, occasionally enjoying dairy, meat fish and poultry.