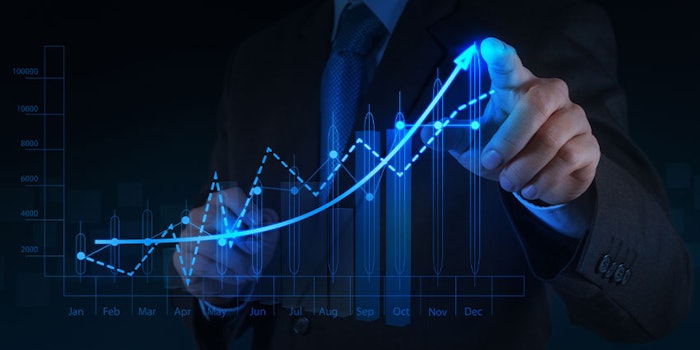 Firmenich International SA has announced its full year results for the year ending June 30, 2020, and the appointment of Benoit Fouilland as chief financial officer, effective September 1, 2020.
Group revenue reached CHF 3,878 million, an increase in growth of 2.8% on a local currency basis from CHF 3,874 million for FY 2019, with an adjusted EBITDA of CHF 859 million, representing a margin of 22.1%.
Previously: Firmenich Fine Fragrance Launches Re|Generation.
Firmenich achieved 2.8% revenue growth in l.c., including a 2.2% increase in perfumery & ingredients and a 3.8% increase in flavors.
Worldwide lockdowns and travel bans affected some of our business segments, in particular foodservice and fine fragrance, with a knock-on effect on perfumery ingredients.
Previously: Firmenich Completes Key Step on Path to B Corp Certification.
This impact was more than offset by strong performance in savory, sugar reduction, plant-based proteins, personal care, body care and home care.
The group achieved EBITDA margins of 22.1% due to continued productivity gains and cost discipline while generating CHF 454 million in free cash flow, an increase of 8%, due mainly to a focus on cost reduction and cash preservation measures in response to the COVID-19 crisis.
The completed acquisition of Les Dérivés Résiniques et Terpéniques (DRT), strengthened the group's position in ingredients for the flavors & fragrance industry.
In addition to DRT, in July 2019, the group acquired a 65% equity stake in VKL, a leader in spices and seasonings in India, broadening its raw material palette for clean label ingredients and customer reach in the regional market.
In November 2019, Firmenich acquired the CO2 extraction facility from Evonik, significantly expanding the group's capabilities in super-critical fluid extraction.
The group also announced a partnership with MG International, a leading fragrance company renowned for its creative fragrance solutions and first-class service to mid-size customers across Turkey, the Middle East, Eastern Europe and Africa.
Firmenich completed an inaugural bond issuance program, raising the equivalent of CHF 2.9 billion on the Swiss and European markets. It also invested 9.5% of its revenue in R&D.
The group was the first in the industry to complete the UN SDG Action Manager assessment, a key milestone towards B. Corp certification, and demonstrated its support for frontline workers by donating over 100 tons of hand sanitizer.
Firmenich introduced five new molecules to its perfumery palette, including its fourth white biotech ingredient, Dreamwood, a sustainable alternative to botanical sandalwood oil.
Gilbert Ghostine, CEO of Firmenich, said: "Firmenich proved its resilience and leadership during the past year, creating value for its stakeholders, while navigating the unprecedented challenges of COVID-19. We supported our clients across the food, personal, body and home care supply chains to continue to deliver essential products to consumers around the world.
We have continued to invest for growth and completed our largest transaction with the acquisition of DRT, a leader in renewable and sustainable perfumery ingredients. We also accessed the public financial markets for the first time in our history, successfully raising the equivalent of CHF 2.9 billion in corporate bonds."
"This year was marked by many strategic breakthroughs, from acquisitions to key innovation launches and a wealth of global recognition for our leadership in responsible business," said Patrick Firmenich, chairman of the board, Firmenich. "I extend my deepest appreciation to Gilbert, the management team and our 10,000 colleagues for setting new standards for Firmenich and our industry."
The full financial report is available on Firmenich's website. 
Benoit Fouilland Appointed Chief Financial Officer
Benoit will report directly to Firmenich CEO Gilbert Ghostine, as a member of the company's executive committee. He will also be the secretary of the finance, audit & risk committee of the board of directors.
Having most recently served as chief financial officer at Criteo S.A., Fouilland joins Firmenich with extensive experience as CFO in rapidly changing market environments and publicly-listed companies, as well as a proven ability to build trust with investors, bankers, advisors and regulators.
Fouilland brings an outstanding track record in developing and transforming organizations to maximize business value, with expertise in leading investor relations and M&A, corporate governance, internal control and risk management.
Fouilland joins Firmenich with more than 20 years of international executive leadership and finance experience at market-leading technology companies, including British Telecom, Business Objects and SAP.
In his most recent role as Criteo's chief financial officer, Fouilland delivered record growth results, led the group's highly successful NASDAQ IPO and established best-in-class corporate reporting and investor relations.
A French citizen, Fouilland will relocate from Paris to Geneva. He holds a master's in management from the ESLSCA Graduate School of Business in Paris, a master's degree in finance from Dauphine University in Paris and an MBA from INSEAD.
"I warmly welcome Benoit to Firmenich's executive committee as CFO," says Gilbert Ghostine, CEO, Firmenich. "He is a business-minded CFO of rare stature with an impressive track record of building and leading global financial teams and maximizing business performance. With his depth of experience, I am confident he will be a key partner for our entire executive team."
"I am delighted to join Firmenich as chief financial officer," said Benoit Fouilland. "Firmenich has an undisputable reputation, a committed team, supportive and engaged customers, that have allowed the group to successfully reinvent itself era after era. It is a very exciting time to join the company as they embark on their new strategic cycle. I look forward to supporting the Firmenich team bringing a strong strategic focus on growth and value drivers."
"I would like to extend my gratitude to Eric Nicolas for the exemplary leadership he has shown over the past nine years as CFO. Eric has been instrumental to evolve the governance of Firmenich matching the ambitious growth over the past decade and I am pleased to keep partnering with Eric in his new role supporting our continued transformation and customer excellence."