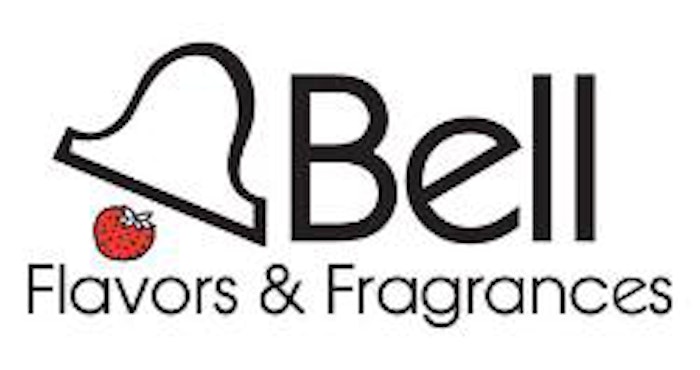 Bell Flavors & Fragrances is excited to announce the top ten flavors for beverage, sweet and savory applications.
As in the past, the lists were tabulated using three methods: 1) tracking samples that have been requested over a 12-month period, 2) "trend scouting" flavors analyzed by Bell's marketing and R&D departments from four continents, and 3) compiling flavor trends from external resources and suppliers such as Mintel, media and other credible sources.
Through research, the beverage flavors follow along the trend of superfruits. As new and exotic fruits are discovered all over the world, testing shows that many of these fruits provide high levels of nutrients. They also have unique and distinctive tastes to entice the consumer.
The sweet flavors follow the trend of back to basics indulgence. Consumers like what is familiar and the comfort that certain foods provide.
The savory flavors hit the trend of consumers wanting flavors from around the world. Many consumers are traveling more and are wanting to take those flavors with them so they can experience them at home.
Top Ten Beverage Flavors
Blood Orange
A variety of orange with crimson, blood-colored flesh; flavor is sweet with a hint of raspberry; great source of vitamin C and antioxidants.
Yumberry (*2)
Super-high antioxidant fruit from China; flavor is sweet/sour, similar to cranberry or pomegranate.
Coconut Water (*1)
The clear liquid inside young coconuts with a sweet water taste and slight salty aftertaste. This water has become very popular with celebrities due to the health benefits and natural electrolyte properties.
Maqui Berry
A berry from the Patagonia region of Chile, known as the chilean wineberry; high levels of antioxidant and polyphenols; taste is refreshingly tart and sweet.
Cupuacu (*8)
Pronounced "coo poo uh sue." Harvested in the Amazon rainforest; rich in vitamins, minerals, antioxidants, amino acids and essential fatty acids, and is traditionally known for its nutritive, energizing and tonic properties; taste is similar to chocolate.
Elderflower
Grow in most of Europe, northwest Africa and southwest Asia and have a slightly bitter taste.
Caramel
White Grape
Rambutan
A tropical tree fruit from Southeast Asia; sweet, mild acidic flavor.
Snake Fruit
The salak fruit, referred to as Snake Fruit, is the newest exotic fruit from a species of palm trees native to Indonesia; taste is between a combination of apple, pear, pineapple and lychee, with a bit of an astringent note.
Top Ten Sweet Flavors
Chocolate Soufflé
Honey Vanilla
Red Velvet
A cake with a dark red, bright red or red-brown color. It is usually prepared as a layer cake with either a vanilla or chocolate flavor, topped with a creamy white icing. Common ingredients are buttermilk, butter, flour, cocoa and beetroot or red food coloring (beetroot is traditionally used). The amount of cocoa used varies in different recipes. Cream cheese frosting is most commonly paired with the cake, as well as buttercream.
Caramel Macchiato
A vanilla latte with a bit less vanilla and extra foam and with caramel sauce drizzled on top.
Yumberry
Super-high antioxidant fruit from China; flavor is sweet/sour similar to cranberry or pomegranate.
Coconut Crème
Sweet Potato
Ginger Peach
Mint Citrus
French Toast
Top Ten Savory Flavors
Black Garlic (*5)
Sweet meets savory, a perfect mix of molasses-like richness and tangy garlic undertones.
Rich Umami (*3)
Flavor enhancer that boosts savory and fermented notes while increasing salt perception in an application. It's designed to trigger key flavor profiles in a base and to make them more robust.
Truffle Oil
Modern culinary ingredient, used to impart the flavor and aroma of truffles to a dish.
Aged Cayenne Pepper
Pepper, Cayenne (Hot Sauce) Flavor, Natural
Nuc Maum (fish sauce)
It's an essential ingredient in many curries and sauces. It is a staple ingredient in Filipino, Vietnamese, Thai, Laotian and Cambodian cuisine and is used in other Southeast Asian countries. In addition to being added to dishes during the cooking process, fish sauce can also be used in mixed form as a dipping condiment. The flavor is allergen-free, used in place of salt and enhances umami flavor.
Calamansi Lime
Very popular in Southeast Asia, especially the Philippines. The taste of the fruit itself is quite sour, though the peel is sweet.
Demi Glace
A rich, brown sauce in French cuisine that is a combo of veal stock and sauce espagnole.
Harissa
Hot chili sauce made with piri piri chili peppers, serano peppers or other hot chilis and olive oil and is native to North African cuisine.
Aji Panca
Dark red, mild pepper with a smoky, fruity taste and grown in Peru.
Paneer Cheese
Made by curdling heated milk with lemon juice or other acidic food and common in South Asia.
Disclaimer:
The above paid-for content was produced by and posted on behalf of the Sponsor. Content provided is generated solely by the Sponsor or its affiliates, and it is the Sponsor's responsi­bility for the accuracy, completeness and validity of all information included. Perfumer & Flavorist takes steps to ensure that you will not confuse sponsored content with content produced by Perfumer & Flavorist and governed by its editorial policy.