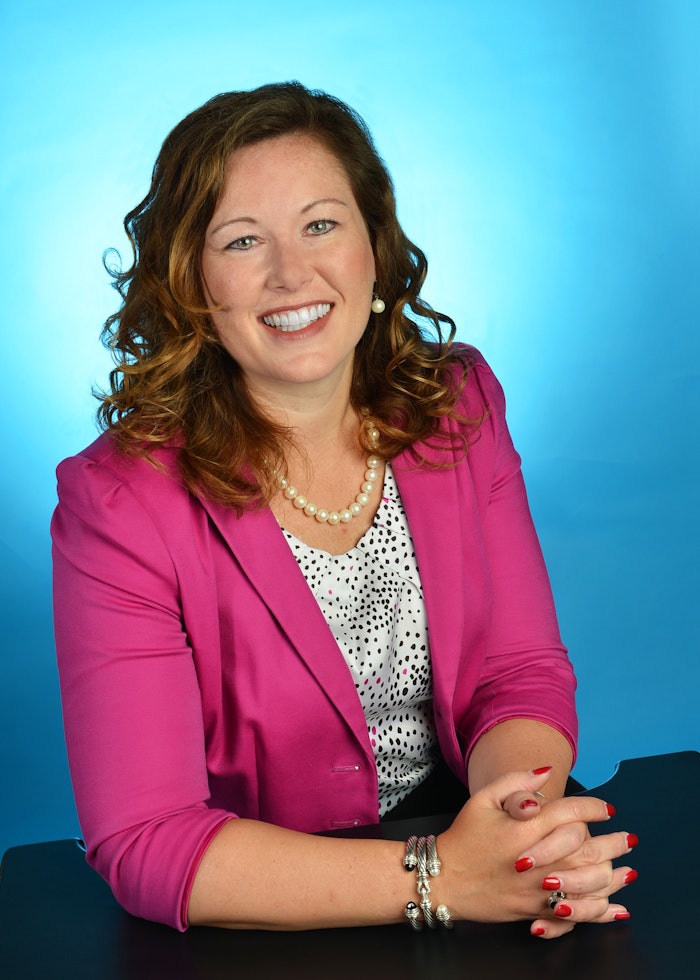 Click here to read Part I of Perfumer & Flavorist's exclusive interview with Shawn Houser.
How do you launch delectable confections while balancing consumer needs and unique flavor combinations? For Shawn Houser, Hershey's product development director and the 2015 gala honoree for the Women in Flavor and Fragrance Commerce (WFFC), it's all about combining chemistry with flavor trends to continue Hershey's legacy as the leader in the confectionery and snack industry. The 33rd annual WFFC gala will be on Wednesday, October 7, 2015 at Westmount Country Club in Woodland Park,New Jersey.
Houser's curiosity for taste and aroma began in the fourth grade, planting the sweet seed that has grown into an innovative, exciting and successful career in flavor compounding, creation and development for the Campbell Soup Company and The Hershey Company. Combining her chemistry background with her passion for flavor, Houser is responsible for launching delectable confectioneries and snacks, including Caramel filled Hershey's Kisses and Brookside Dark Chocolate Fruit & Nut bars.
As an organization dedicated to the empowerment, education and engagement of women in the flavor and fragrance industry, WFFC lauds Houser's professional accomplishments and contributions for both the industry and professional women worldwide. Perfumer & Flavorist magazine spoke with Houser in an exclusive three-part interview on her leadership, innovation, creativity, and passion as a flavor scientist and enthusiast.
Perfumer & Flavorist: How would you compare product development for the U.S. market to that of international markets, namely your work with the Asian sector in China and the Philippines?
Shawn Houser:  Different regions of the world have different preferences for taste or texture of foods. The process of developing products is the same around the world. Generating ideas based on consumers' needs or desire is typically where it starts. Product developers bring it to life through prototypes which are given to consumers to react to. Sometimes that means consumer testing before going to market and other times, it means launching new products and learning while in market. Either way, the technical side is the same.
Prototypes are made in the kitchens and then scaled-up to larger production volumes. As the product is scaled-up from 10 to millions and using a continuous process versus a batch process, slight formula and process changes are required. As scientists and engineers, we are tasked with understanding how to ensure quality and consistency when one product is made or thousands are made. Formulating products around the world requires product developers to adapt the flavor profile to meet the local taste preferences of the people in the region. For example, Asian consumers prefer chocolates that are less sweet than those found in the U.S. or Europe. Formulating product in the U.S. for India is a challenge. Product developers and formulators need to be [familiar] with consumers in the region. Sensory can help to try to standardize the language consumers use around the world for formulating, but it is always important to be listening and working closely with the target consumer, either in the U.S. or Asia.
What also makes formulating products around the world [challenging] is the inconsistency in government regulations. Each country has different regulations and standards, so adaptation is needed quite often to meet the regional requirements. An additional challenge is that the price of food varies around the world, and developing products that meet the local needs of the people is important, whether it's the nutritional value, the taste or the cost.
PF: You wear many hats for Hershey, diving into ingredient research, marketing and product development, and you have a background in chemistry. How do you combine all of these disciplines to create something unique for consumers?
SH: The combination of a technical background in science and chemistry, coupled with business is powerful. It allows me to be able to communicate and influence across the business, because I have knowledge and experience on both sides of the business, technical/operational and commercial. Knowing the business needs and what the technology can deliver or what new technology is needed allows us to create unique and competitively advantaged products. The idea of a technical person really understanding what consumers need is so important as they go back to the lab, kitchen or pilot plant to make a new product.
PF: How are consumer needs/desires changing? What keeps current consumers coming back to Hershey and what's driving new consumer engagement?
SH: Consumers expect so much more from companies today. They want to know how products are made, where the ingredients came from. Consumers know they can trust Hershey for quality and safety. We have a great reputation for making great-tasting products that people can enjoy every day. People know they can count on Hershey to deliver great taste and they are excited to see how we can extend our taste expertise into new categories.
Click here to read Part III of Perfumer & Flavorist's exclusive interview with Shawn Houser.