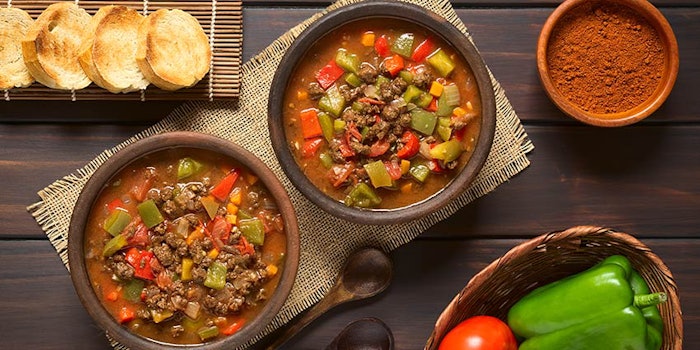 Givaudan has unveiled new techniques for flavoring meat substitutes created from textured vegetable protein.
Textured vegetable protein is used extensively in plant-based meat alternatives. Typically, flavor has been added after the texturizing process—this creates an intense, albeit short-lived experience. Adding flavor during or before texturizing is not typically done, as this affects the texture of the product, and flavor performance is impacted by the texturization process.
Related: Preparing for the Plant-based Future at Flavorcon 2019
"Givaudan has studied how to best flavor high moisture texturized protein and has developed strategies to maximize performance and produce a much longer lasting authentic meat flavor which, when combined with post-texturizing marinating, transforms the taste experience of plant-based texturized vegetable protein," explained Flavio Garofalo, global category director, savory flavors and natural ingredients.
"Vegetable protein's globular format is transformed into longer fibers to produce a meat-like texture by extrusion, essentially a kneading process similar to that of bread making. This has been successful in terms of texture, but not so much in terms of taste," he continued. "It is almost as much of an art as a science. In addition to great flavor, there is also texture and mouthfeel to consider, and we have developed the whole package."