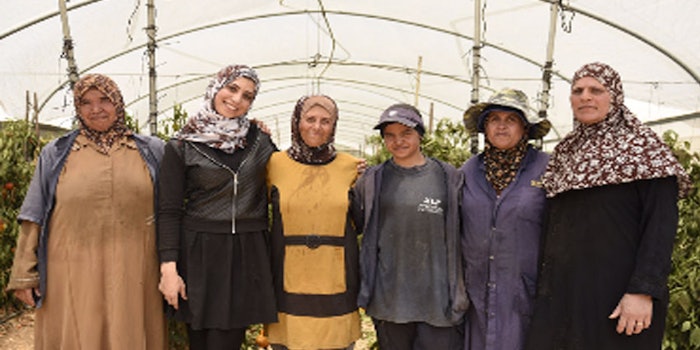 CPL Aromas' increased donations will aid a global cause. Pictured above, Arab women are working on a farm, one of the several employment opportunities provided for the community. Photo courtesy of CPL Aromas.
Donating funds to CAFOD since 2000, CPL Aromas has decided to increase its donation more than $298,000. The funds target vulnerable communities in war-torn areas around the world. In the past year, the company has chosen to focus its funds on six specific projects. Each project was picked by members of the Pickthall family (Group CEO is Chris Pickthall) in order to continue to spread its support into more than 60 countries.
Strengthening Community Health, Labor and Agriculture
CPL Aromas has been working in Malawi in 2016 to provide quality HIV testing and counseling to The Lighthouse Trust. The funding enabled The Lighthouse Trust to distribute 87,246 HIV tests in the Malawi district, Lilongwe. Funds were also provided to establish a health clinic to allow free treatments for children under the age of five and for pregnant and breast feeding women in Ngoula.
In Israel, CPL Aromas' donation will support Arab women's labor rights by providing help in accessing employment opportunities. Since 50% of Arab families live below poverty, this project helped 238 women find employment over a 12-month period. Another project in Israel aids adolescent girls in freeing themselves from sexual exploitation in the city of Leon. The project is run by Mary Barreda and her help has supported 21 adolescent girls so that they can build self-confidence and restore their family relations.
The funds provided for Nicaragua helped farming communities protect themselves from natural disasters using silos delivered by Caritas Jinotega. These silos will protect valuable seeds that can be sowed in the next season when needed.
Finally, CPL Aromas is supporting women in Peru to develop their skills and confidence in the running of small businesses. Focusing on the impoverished communities, this funding helped employ 43 women and established a textile company called Hilana.