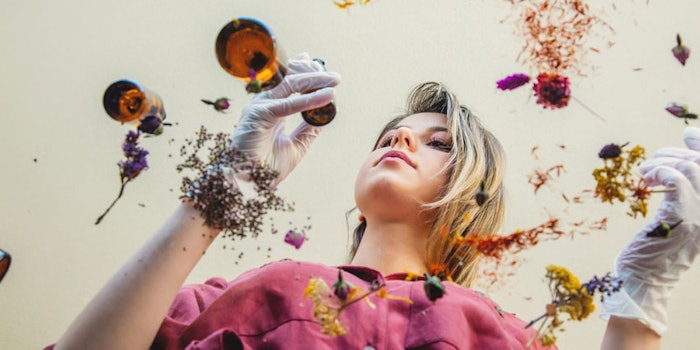 As the F&F industry continues to evolve (not to mention the nuances of COVID-19), the educational resources emerging for professionals need to be more dynamic than ever before.
Perfumer & Flavorist+ connects with ISIPCA-IFF lecturer and perfumer at Poulage Parfumeur, Stéphanie Poulage, to discuss the finer details of the educational needs of aspiring F&F professionals and ISIPCA's role in the evolving industry.
Stéphanie Poulage [SP]: Aiming to educate for the fragrances and flavors industries, ISIPCA was founded 50 years ago by Jean-Jacques Guerlain, with one common program for flavorists, perfumers and cosmetic formulators. Today, ISIPCA is running 16 programs to train a total of 600 students per year for the different positions that are specific to our industries: perfumers, flavorists, cosmetic experts, laboratory assistants, marketing, and trade professionals. Overall, in 2020, 80% found a position seven months after their degree. At ISIPCA, we treat education as a subject involving three parties: the industry, the teaching faculty and the students. Nobody can tell what the future for the next generation will be, but below is sketched what skills we think to be critical, what skills have already started to be needed and what could come next.
Competition is so high in flavors and fragrances that you need to develop excellence in the most critical skill in our industries, which is core to our businesses: sensory skills. Complete sensory training is what ISIPCA programs are focused on. Indeed, as flavors and fragrances benefit from adding well-being and pleasure to products, sensory comes first.
To detail the fundamentals taught at ISIPCA, it includes, although being a non-comprehensive list: a thorough knowledge of raw materials through sniffing and tasting, old and new methods of raw materials extraction, regulatory affairs, formulation know-hows in the laboratory, chemistry and analysis techniques. The lists of raw materials we train students on are always in evolution thanks to the flavors and fragrances research novelties on one hand and by IFRA new positions on the other hand. In addition to this, the entry into a new era of greenwashing and big data has prioritized the use and learning of some materials, putting others in the archive section. Thus, a representative palette of what is widely available across manufacturers of the industry is needed. Raw materials manufacturers are encouraged to see the use of their raw materials by students as an investment into prospects. On the increasing density of fundamentals teaching, Sylvie Toulgoat, academic manager, concludes, "As science is growing, fundamentals are growing too."
These days, in addition to the above fundamentals, education of perfumers and flavorists includes a larger array of proficiencies taught in our educational programs: team working with soft skills and communication, which are key for the next generation. "Thanks to soft skills, students learn the dynamics inside a group," adds Sylvie Toulgoat.
In communication, the ability to make efficient presentations, targeting specific audiences has become a sought-after skill, too. Communication dominates more and more in every area and in different ways, as per social networks. ISIPCA is teaching with external lecturers, who are experts in these challenges in communication.
About future forecasts, the change in education follows the changes in the industry. Nowadays, having your customer in mind is not enough anymore. As characterized by Eric Briones, a writer in 2021 of "Luxe & Résilience," you must build a strong link with your customer. To achieve this, companies in B to B or B to C, have started to build a post-COVID resilience thanks to reinforced customer proximity. Lately, a major fragrance house hired one of their heads from a big player in consumer products to get closer to its customers. To go even further, one can already see in recent products that what the consumer wishes is reflected directly into the formulation. As an example, a big French mass-market brand launched an essential deodorant with a few extra clean ingredients in the formula. On the global market, more and more direct-to-consumer approaches take life, which could revert to the technical area. Then, the technical brief could be fueled by digital data, themselves tracking every move of the high-end customer across the multichannel distribution instead of a panelist's questionnaire. This is fiction today, but we might have to teach in the future how to translate these data into flavors and fragrances through algorithms resources that give you information by the day and show evolution in real-time. If you think this is too far away, you can consider how the COVID-19 crisis has accelerated the use of digital, making education use virtual classes when possible.
Helping to see what comes next, stands the connection between ISIPCA's Scientific Platform, directed by Dr. Nadine Vallet, and the industry through research projects with the Cosmetic Valley companies. For 30 years, the school has been a partner of the University of Versailles and Saint-Quentin-en-Yvelines (UVSQ) and has been a member of the CY Alliance consortium for several years. ISIPCA's Scientific Platform hosts researchers working on theses. Moreover, apprenticeships in our programs allow students to grow and practice within the industry before job application. Faculty body visits during this apprenticeship deepen the listening of ISIPCA to the industry.
Creativity will matter more and more. At ISIPCA, we grow that precious seed in our students, teaching them techniques that allow self-expression and helping them to discover who they are artistically. Outside of the classrooms, while the masstige offer tries to win the jackpot by ticking all the test winners raw materials in every single formula, the success of the niche market is continuously growing at the cost of the masstige share, shouting a public request for creativity. As the industry tries to delegate creativity to Artificial Intelligence, will robots be relevant versus highly trained human brains in creative efficiency? Will the creatives be more and more eliminated by the bots whom they have taught to? Will a direct consequence be fewer people to educate?
Lastly, whatever the new challenges coming in flavors and fragrances are, training fundamentals remain and follow the constant evolution of techniques or raw materials. The next challenges could arrive with artificial intelligence, sustainability of raw materials and their traceability, societal and economic responsibilities.
P&F+: Building a truly global and representative workforce for F&F across regions. What is ISIPCA doing to ensure the industry reflects the markets it serves?
SP: Through the existence of international educational programs on ISIPCA's site, the school reflects the needs of the industries in that respect. Thirty percent of all our students originate from all over the world, also from regions in need of human resources development. Such an environment recreates the international interaction that these future professionals will experience in the industry.
ISIPCA runs 16 programs, headed by Dr. Lydie Gumery, Academic Director, and six are taught entirely in the English language:
• ISIPCA-IFF Master of Scent Design and Creation a three-year degree in partnership with IFF for 6 years
• European Fragrance and Cosmetic Master (EFCM), a two-year degree, the first year in France and second year in Italy with the University of Padova.
• Msc in Cosmetic Expertise Formulation & Application
• Msc in Fragrance Expertise Formulation & Application
• Msc in Flavouring Expertise Formulation & Application (starts 2022)
• Specialized Master's Degree in Regulatory Affairs Management of Fragrance and Cosmetics
By reporting to the Chambre d'Industrie et du Commerce d 'Ile De France (CCI Ile de France), ISIPCA monitors its programs. In that view, it means that the relevance of the different educational programs is annually checked, in terms of attractivity and students' placement.
Factually, industrial actors are globally hiring the new talents from ISIPCA even in the French language sections: when in 2019, 80% of all our graduates found a position 7 months after graduation, 30% of the "Manager des Process de Développement et de Création" PCA students found an assignment abroad and 38% in 2020.
Our students in the different Masters come from all the continents to study over here in Versailles. After their degree, they start working in Europe, the Americas, in Asia or even in Oceania. In the flavors or fragrances areas, culinary and cultural backgrounds play a major part in individuals' sensory preferences. It is easier to be creative in a market you have not grown up with. A challenge is that companies have more borders than students. Building a truly global organization is a complex and expensive equation. If you aim for the top position of your market, you must attract, hire, and retain the best talents. In the end, the market wants perfection and the best talents to serve it.
Want to know everything going on in flavor & fragrance? Sign up for P&F+'s newsletter. You can also follow along on Instagram and LinkedIn.