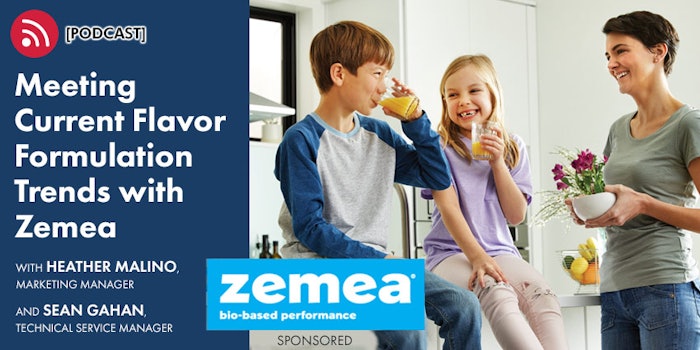 This podcast is sponsored by:
CovationBio PDO (formerly Dupont Tate & Lyle)
Perfumer & Flavorist+ connects with two DuPont Tate & Lyle Bio Products Company (DTL) experts, Sean Gahan and Heather Malino, to discuss Zemea®.
This podcast covers how Zemea® helps flavorists formulate for current trends, technical advantages, possible applications and much more.
Sean L. Gahan, Technical Service Manager, DuPont Tate & Lyle Bio Products Company
Prior to beginning his position as technical service manager in 2018, Sean previously worked in the coatings industry focusing on water-based wood coatings, sealants and printing inks. Gahan is a graduate of Clemson University holding a master of science degree in Inorganic Chemistry. He is responsible for customer technical support and new business development related to the Bio-PDO™ product for all market segments and end-use applications in the Americas and EMEA.
Heather Malino, Global Marketing Manager, DuPont Tate & Lyle Bio Products
Before becoming the marketing manager in 2019, Malino worked as a process improvement engineer at the DTL manufacturing facility in Loudon, Tennessee (2017-2019).  Previously, Malino has worked as an associate investigator in the DuPont R&D department supporting new process and application development for biomaterials at the Experimental Station in Wilmington, Delaware (2014-2017). She has a bachelor's degree in Chemical Engineering with a concentration in Bioengineering from Rowan University.  She is responsible for the global marketing strategy and brand positioning of Zemea® propanediol.