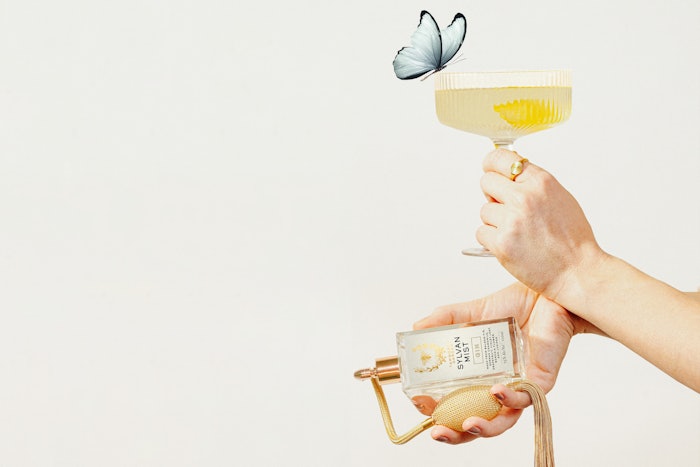 courtesy
Tamworth distiller and botanical chemist, Matt Power has created the world's first wearable and drinkable gin—Tamworth Garden SYLVAN MIST. The unisex fragrance and cocktail modifier, made its debut after a two-year research and development process in a 100 ml glass bottle with an atomizer spray pump.
The flavor profile boasts sunny boreal forest, fresh cut grass, violets, kiwi skin, and honeydew melon. Boronia flower and violet leaf lend to the notes of a classic perfume; with balsam fir and citrus rind working as base notes. Chamomile flowers round out the brightness, offering mellow soft, top notes.
We connected with Power to discuss how he created the multi-functional gin.

What were some of the components that needed to be considered while creating this product?
Matt Power [MP]: A lot of our gins have been described as "perfumey" over the years, likely owing to the broad spectrum of aromatic volatilities that we incorporate in them. So, carrying that approach toward a wearable gin was certainly paramount, but doing it in a way that retained palatability was really the crux of our project. While the oil content of this is lower than the most dilute perfumes, it strikes a good balance between aromatic weight and consumption.
What were some of the challenges in creating this wearable and drinkable perfume gin?
MP: The challenges with creating this product were both technical and conceptual in nature. As with all of the products produced at our facility, we knew we wanted to create something that really speaks of our region. And since many of our gins are already described as "perfumey," we wanted embellish this approach even more. That combination required delving deeper into the list of GRAS food additives to discover materials that brought both a citrus-boreal forest vibe and some traditional perfume notes like violet leaf. We wanted a bit of deep, sweet complexity and ended up settling on food-safe Boronia absolute in lieu of Osmanthus for that quality. That absolute was a brief technical hurdle as we had to distill the volatile aromatics away from some kind of heavy oil fixative that was also present in it.  
Can you touch on the catalyst for creating this perfume gin?
MP: The catalyst for creating this particular fragrance was the sweet woodsy atmosphere of passing through in the high elevation boreal forests of New England. In the right weather these places emit a rich symphony of piney citrus and sweet, green herbaceousness.
From your perspective, what is the white space for innovation that crosses flavor and fragrance?
MP: In my experience, the most impactful flavors carry some emotional connection to a previous time and place. This deeper meaning seems to be a portal deeper into the psyche and its pleasure centers. It makes sense that these emotional connections can be mediated by aromatic memories and then augmented and delivered toward a unique flavor experience.