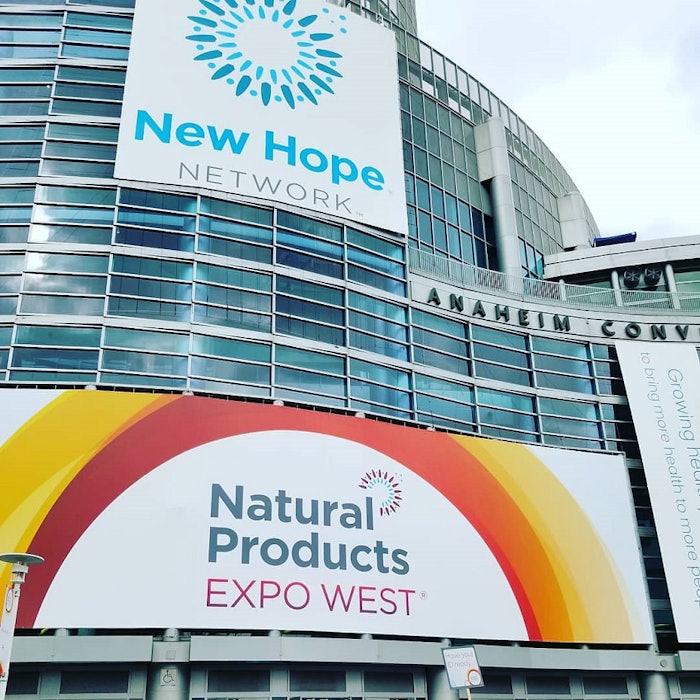 Clean, functional and natural are the future. This was no more apparent than on the show floor of the Natural Products Expo West (Expo West); on Mar. 5-9, 2019, where a multitude of beverage brands showcased the latest in natural hydration.
While Perfumer & Flavorist was unable to stop by every booth, we were able to sample some of the latest beverage and highlighted some of the trends that we saw forming. 
Inspired by CBD and Hops
One area of increasing interest for consumers is the use of CBD products for wellness and health. At the show, Acme Naturals, LLC featured its Tree Below Zero range of functional CBD sparkling beverages. The line of sparkling juices includes cranberry ginger, mandarin blood orange and blueberry raspberry pomegranate flavors. Each product is formulated with 25 mg of hemp oil extract and natural flavors. Other CBD beverage brands at the show included Honeydrop Beverages with their line of CBD lemonades, and Vita Coco with it CBD infused sparkling coconut water. For the flavorist or product developer, the formulation of CBD or hemp beverages requires extra considerations, including an evolving regulatory landscape.  
Related: The Buzz Behind CBD
While CBD and hemp have gained a lot of attention for its wellness uses and novelty, one water brand is trying to shine a light on one of hemp's relative – hops. H2OPS Sparkling Hop Water is a craft-brewed water, created with Yakima Valley hops. Containing no calories, alcohol content or compounded flavors, the sparkling water has a subtle "grapefruit, lemon, lime, pine, blueberry, mint and earthy spice" flavor, according to the brand's website.
Non-dairy Milks Diversify
Most of the first commercially available non-dairy milks were either almond or soy based. Now, the market has diversified to include a range of different nuts and base ingredients. One example is Elmhurst Milked, a clean label and vegan plant-based milk brand. Currently, its line of products includes a peanut (chocolate and original), cashew, almond, walnut and hazelnut milk. While its peanut with chocolate milk contains natural flavors, most are simply formulated with water and the nut. 
While most of the attention in non-dairy milks have been nut-focused, Swedish brand Oatly is staking its future in oats. Currently, the brand offers a line of oat-based milks, including an original, low-fat, a chocolate and a barista edition. In addition to the brand's milk products, it offers an orange mango and strawberry elderflower oat drink and a drinkable yogurt in lemon elderflower and strawberry flavors, each formulated with natural flavors.
Sipping to Sleep
One of the most popular categories of functional beverages are energy drinks. Beverage brand Hiball Energy featured a range of its energy drinks and sparkling waters. Hiball offers sparkling energy waters in grapefruit, lemon lime and wildberry, each formulated with natural flavors and zero sugars. Additionally, the brand showcased its line of organic energy drinks in black cherry, ruby red and pomegranate acai flavors, also formulated with natural flavors. Other energy drink brands that exhibited included Dark Dog Organic and Runa.  
On the opposite end of the functional spectrum were beverages that assisted with sleep. One of the leaders in this space is Som with its RTD sleep formula available in either original or unsweetened version, each with natural flavors. Formulated with ingredients to relax and support sleep, the beverage is consumed 30 minutes before bed. Similarly, beverage brand Snoooze offers a natural sleep drink in either regular or strong, each formulated with natural flavors.
A Natural Opportunity
Whether it's a non-dairy milk drink or the latest CBD juice, natural continues to be the norm. According to a Wakefield Research survey of 1,000 U.S. adults, 53% said that they are more motivated to purchase a product with a natural claim. The same survey showed that consumers are also concerned about the ingredients in their products. Of the people surveyed, 51% said that they would be swayed to buy a product with no preservatives and 57% of adults 65 and older are concerned with high fructose corn syrup in their diets.
Related: [Podcast] Creating Clean Tastes With Dave Pirazzini
As consumers continue to seek out natural products, this has opened an opportunity for the natural flavor market. According to Food Trending data, the natural flavor market is expected to grow by a CAGR 5.2%, and the United States market is worth $3,720 million. Outside the United States, the Chinese natural flavor market is worth $1,540 million and the Japanese market is worth $840 million. Like their U.S. counterparts, Chinese consumers are also interested in eco-friendly and sustainable products with 7 in 10 seeking out claims and logos on the front of products. With this global attention and shift in consumer demand, the beverage business should see healthy growth, spurred by natural claims, product innovation and unique offerings.