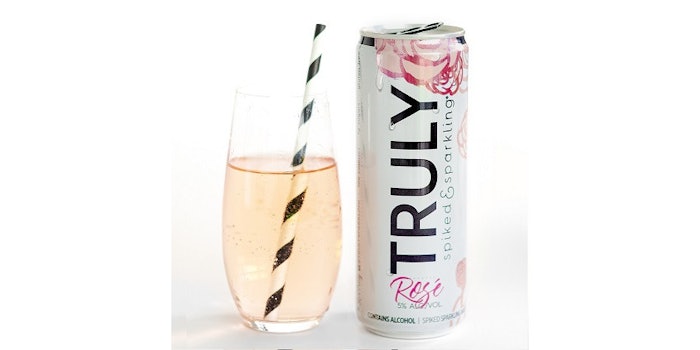 Alcoholic sparkling water brand Truly Spiked & Sparkling has released its latest flavor, Truly Rosé.
A New Summer Classic
Inspired by rosé wine, the new beverage is a spiked sparkling water that combines sweet, tart and fruity flavors in a lightly sweetened beverage. This beverage will join Truly Spiked & Sparkling's line of other beverage flavors, which includes wild berry, Colima lime, grapefruit and pomelo, pomegranate, Sicilian blood orange, lemon and yuzu, blueberry and açaí and raspberry and lime flavors. 
"Summer can be the hardest, and most fun, time to balance a healthy lifestyle and social life," said Casey O'Neill, a member of the innovation team behind Truly Spiked & Sparkling. "This was our inspiration when developing Truly Rosé; with a rosy hue, 100 calories, 1g sugars and 5% ABV, it's a simple, fun take on the rosé trend."
Rosé Flavors on the Rise
This release comes at a time of increased interest in both rosé flavors and the alcoholic sparkling water and seltzer category. According to a recent Harris Polls survey commissioned by Truly Spiked & Sparkling, 21% of alcohol beverage drinkers and nearly 64% of spiked water/seltzer drinkers reported that spiked sparkling waters/seltzers will be their choice of beverage this summer. Additionally, the survey found that 50% of alcohol beverage drinkers are looking for healthier alternatives for rosé wine. 
In addition to the Truly Spiked & Sparkling's release, several other brands have released rosé inspired beverages. In mid-March, Nauti Seltzer released its naturally flavored rosé hard seltzer water that combines hints of mandarin orange, peach, raspberry and cherry flavors. Around the same time, Angry Orchard released its rosé hard cider, which included a blend of fresh apple flavors with hibiscus and light tannins. As consumers continue to look for beverages with more sophisticated and healthier flavors, other rosé-inspired products are likely to hit the market.