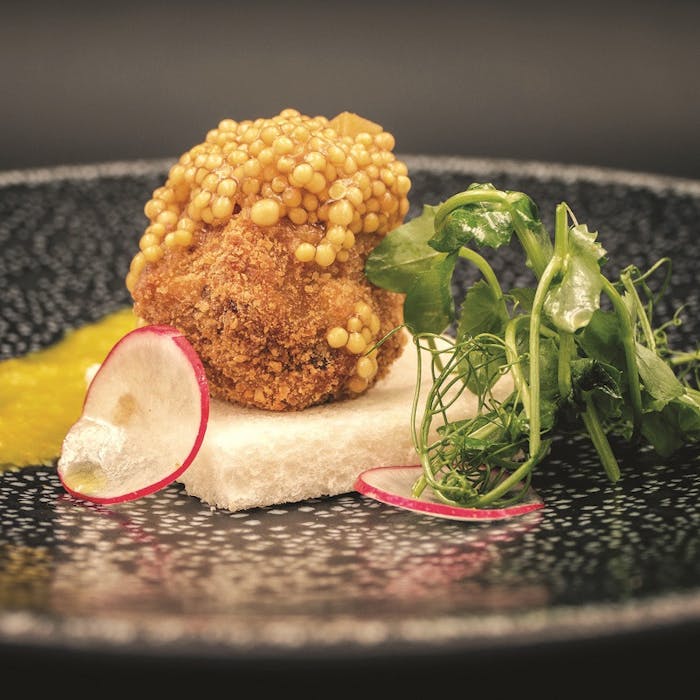 Firmenich
Geneva, Switzerland
2017 sales: CHF 3.34 billion/$3.42 billion*
Estimated market share: 13.9%
Gilbert Ghostine, CEO
Just as 2017 saw unprecedented growth in the demand for natural, it, unfortunately, saw a drastic year of volatility in raw materials. Hurricanes, floods, cyclones and other natural disasters impacted various flavor and fragrance crops. In Madagascar in particular, cyclones stirred up record-high vanilla prices. To address these concerns, Firmenich introduced a range of sustainable and cost-effective natural vanilla solutions, utilizing its partnership with the Sustainable Vanilla Initiative (SVI) and including Uganda, Indonesia and India as alternative vanilla sources. Additionally, the company invested in a sustainable large-scale vanilla farming model through the Livelihoods Fund for Family Farming (Livelihoods 3F), which aims to improve the lives of over 3,000 vanilla farmers.
"With vanilla being the most popular flavor in the world, [when disaster struck], we immediately put our innovation to work to best support our customers to respond to today's market scarcity and record prices," said Chris Millington, president of flavors for Firmenich. "By rethinking our entire vanilla palette, we developed a unique range of natural flavors that offer an authentic taste profile while meeting the market's expectations for 'clean' label and 'natural.'"
To meet the demand for on-trend flavors and fragrance, the company invested in its global infrastructure through new centers and a number of acquisitions. In September 2017, Firmenich announced the opening of its expanded savory and culinary facility in Vienna, Austria, and shortly after announced the opening of a global perfumery creative center in Singapore's Science Park. Additionally, Firmenich saw expansion through a number of key acquisitions. In July 2017, the company completed the acquisition of North American fragrance company Agilex Fragrances and in December, it acquired Flavourme, a flavor company in South Africa.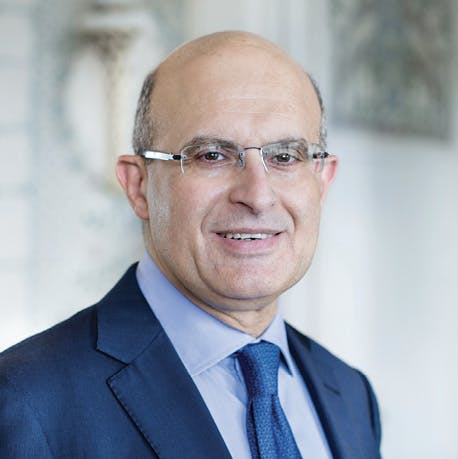 Gilbert Ghostine
CEO, Firmenich
Unprecedented Global Growth
The global economy is experiencing an era of unprecedented growth. The latest figures from the International Monetary Fund (IMF) assess 2017 as the greatest year of growth since 2010, with India leading the way at 7.4%, faster than any other major economy.
This growth surge is expected to continue for the foreseeable future with a predicted uptick of almost 4% this year and next, supported by strong momentum, favorable market sentiment, as well as advances in digital technologies fueling new opportunities.
In this dynamic context, Firmenich pursued its successful growth journey, recording 3.5 billion Swiss francs in net sales this year. We expanded our reach through a number of strategic acquisitions, while also extending our footprint in several strategic markets, from California to Thailand.
Over the last 30 years the digital revolution has dramatically transformed business in many ways and it is predicted to accelerate further over the years to come. Riding the wave of digital disruption, we are investing across a broad range of new technologies, from e-commerce platforms, all the way to data analytics and artificial intelligence to enhance and amplify how we do business.
A Year of Strategic Acquisitions
Expanding our reach, we completed strategic acquisitions this year to enter new markets and shape winning solutions for our customers.
Entering North America's fragrance middle market, we acquired Agilex Fragrances, a leading mid-sized company in the personal care segment in North America. Accelerating our growth in strategic sub-Saharan Africa, as well as our manufacturing capabilities, we went on to acquire Flavourome, an established privately-held flavors company in South Africa. Finally, strengthening our excellence in naturals, we acquired Natural Flavors, Inc., a pioneer in organic-certified flavors in North America.
We also signed two exclusive partnerships, one with our long-term partner Senomyx, gaining exclusive access to cooling and freshness technologies, and a second with Blue Marble Biomaterials, a leading U.S. biotechnology company specialized in natural and sustainable ingredients.
Expanding our Footprint Globally
On top of these significant investments, we accelerated our speed-to-market with a number of new facilities, including a:
Global perfumery creative center in Singapore
Center of excellence for green protein in Vienna
Flavors plant in Sao Paulo in Brazil
Culinary discovery center in Thailand
Expanded flavors presence in California
Our People at the Heart of our Success
Our people are truly what set us apart. Their relentless creativity, dedication and talent are the heart of our success. For example, master perfumer, Oliver Cresp, received this year's Lifetime Achievement Award from the Fragrance Foundation in recognition of his outstanding creative legacy. He is our fourth Master Perfumer to be honored with the title since it was introduced six years ago, following in the footsteps of Firmenich master perfumers Alberto Morillas (2013), Annie Buzantian (2015) and Harry Frémont (2017).
That's why we are committed to fostering a culture of diversity and inclusion, where all our colleagues can thrive around the world.
100% Certified Gender Equality Employer
Offering equal opportunities for all our colleagues to thrive is not only rooted in our DNA as a family-owned company, it is the right thing to do. That's why we are embracing parity at all levels at Firmenich.
According to the UN, gender parity has a positive multiplier effect on families, businesses and communities. In particular, closing the gender gap by 25% could increase global GDP by $5.3 trillion.
Equality is embedded across our organization, starting at the top, with our executive committee, comprised of seven nationalities and one-third women. Globally, our female colleagues represent 40% of our workforce and 36% of our senior management.
Making headways this year, we announced our commitment to be a 100% gender equality employer in 2018, partnering with leading global certification expert, EDGE. Reaching our next level of excellence, this certification goes far beyond equal pay, providing clear benchmarks to measure our success transparently, cutting across recruitment, promotion, training, flexible work arrangements and overall culture.
Expanding our vision across our entire value chain, we launched our new human rights policy, to best identify and manage all human risks across our business and ecosystem in full accordance with the UN Guiding Principles on Business and Human Rights.
Making Healthy Taste Delicious
While many sustainable development goals show progress — or at least promise with 12 years left before the 2030 deadline — ending world hunger while increasing well-being are some of the most difficult challenges to fix.
In a world where two billion people are overweight, while two billion people are micro-nutrient deficient, we aim to make good food, taste good for all.
As a taste and nutrition partner, we are focused on making healthy and nutritious options taste delicious, so they are the easy choice for consumers. For instance, Firmenich has a leading taste modulation technology platform to reduce sugar and fat from food and beverages, while keeping an equal taste experience. In the last year, we have removed over 150,000 metric tons of sugar from our customers' products, representing 600 billion calories.
We are also actively working with global experts, chefs and our customers to advance innovative green protein solutions that are nutritious, tasty and sustainable. By putting sustainable proteins center plate, we are catalyzing a shift toward more sustainable protein production and consumption. Taking our commitment to the next level, this year we were the first and only fragrance and flavor house to be part of the Sustainable Juice Covenant, committing to creating 100% sustainable juice by 2030.
Accelerating Access to Hygiene & Sanitation
In line with our vision to accelerate access to sanitation for all, we continue to focus on bringing our breakthrough mal-odor control technologies to the populations most in need. For instance, we are actively championing India's Swachh Bharat initiative to "Clean India," through a partnership with the Pune Municipality that will become the first "Smart Sanitation" city in India. As an example, we are sponsoring an innovative, 'Mobile toilet for HER' in the city, to provide a hygienic toilet experience for women, while keeping them safe.
Strengthening our Excellence in Naturals
We are committed to offering our customers the most pristine natural ingredients, while ensuring the most transparent, ethical and sustainable value chain. Building on our Naturals Together program and community, we continue to invest in and expand our long-term partnerships to scale up our impact, while supporting smallholder farmers' sustainable livelihoods.
From Indonesia for patchouli to Madagascar for vanilla and all the way to Brazil for green mandarin and the United States for mint, we are proud to support the livelihoods of 250,000 farming families at the source of 170 varieties of natural ingredients.
Amplifying our commitment to responsible sourcing, we recently invested in a second major vanilla project in Madagascar through the Livelihoods Fund for Family Farming.
Tackling Climate Change
With the past five years ranked as the warmest five-year period on record, it is no surprise that environmental issues dominated this year's World Economic Forum's annual assessment of global risks.
At the occasion of the Paris Agreement, Firmenich set ambitious environmental goals to lead our industry forward with the vision to become carbon neutral. I am pleased to report that we are making good progress.
For instance, we set ourselves the goal to power 100% of our plants with renewable energy by 2020. Today, 100% of our European manufacturing sites already operate with 100% renewable energy and 75% of our plants worldwide have met this target.
Recognizing our excellence in environmental management, we have received a number of distinctions this year, from the DuPont Sustainability award for our Ingredients Sustainability Index, all the way to our Triple 'A' Performance with CDP for climate, water and forestry. Further confirming our commitment to having a lasting positive impact on the planet and society, we were also distinguished with the Better Society Network's Ethical Business Award 2017.
Looking ahead, we look forward to strengthening our winning culture, based on diversity and inclusion, to ensure all of our people can thrive. We will also continue to pursue our digitalization journey to enhance and accelerate our capabilities, while putting our science to work to address key societal challenges from nutrition and sanitation all the way to climate change.
Professor Geneviève Berger
Chief Research Officer
Having started my career as a medical practitioner, my purpose has always been to improve quality of life across everything I do. With a multidisciplinary background, cutting across medicine, chemistry, physics and human biology, I deeply believe that innovation happens at the intersection of different scientific fields. That's where the magic happens. And this is what we do every day at Firmenich.
What's unique about Firmenich is how we master the full scientific continuum of smell and taste, starting with raw materials and ending with human perception. Building on this holistic view, we apply a multidisciplinary approach, cutting across chemistry, material and cognitive sciences, all the way to biotechnology and cell biology, to constantly push our innovation forward. Taking this approach one step further, we are actively embracing green and sustainable science to minimize our environmental impact.
We put our science to work to delight consumers around the world, from wellbeing and traceability, all the way to sustainability, while always upholding the highest standards in safety. Let me share some example of how our multidisciplinary science is improving quality of life sustainably for consumers across the globe.
Sustainable Game-Changing Ingredients
Sustainable, game-changing ingredients are the heart of our palette. We're constantly pushing our innovation forward to offer the most cutting-edge ingredients, spanning synthetic, natural and pioneering bio-based molecules. If you compare our ingredients to musical notes, our broad and varied palette enables our creators to play all musical scores, from a simple harmony to a large-scale symphony. Our ability to create, optimize, access and combine these three types of ingredients into iconic perfumes and great tasting, food and beverage experiences is unique. We truly make art out of science.
Inspired by nature, our Beyond Muguet collection is a good example. It offers an unrivalled set of fresh and transparent floral notes, while ensuring a safe and sustainable experience. This year we added Hivernalf Neo to the collection with its clean and crisp green character and surprising cold effect.
Pioneers in Bio-Based Ingredients
Consistent with our legacy of pioneering innovation and commitment to sustainability we shaped the industry's very first bio-based ingredient with the launch of Clearwood, a warm woody note in 2014. Building on this success, we launched Ambroxg Super last year, an iconic and sustainable amber note.
This year, we further anchored our leadership in ingredients drawn from sustainable biomass sources, with the launch of a bio-based version of our iconic Z11, a powerful, elegant, woody, amber note. Combining the best of our expertise in white biotechnology and green chemistry, this elegant renewable ingredient offers stable quality combined with a reliable supply.
Unchartered Territory: Uncovering Brain, Nose & Taste Interactions
Having discovered breakthrough malodor counteracting technologies that eliminate the foul odor associated with toilets, today we are working with our customers to rapidly bring these solutions to market.
Building on our deep legacy of research in cell biology, our teams are exploring new exciting applications for these technologies, from body odor control to freshening public spaces.
Understanding and Delighting Consumers
Today consumers are drawn to the goodness of nature, actively seeking out products that are natural, traceable, sustainable and environmentally-friendly, but also offering enjoyable experiences, smelling and tasting great. Consumers expect full transparency to know where their products have come from and how they are sourced. Science can play a critical role in meeting these expectations with scientifically-proven safety, traceability, as well as nutritional measures.
We are committed to using biodegradable ingredients, strenuous toxicology standards, and green chemistry to meet these needs, while reducing our impact. What's more, as we continue to amplify the number of molecules in our palette that are green, we see significant yield improvements, resulting in fewer raw materials and less energy.
Consistent with this approach, we continue to advance our "clean label" solutions for flavors, exploring botanical extraction, food fermentation and clean food technology processes. We have strengthened our focus in this area, with critical innovation hubs in Shanghai and Geneva, as well as Princeton and New York to drive this critical agenda forward.
Another area where our science meets customer needs is our work in delivery technologies, ensuring consumers can enjoy fragrance experiences when and where they want. Perfume long lastingness, bloom and performance are key consumer expectations across every market, category and product application. Our delivery technologies enable our creative teams to design fragrances that offer the optimal balance of perfume hedonics and intensity. This allows the perfume experience to be appreciated by consumers several hours, days or even weeks after product use.
As we look to the future, research will continue to be an engine of growth for Firmenich. Driving a dynamic eco-friendly innovation agenda, we will accelerate the discovery of game-changing ingredients, shape unique sensorial experiences to enhance nutrition and wellbeing, while expanding our understanding of human perception.
Chris Millington
President of Flavors Division
The pace of innovation in the food and beverage industry is incredibly fast. As a partner to some of the most innovative companies in the world, we strive to offer them world-class solutions every step of the way, remaining agile in order to help deliver consumer preference every time. This year we made significant progress in our drive to help bring new innovation and application ideas, as well as new product development ideas, to our customers quickly and collaboratively. We remain committed to taste, nutrition and clean label as the strategic drivers for our business over the coming years.
Strategic Acquisitions in Naturals & Organics
To be the taste and nutrition partner of choice, Firmenich just completed two exciting flavors acquisitions to lead in naturals and across Sub-Saharan Africa with Natural Flavors and Flavourome.
Expanding our flavorists' palette, with a broad range of organic certified flavors and raw materials, Natural Flavors' capabilities are taking our customer solutions to the next level across dietary and nutrition, special soft drinks and dairy applications.
As a leading flavor company in South Africa, Flavourome gives us access to a broad local customer base as well as a high-quality manufacturing facility to increase our customer service and speed-to-market in the region.
Our Customers' Taste and Nutrition Partner
As a taste and nutrition partner, we are committed to shaping food and beverage solutions that taste great and enhance nutrition. Advancing our excellence in savory, we recently opened a new culinary discovery center in Thailand, to co-create new products with our customers, connecting them seamlessly with our chefs, flavorists and food technologists. Shaping the next generation of savory solutions, we opened a center of excellence for green protein in Vienna, while launching Culinary Anthropology, a new and proprietary design thinking approach based on creative ideation and rapid-prototyping with customers.
Dialing up this commitment, we hosted a green protein symposium to "Reimagine Protein" alongside key leaders in the field, from customers, colleagues all the way to academics and external chefs. Throughout the event, we inspired forward-thinking ideas; explored the definition of protein and shifted mindsets towards new and aspirational sources of sustainable and alternative protein. Applying our design thinking approach, we created alternative protein flavor profiles and prototypes.
In order to better align with market needs and quickly deliver innovation to our customers in key strategic categories, we established six "Centers of Excellence," led by category experts: dairy (Singapore), noodles (Shanghai), alcohol (Belgium), green protein (Vienna), special soft drinks (North America) and protein (North America). These hubs allow us to offer rapid product development services and joint working sessions, while also providing a global resource for our customers wherever they are in the world.
As we look to the future, some of the most exciting innovation in the food and beverage world is happening on the West Coast of the United States. To take full advantage of this we have expanded our presence in California to now include commercial offices, laboratories and a pilot manufacturing plant to support fast-paced co-creation with food and beverage innovators in the region.
Natural Solutions
We are constantly innovating to meet consumers' expectations for more natural and transparent food and beverage experiences, from our unique portfolio of natural and sustainably sourced ingredients, such as mint, vanilla and orange, all the way to innovative bio-based solutions. We established our global clean label platform specifically to address the needs of our customers as they work to develop the next generation of food and beverage products with fewer ingredients.
Most recently, we entered into an exclusive partnership with Blue Marble Biomaterials, a world-leading biotechnology company, based in the U.S. and specializing in natural and sustainable ingredients. Through this partnership we gain direct access to key expertise, from biomimicry to non-GM fermentation, enabling the design of innovative, sustainable and exclusive natural ingredients for the food, beverage and flavor industries.
Making Healthy Taste Great: Sweet Without the Sugar
As a pioneer in taste modulation, Firmenich was one of the first in the industry to establish a taste modulation platform dedicated to sugar reduction, while ensuring an optimal taste experience.
Reducing sugar in consumer products remains one of the most critical, yet most challenging realities, our customers face. The pressure to reduce sugar comes not only from consumers who are looking for healthier alternatives, but now is also coming from local governments, many of whom have started implementing sugar taxes.
In response, we launched TastePRINT, a new family of integrated solutions, which can achieve up to total removal (100%) of added sugar. TastePRINT is an optimized blend of flavors (modifiers, maskers, tonality) plus a non-nutritive sweetener (stevia or monk fruit juice). Today, we are a one-stop solution for our customers' sugar reduction needs.
The Future of Taste
Natural and clean label will continue to be a driving force within the industry. In line with our ambitious innovation agenda, we will partner with our customers to meet their consumers' expectations for great tasting, nutritional food and beverage experiences, created from natural, sustainable ingredients.