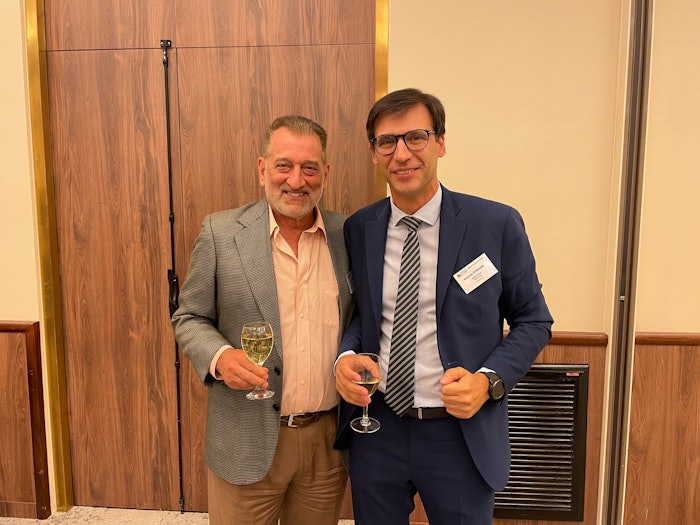 The 2023 European Federation of Essential Oils (EFEO) Conference was held at the Evergreen Hotel in Paris, France. The event hosted 110 attendees from across the F&F realm.
EFEO president Manolo Donaire took the podium to welcome attendees and walk through recent updates within the federation as well as industry regulations. Updates included:
Thierry Duclos retired from EFEO Board and chair of Communication Committee.

 New Board members: Bertrand de Preville (managing director, IFF-LMR) and Guy Dehollain (business manager, F&F Division, Azelis).
Communication Committee (ComCom)— Chair of ComCom: Former EFEO president, Elisabeth Vossen (director, Vossen & Co.) | ComCom member: Cécile Pinel (managing director, SNIAA)
2023 marks the EFEO's first booth at SIMPPAR. 
Advocacy Activities
Over the past 12 months, regular advocacy activities include:

Advocacy through local politicians up to MP's (EU members of Parliament) with EFEO board members

 
Advocacy with EU Commission (+10 meetings through EFEO's public advisor Charles Laroche & EU commissioners)
Align all stakeholders with the same message › Stronger and clearer reach
Conference Sessions
The first conference session was a video provided by the head of the EPP French delegation at the EU Parliament François-Xavier Bellamy, "CLP, an Issue of Society and Civilization."
The second, "Does the EU Chemicals Strategy for Sustainability (CSS) provide a framework for the assessment of essential oils?," by emeritus professor of Toxicology and Environmental Health, University of Surrey, Guildford, UK, James Bridges. Bridges discussed the relevance of the major changes including:
Hazard instead of risk assessment

Greater emphasis on combinations of chemicals

Requirement for life cycle analysis
Bridges highlighted an alternative approach to minimize unnecessary resource use:
"A number of toxicology databases are already available. As a consequence, for many types of chemical a worst case threshold of toxicological concern (WCTTC) can be identified.
For each essential oil, a conservative worst case human exposure can be estimated. If this value is significantly below the relevant WCTTC then no further assessment of health risk is needed. If exposure is above this value then a tiered approach to hazard assessment should be embarked on.
Sustainability should focus on the end-of-life fate of the essential oils along with the byproducts of processing."
Bridges concluded by saying that "the CSS proposes major changes in the way the EU assesses chemicals for their human and environmental impacts. No scientific basis for these is provided. They will inevitably impact on safety assessments of essential oils." The speaker also highlighted that: 
Essential oils have many important uses and therefore the CSS harmonization of assessment with the focus on hazard is not appropriate.

Sustainability evaluation is a key element. There is no indication of how this will be applied for natural products. An industry initiative is needed to devise a suitable methodology.
The third session was "Essential Oils & L'Occitane: a Common Pathway to Sustainability," by Denis Geffroy, Public Affairs and Sustainability Advocacy director, L'Occitane. 
Geffroy discussed the company's sustainability priorities, targets, initiatives (biodiversity strategy) and "nature-positive" ambition. 
The final presentation was presented by IFF, LMR Naturals, Strategic Sourcing Platform manager and Life Cycle Assessment Program leader, Stephane Rey, titled, "Delivering Lower-impact Fragrances: Quantifying Carbon Footprint of Natural Ingredients across the Complete Value Chain."
Rey first discussed the company's life-cycle assessment which is designed to assess the carbon footprint of the life cycle of a product ISO14040/ISO14044 standard. Rey also gave an overview of LMR Naturals' supply chain scope and integrated sourcing platforms.